The first thing people ask when you visit Chicago is whether you've been on the architectural boat tour. And as the pioneers of the skyscraper, the home of the Chicago School and a dozen architectural classics it is easy to understand why.
Architecture is a source of great pride to residents of the Chicago area. Given a list of things about their city, 58% pick it out as one of the things they particularly like. This compares to just 11% of people answering about their towns and cities in the rest of America, and even leads New York where only 53% of locals mention architecture.
Just over one in three (35%) people around Chicago say they have an interest in architecture – almost double the national number (18%).
Chicagoans also seem to be proud of the entire history of their architecture – including a diehard attitude to the original names. Looking at a picture of the Willis Tower (renamed in 2009), 4 out of 5 (80%) Chicagoan say they call it the Sears Tower. Interestingly, this is higher among younger people, with 83% of Millennials still calling the building Sears compared with 76% of those aged over 55.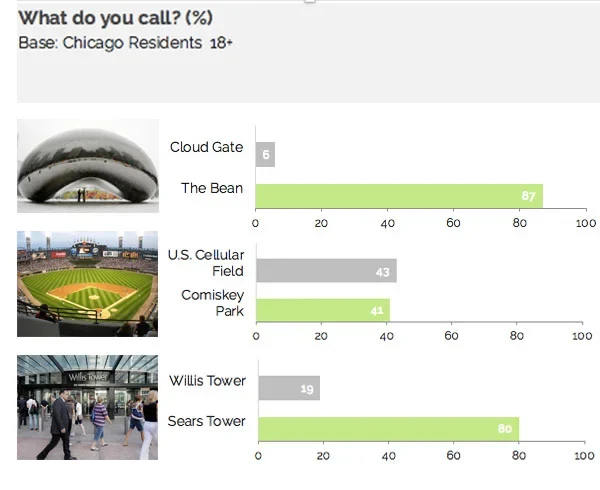 The reverse is true when looking at pictures of U.S. Cellular Field (renamed from Comiskey Park in 2003). The new name is used by 56% of Millennials but by only 29% of those aged over 55.
And as for Cloud Gate – 87% of Chicagoans know this as The Bean. Just 6% actually call it Cloud Gate.
With so many iconic buildings in the city, which is the favorite? Coming in third with 8% of the vote when asked to name their favorite building is the John Hancock Center. A close second goes to the Chicago Water Tower with 18% of the vote and number one… the Sears / Willis Tower with 19% of the vote.