This year's ranking of the brands best perceived by women leans heavily toward two categories: home-based products and the Internet.
Band-Aid, Dawn, Clorox, Cheerios and Dove are classic household and kitchen brands which still resonate strongly without disruptor interference. M&M's top five position is likely due to its popular marketing campaign of child friendly candy characters.
Craftsman hand tools placed in the number eight spot, showing just how valuable a brand it is after being sold by Sears to Stanley Black & Decker in a deal valued at $900 million. Craftsman, which was first trademarked in 1927, is the official tool brand of NASCAR and the DIY Network.
The two primary Internet brands favored by women are Amazon.com and YouTube. Amazon, often called "The Everything Store," likely represents the most convenient and widely used online shopping experience, as well as for music and video streaming. YouTube just topped one billion hours of video views a day, and are on track to eclipse television numbers.
Improvers
Unlike the Top 10 list, the greatest improvers over the past year crossed many categories.
Leading the way is Snapchat, part of the soon-to-be publicly-traded Snap Inc.. The app has been on a fast growth track, now crossing beyond teen messaging. Snapchat's top improver spot underscores its breakthrough into new demographics.
Other technology companies on the improver list include Uber, Instagram, and Trivago.
One unexpected brand on the list is cable network MTV, which has built a stable of three hit shows: "My Super Sweet 16," "Catfish" and "Teen Wolf."
Two banks – Bank of America and Capital One – landed on the list, as well as one dining chain (Chick-Fil-A), one video game console (Playstation) and Comcast/Xfinity.
YouGov measured the brands with the BrandIndex Impression score which asks "Do you have a general positive or negative impression of the brand?"
Impression Scores for Women: Top Ranking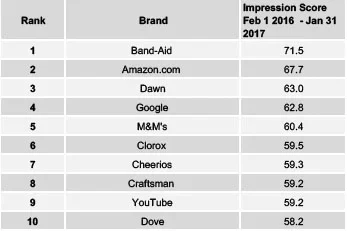 Impression Scores for Women: Top Improvers