Media is changing how US adults think about animals in captivity
Two polar bears in California facilities died this April — one rather unexpectedly just after being separated from her 20-year companion at SeaWorld's San Diego marine park. The news arrived within days of the birth of SeaWorld's last orcha ever to be bred in captivity.
Media coverage of these recent deaths, along with popular documentary films on animal captivity like 2013's Blackfish, has stirred conversation about the evolving ethics of animal treatment in zoos and aquariums. Today, though many Americans still favor the existence of zoos for public education, a change is most certainly taking place.
According to a new YouGov survey, a noteworthy 25% of all US adults report that they are more opposed to zoos and aquariums today than they were 10 years ago. Still, despite recent controversies, nearly half of the country says their feelings on zoos and aquariums have not changed.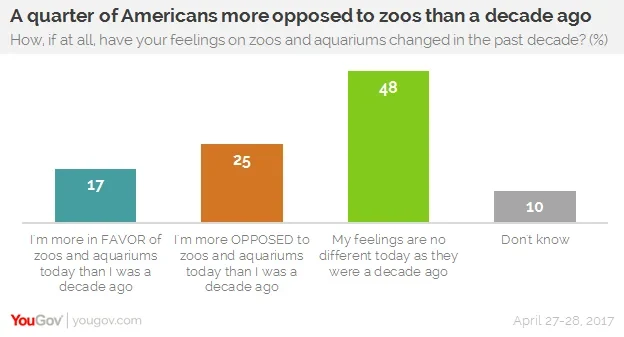 With more than four in 10 consumers reporting that their views have changed over the past decade, the question of what's causing this shift in opinion arises. Of Americans who have grown more opposed to zoos, 70% say some kind of media — whether a news story or documentary film — played a major role in changing their minds. The same is true for 40% of those who have grown more in favor of zoos. These are encouraging numbers for journalists and filmmakers looking to make an impact on public opinion.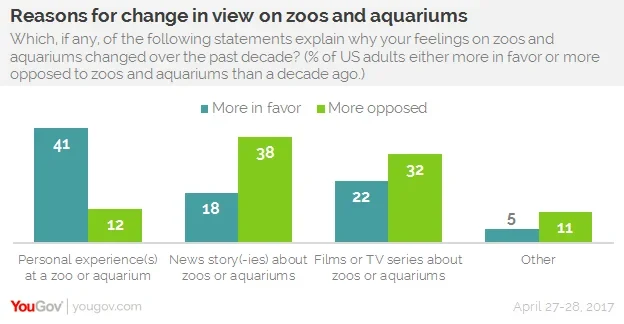 It's also interesting to note, however, that by a margin of 41% to 12%, consumers more in favor of zoos and aquariums are much more likely to credit personal experience for their change of heart, compared to those who have become more opposed.
At present, the survey shows that 73% of US adults either strongly or somewhat support the existence of zoos and aquariums.