23% of parents with kids below the age of 18 only have between one and two hours of leisure time daily
Yet another Father's Day has come and gone, reminding us of all the time and patience that our own parents, or respective caregivers, have given to us—whether we, in the moment, deserved it or not. In the spirit of celebrating parenthood, YouGov took a look at just how busy the lives of parents really are.
The quintessential, American weekday starts off with a cup of coffee and a hurried flip through the newspaper—whether it be in its paper or digital form. While a time-honored tradition, only 22% of parents with children under the age of 18 have time to read the paper. On the other hand, 30% of non-parents or those with children over 18 read the newspaper in their free time.
Free time in general is scarce for individuals with young children or teenagers, with only 16% reporting that they have over five hours to spare daily during the week. At 23%, the most common amount of free time for a parent of children or teenagers to have is between one and two hours daily. In comparison, a third of non-parents or parents of adults, 33%, have greater than five hours of daily free time.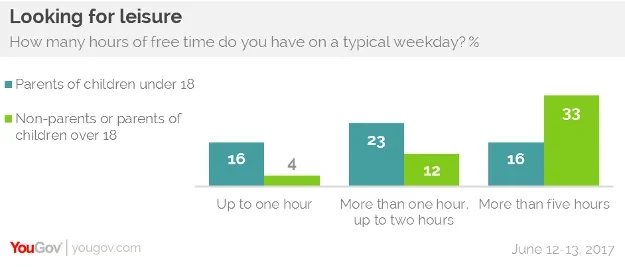 Even on weekends, parents with kids under 18 are likely to have far less leisure time. Around one in four parents (26%) have more than five hours of free time on the weekend, while 52% of non-parents and parents of adults do.