Higher education linked to increased support of trip treatments
Several controversial psychedelic drugs now show promise as powerful therapeutic treatments for depression, anxiety, and PTSD. New data from YouGov suggests that public support for these therapies may have something to do with education level.
A study by researchers from New York University and Johns Hopkins University showed that a single treatment with psilocybin (the active ingredient in hallucinogenic mushrooms) reduced anxiety and depression in 80% of cancer patients. Another controlled trial showed that on average, after three doses of MDMA, patients experienced a 56% decrease in severity of PTSD symptoms. More importantly, 66% no longer met the criteria for PTSD by the end of the trial. Studies at Yale, Mount Sinai and the National Institute of Mental Health suggest that ketamine relieves depression within six hours, especially in patients who were resistant to conventional antidepressant medicine.
Despite the stigma surrounding these controlled substances, new data from YouGov shows that many Americans are ready to embrace psychedelic therapies. What's more, a relationship appears to exist between higher levels of education and increased support for psychedelic research and treatments. At each increasing level of education, there's a corresponding increase in support for medical research into the potential benefits of psychedelic substances, such as psilocybin mushrooms, MDMA, and ketamine. 53% of all respondents support medical research into psychedelic drugs, and this number increases to 69% for respondents with graduate degrees.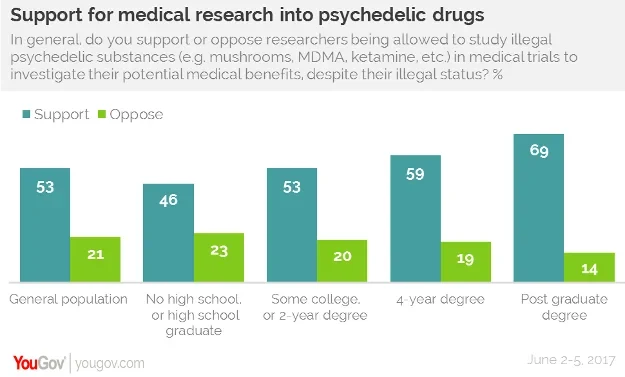 While more than half of all Americans may support research into psychedelics for therapeutic use, a 63% majority also said they would personally be open to medical treatment with psilocybin, ketamine, or MDMA if faced with a pertinent medical condition — assuming the substance is proven safe. The curve of support for all three substances increased with each respondent's education level. On average, respondents with a post graduate degree were 21 points more likely to try treatment with psilocybin, ketamine, or MDMA than those with a high school diploma or less.