64% of Americans say they would leave an uncontacted tribe alone
With the Columbus Day holiday impending, many communities are calling for a change to instead celebrate Indigenous Peoples Day in its place. According to Rebecca Spooner of Survival International, a London-based advocacy group for the rights of indigenous peoples, there are around 100 uncontacted tribes left on our planet. Of those, Brazil's government has identified 77 tribes living within its borders.
As the number of isolated indigenous tribes in the world continues to dwindle, questions about how western societies should respond to these uncontacted tribes arise. A new study from YouGov Omnibus asked American respondents they would theoretically do in an encounter with an otherwise uncontacted tribe in the wilderness.YouGov asked American respondents what they would do if faced with such a situation--64% said they would leave the tribe alone.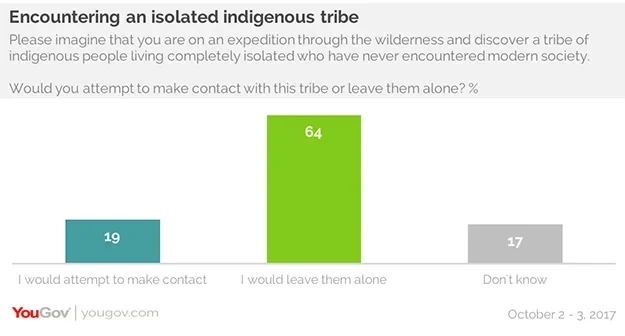 Countries like Peru have made it illegal to initiate contact with isolated groups, while Brazil allows contact only in life-threatening situations. Of respondents who said they would make contact with an isolated tribe, we asked respondents what they would share in such an an encounter. The most popular response was language (48%), with modern medicine (47%) and modern food products (45%) not far behind. Sharing religious beliefs (35%) and modern technology (31%) were less popular.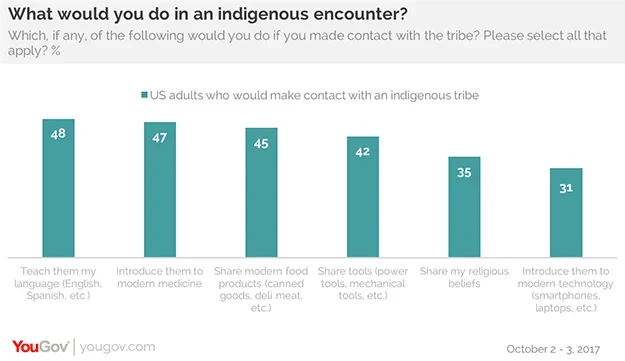 With regards to the responsibility for protecting indigenous peoples, 62% of Americans agree that the country's federal government should be responsible.