Millennials are just as willing to be set up by friends and family as to meet someone organically
"Have you met my friend…" is a line much heard by people who have been set up for an introduction by their friends, family, or coworkers. In fact, over a quarter of Americans have been set up to go on a blind date before (28%) and nearly one in ten of them are still with that person (9%).

YouGov Omnibus research reveals that 63% of Americans have not been set up before but those that have are divided on whether they want to be set up again. 43% of single adults say they'd be willing to be set up again while 42% say they'd rather not. While few are still with the person they were last set up with, millennials who have been set up before are the most likely to be set up again (56%). And of those that have been set up, black Americans are the most likely to say that they're still seeing that person (16%).

Over half of those who have been set up were introduced by a friend (56%), nearly one in five by their family (17%), and one in ten by a coworker (13%). Research suggests they don't mind either. While one in five Americans think that their friends and family are too involved in their love lives (21%), most disagree (70%). A third of millennials will say that they could use a little more privacy (30%) but even then, a majority will disagree that their family and friends try to meddle too much (58%).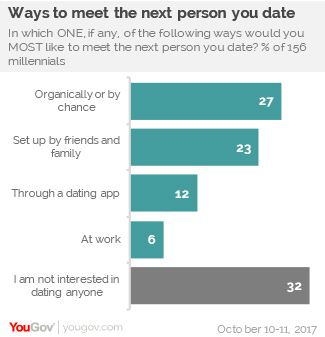 This may explain why 15% of Americans would like to meet the next person they date through a family member or friend, though most would still like to meet that person organically (34%). Millennials, however, are nearly just as likely to want to be "set up" by friends and family (23%) as meet someone by chance (27%). One in ten young Americans say that they'd like to meet that special person through a dating app (12%).

Results from the same poll suggests that nearly a third of single Americans are not interested in dating anyone. This aligns with YouGov Profiles data where 57% of Americans say that they don't need to be in a relationship to be happy and the results remain consistent among age gaps.

Read the full results from this poll here

Learn more about YouGov Profiles and YouGov Omnibus research

Image: Getty