55% of Republicans think that texts with homosexual or transgender characters should be banned from elementary school libraries
The American Library Association is set to release its 2017 list of Top Ten Most Challenged Books, and a peek at last year's lineup reveals a very distinct trend – five of the ten books were disputed by parents, educators, and concerned citizens alike for their inclusion of LGBT characters. New data from YouGov Omnibus suggests that the trend will likely continue onto this year's list.
The majority of Republicans (55%) feel that books with homosexual or transgender characters should be banned from all elementary school libraries, and 2 in 5 (21%) think that they shouldn't be present in public libraries either. In comparison, a quarter of Democrats (26%) agree that this sort of literature should not be accessible to grade school students, while just 13% would consider public libraries an improper place to house LGBT-related reading materials.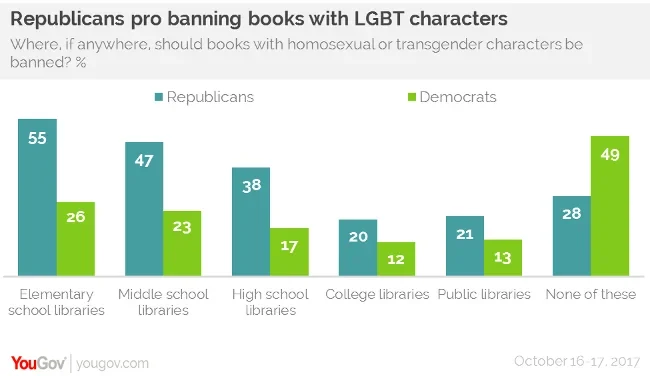 Since Harry Potter and The Sorcerer's Stone first appeared on bookshelves in 1997, it has stirred up intense controversy – and been regarded by some as "satanic," – for presenting children with themes related to "the dark arts." Two decades after the popular novel was published, negative sentiment surrounding texts featuring witchcraft, wizardry, and magic remains. In fact, 41% of Republicans want books with these subjects banned from elementary school libraries, and over a quarter (28%) don't think they belong in the hands of high schoolers. Comparatively, 24% of Democrats would keep occult literature out of elementary schools, while 17% would in high schools. However, 13% of both Republicans and Democrats don't think public libraries should carry books related to magic.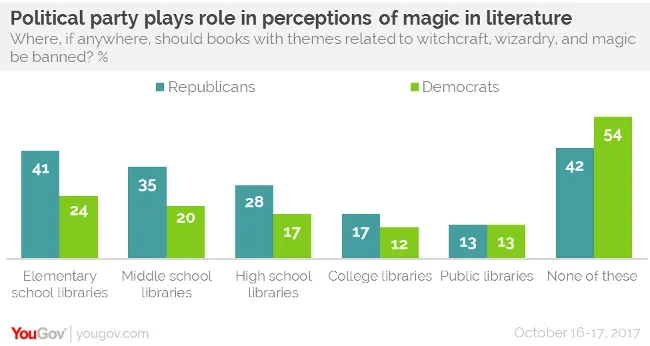 Similarly, over half of Republicans (57%) want books which employ blasphemous language to be banned from elementary schools, in comparison to 38% of Democrats. The partisan split narrows, though, when it comes to public libraries, with 27% of Republicans and 21% of Democrats saying books which takes God's name in vain should be kept out.
However, for the most part, party agreement on the appropriateness of certain elements in literature ends there. For example, the majority of Republicans (55%) believe it is inappropriate to exhibit books with sexually suggestive images on the cover in a public library, while just over a third of Democrats feel this way (35%). There is also a break between the sexes on this particular topic – 52% of women think it is inappropriate, but just 40% of men.
Learn more about YouGov Omnibus
Photo: Getty