21% of millennials say they'll use public transportation to get to where they need
When it comes to visiting family, no other time of the year finds traveling more hectic than the holiday season. Whether they're visiting family in-state or vacationing out-of-country, YouGov Omnibus data shows that one in two Americans (56%) have travel plans before the year is up.

This upcoming holiday season, a majority of Americans (36%) will be traveling in-state to visit family and friends. One in ten (10%) will be traveling out-of-state to do the same and one in fifty (2%) will be visiting friends and family out-of-country. Not everyone will be traveling; 14% of Americans say they plan on hosting family and friends during the holidays and nearly a third of Americans (30%) say they don't have any plans.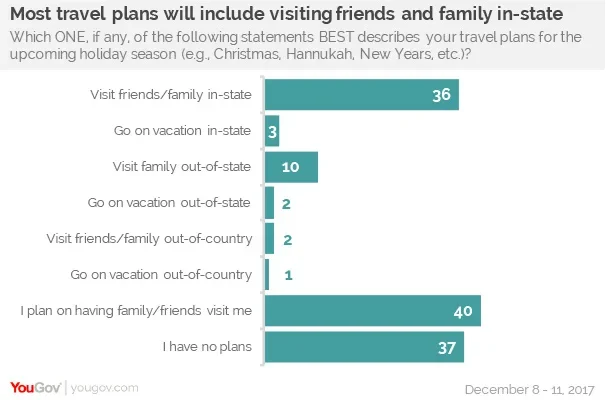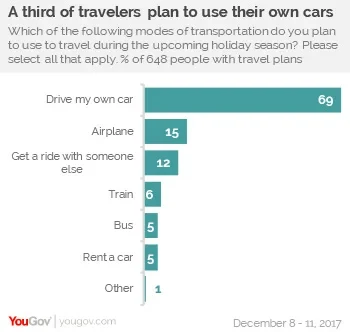 As to how half of America will be traveling, YouGov research shows that most will be on the road in their own cars (69%). The next most popular mode of transportation includes flying (15%), hitching a ride in someone else's car (12%), taking public transportation like a bus or train (11%), and renting a car (5%).
A close look at how certain groups plan to travel shows that men are three times more likely to use public transportation than women to get where they need this month (18% versus 5%).
Millennials – 65% of whom say they have travel plans – will predominantly be driving their own cars (56%) or flying (19%) but more are like to say they'll find a ride in someone else's car (15%) than take a train (12%) or bus (9%).
Less than half (48%) of those over the age of 55 say they have travel plans at all and of that same group, nearly eight in ten (79%) say they'll be taking their own car to get where they have to this holiday season.
There are also differences in how much Americans will spend on travel this month. While half of travelers (53%) and six in ten women (65%) will spend less than $100, only 42% of men can say the same. Nearly the same amount of men (43%) say they'll spend from $100 to $500 on travel while just 22% of female travelers say they'll spend that much. At least one in ten travelers (12%) report that they'll spend over $500 on holiday travel.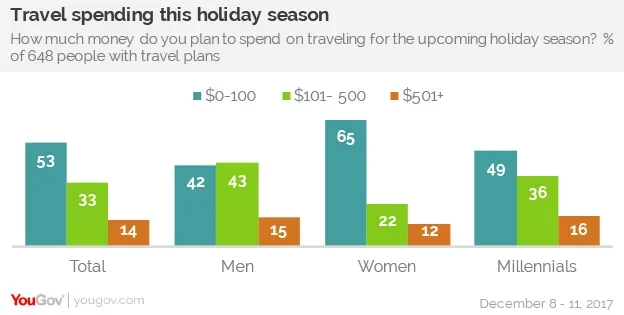 Given that millennials are the most likely to travel of all age groups and the least likely to drive their own car of those traveling, it's no surprise that they're the most likely to spend money on their travel plans this year. Compared to Gen Xers (55%) and over 55s (57%), just under half of millennial travelers (49%) report that they'll spend less than $100 on travel. They're also the most likely of the three age groups to say that they'll spend from $100 to $500 on holiday travel (36%).
Read more results from this poll here
Learn more about YouGov Omnibus
Image: Getty