Over one-third of Chicago (37%) and Phoenix (34%) residents say that the schools in their area are bad
Boston is home to several well-known and prestigious schools including Harvard, MIT, and Tufts, to name a few. So perhaps it's no surprise that residents of Boston are the most likely to characterize their city's schools as "somewhat" or "very" good. A large majority (77%) of Bostonians say that the schools are good, while only 15% say that they're bad.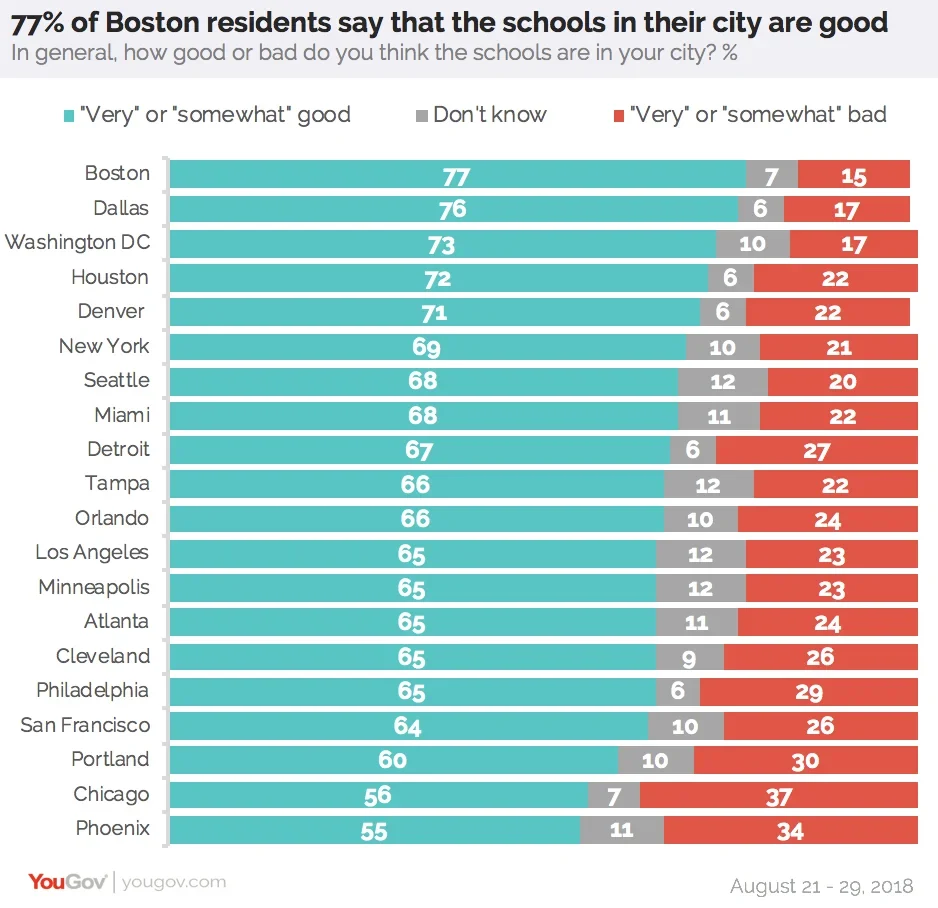 Of residents in the 20 most populous metropolitan areas, majorities in all were more likely to characterize the schools as good rather than bad. People were not asked to distinguish between K-12 schools and collegiate-level schools in their city. Other cities that are also particularly likely to rate their schools as "very" or "somewhat" good include Dallas (76%), Washington DC (73%), Houston (72%), Denver (71%), New York (69%), Seattle (68%), Miami (68%), Detroit (67%) and Tampa (66%).
Chicago (56%) and Phoenix (55%) were near the bottom of the list. Over one-third of Chicagoans (37%) and Phoenicians (34%) say that the schools in their area are bad. Similarly, 30% of people living in Portland say that the schools in their city are bad, though 60% say that they're good.
The respondents surveyed in this YouGov Citybus study reside in the following Designated Market Areas: Atlanta, Boston, Chicago, Cleveland, Dallas - Fort Worth, Denver, Detroit, Houston, Los Angeles, Miami - Fort Lauderdale, Minneapolis - Saint Paul, New York, Orlando - Daytona Beach Melbourne, Philadelphia, Phoenix, Portland - Oregon, San Francisco - Oakland - San Jose, Seattle - Tacoma, Tampa - Saint Petersburg, Washington DC.
Learn more about YouGov Omnibus and see more coverage from the Citybus study here.
Image: Getty