For most Americans summer starts Monday.

Even though astrological summer officially begins on June 21 with the solstice, 61% in the latest Economist/YouGov Poll agree that Memorial Day is the summer's "unofficial" start.

Your view may depend on our income and your location, though.

The better off you are, the more likely you look to Memorial Day as the beginning of the summer: 80% of those with family incomes of $100,000 or more cite Memorial Day as summer's start.



Those in the Northeast seem to be especially desirous of leaving winter behind: 67%, the highest percentage in any region, regard Memorial Day as the "unofficial" beginning of summer.

Many are planning summer-type events this weekend. In a question asking about respondents' plans for the weekend—where they could choose as many answers as they like—a combined 43% mentioned traveling, or having a gathering or cookout. But even more (51%) say they will relax by staying home, or watching TV. A third will do chores, work or fix up their home. Some people will do several or all these things.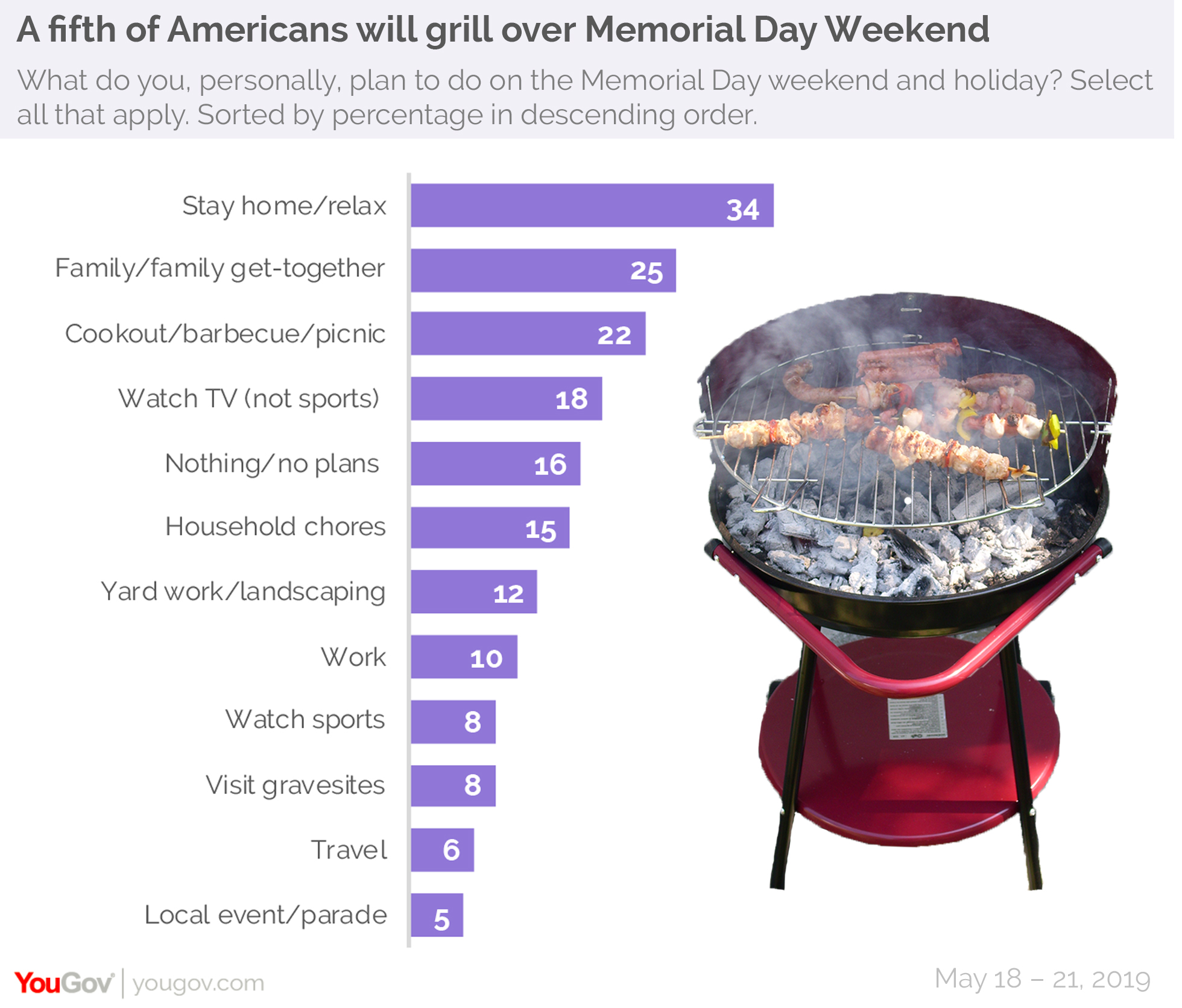 Relatively few, just 17%, will do things traditionally associated with Memorial Day, a holiday meant to remember and honor those who fought and died in American wars.

Those in this group will either visit gravesites, participate in or watch a parade, or attend a memorial service. Veterans and their families are more likely to do this: 29% of veterans and military families say they will commemorate the day in these ways. Those who know someone who died in a war are more than twice as likely to take part in commemorative activities as those who don't. Older Americans are especially likely to know someone killed in war.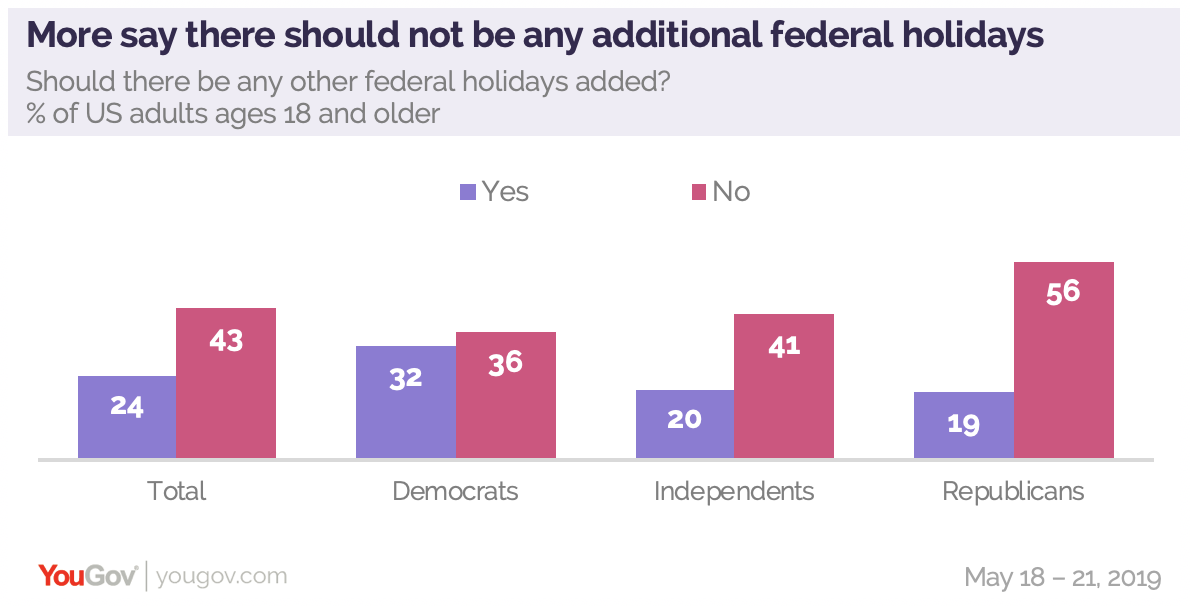 Americans seem pretty content with the holidays they have: just 24% would create a new federal holiday, with an Election Day holiday mentioned more than any other specific day. Many may simply want more holidays in general.

Just under half (49%) would not give up any holiday from those listed in a different question. The largest percentage would eliminate Columbus Day (which is no longer a holiday or has been renamed in multiple states), the second largest group chose the Dr. Martin Luther King Holiday. There are large racial differences in answers.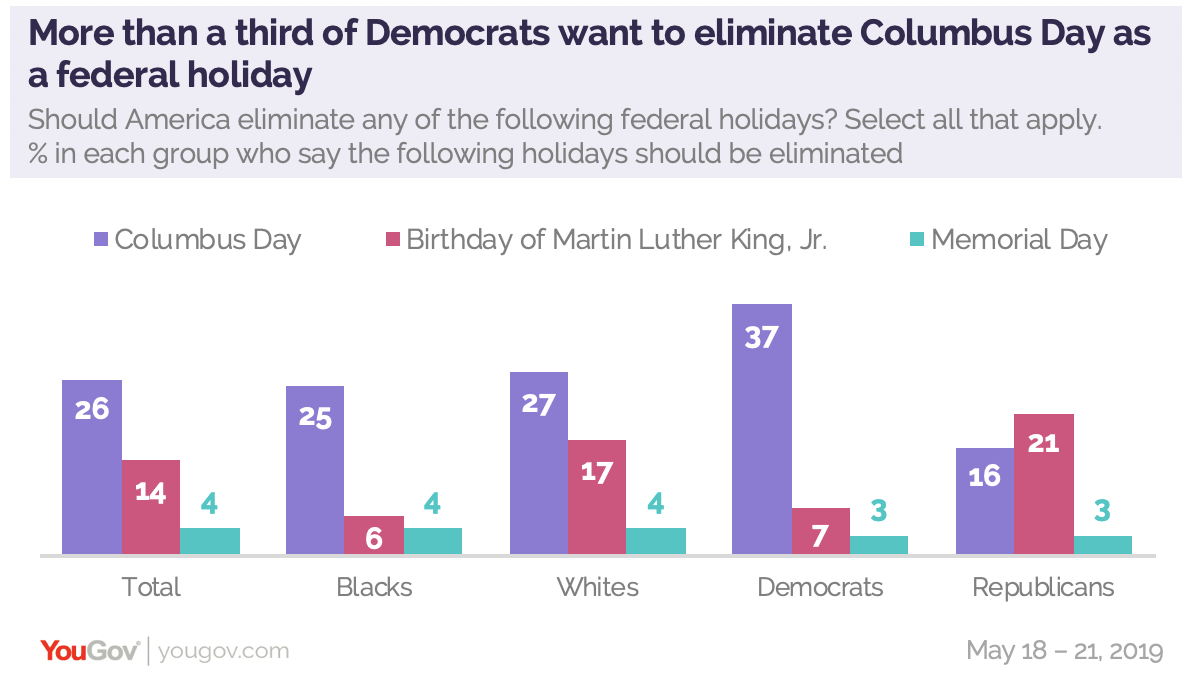 Very few (4%) would choose to lose Memorial Day, which stands to serve two purposes: the honoring of those who served and the marking of the onset of summer.

Read the full toplines and tables results here

Image: Getty