Public schools are grappling with how to address rising debt when students cannot afford to pay for school lunches, and sometimes schools end up "lunch shaming" students in order to compel their families to pay the amount. But, a majority of Americans say the school system should provide daytime meals for free.
According to a recent YouGov survey, 62 percent of people say lunch should be provided for free by public schools, and a majority (57%) say it's appropriate for the school to absorb the cost of negative meal balances and allow students to eat full meals as normal—even if they don't have the funds to pay for it.
The concept of lunch shaming, or singling out a student for their low-balance, is seen as inappropriate by most Americans. Majorities disapprove of schools withholding a student's diploma until the balance is paid (65%), denying the student a full meal and giving him/her a pre-selected sandwich until the balance is paid (59%) or publicly giving the student a low-balance reminder, like a note or sticker (56%).
More than eight in 10 (83%) say it is appropriate for the school to send a private low-balance reminder to parents, but Americans are divided on what other responses are appropriate based on their household income. Those with a household income of $80,000+ are more likely than those with a household income of less than $40,000 to say it is "very appropriate" or "somewhat appropriate" to give the student a pre-selected sandwich, deny the student their diploma, or require the student to work off the meal debt with cafeteria work.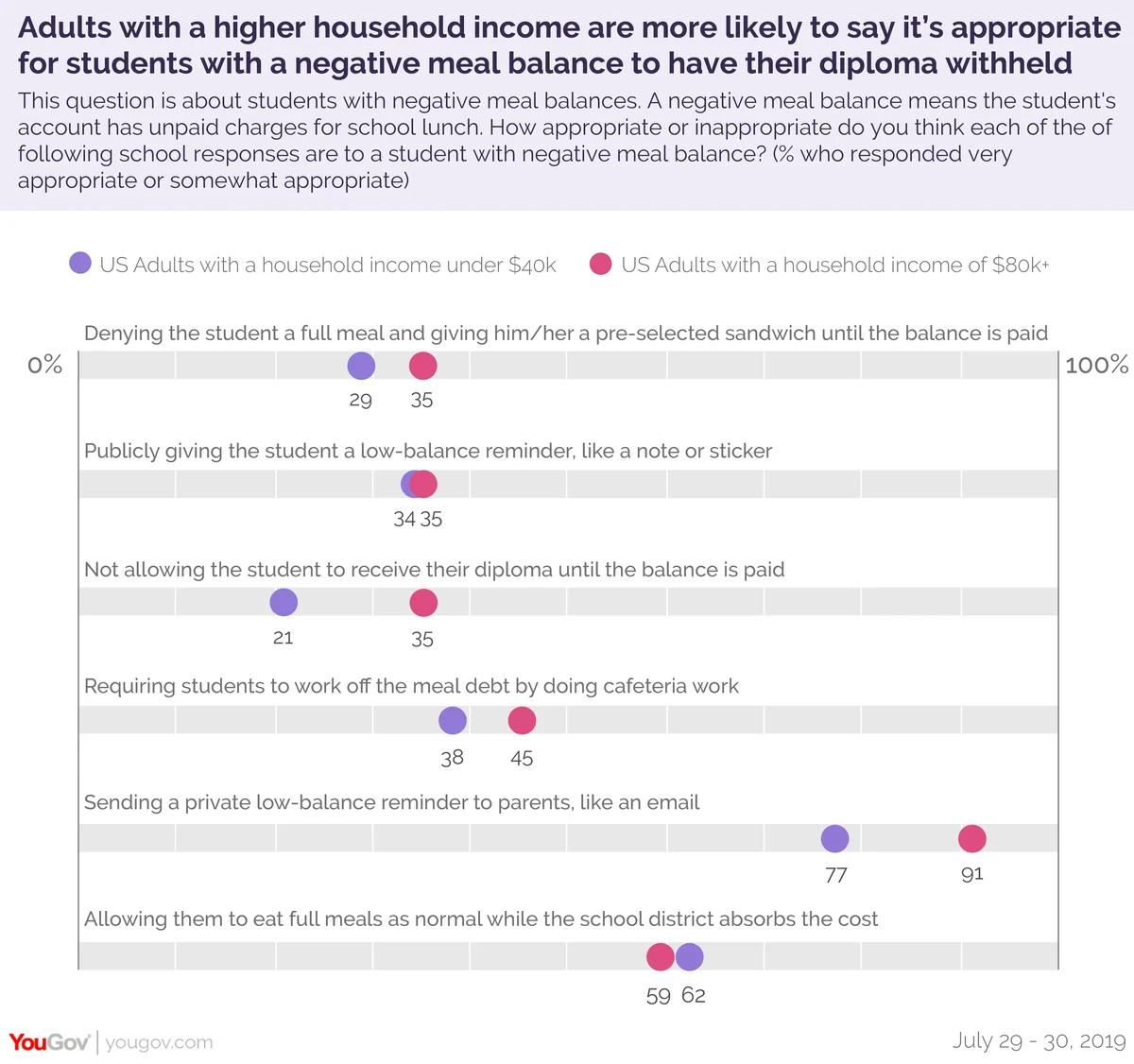 A majority of US adults say public schools should provide free lunch (62%) and free breakfast (52%). Those with children under 18 are more supportive of free lunches (66%), breakfast meals (59%), a mid-day snack (33%) and an after-school snack (24%) than non-parents or parents of older children.
Additionally, people with a household income of more than $80,000 are among the most likely of all groups (22%) to say that none of these meals should be provided for free.
What do you think schools should do to address school lunch debt? Sign up to be a member of our panel and see the full survey results here.
Related: A quarter of Millennials would shut down Immigration and Customs Enforcement
Methodology: Total unweighted sample size was 1,127 US adults ages 18+. The responding sample is weighted to provide a representative reporting sample of the US. The survey was conducted online from July 29 - 30, 2019.
Image: Getty