President Donald Trump shares an affinity for well-done steak with roughly one in four Americans (24%)—but not the people who voted for him in 2016. Rather, one-third of Trump voters (32%) like their meat cooked medium rare.
YouGov showed more than 1,200 US Adults labeled images of steak ranging from blue rare to well-done. Nearly one-fourth of Americans (24%) selected the well-done meat as their steak preference, while slightly fewer (23%) selected medium-rare. While the two options come in a near tie, there are clear distinctions in who's ordering each—particularly depending on gender and politics (and it's another area where Trump bucks Republican norms).
Overall, America's least-popular steak options were on the furthest side of each spectrum: blue rare (2%) and burnt (2%). While respondents were offered "burnt" as a steak option, they were not shown an image of it. Nearly one in 10 US adults (8%) do not consume steak at all, but Americans have access to 26 billion pounds of beef annually.
Behind well-done and medium-rare steaks are medium well-done (16%), medium (13%), and rare meat (11%).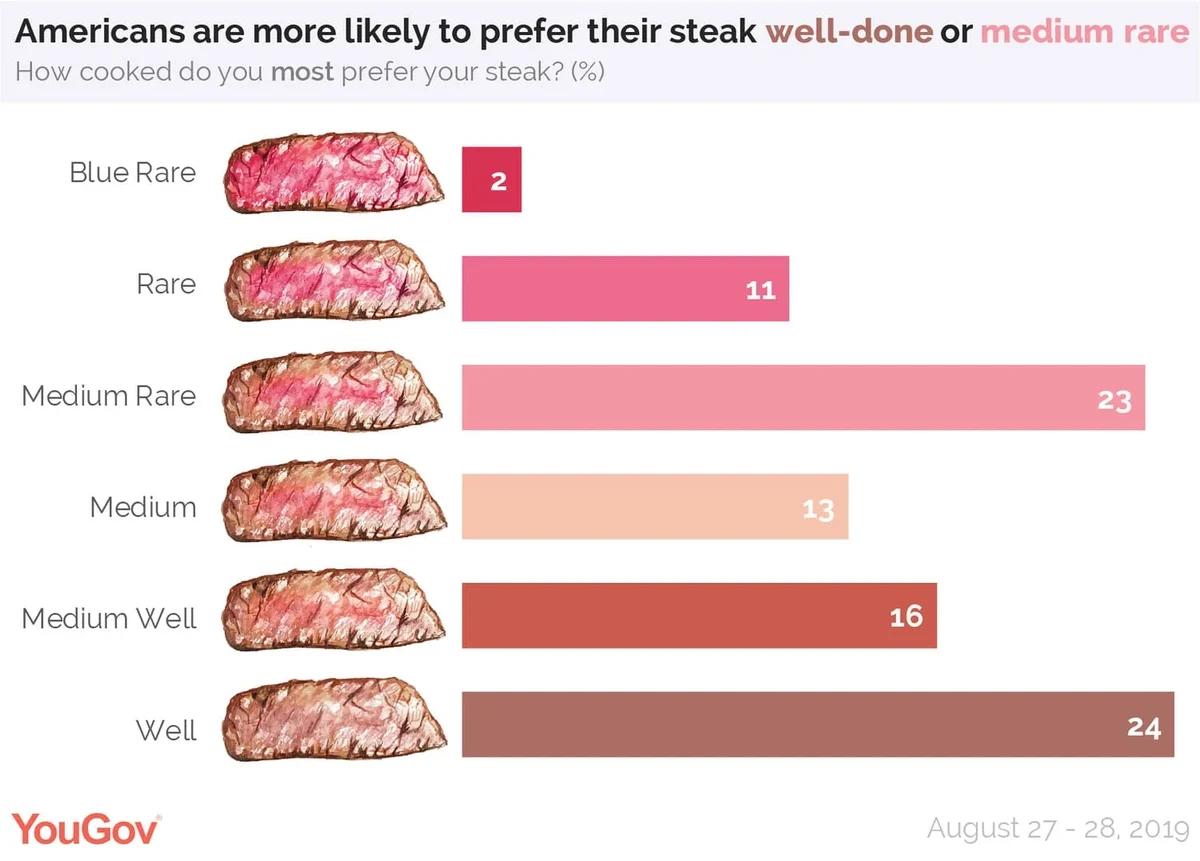 While medium-rare and well-done steaks are America's most popular selections, men (26%) are more likely than women (20%) to choose a medium-rare steak. In contrast, women are statistically more likely to request a well-done steak (29%), compared to two in ten (20%) men.
Three in ten Republicans (30%) order a medium-rare steak compared to just shy of two in ten (19%) Democrats. Democrats are six percentage points more likely (27%) than Republicans (21%) to order their steak well-done. There are fewer Democrats ordering steak overall, however. Nearly one in 10 (9%) Democrats don't eat steak, compared to 16 percent for individuals who consider themselves "very liberal." Just 4 percent of Republicans do not eat steak.
According to other YouGov data, Republicans are also spending the most money eating out at casual steak restaurants—four in ten (42%) report spending more than $50 monthly. One-third of Democrats (34%) say the same.
One in four (26%) Independents prefer a medium-rare steak, and they are less likely than Republicans and Democrats to want their steak without any signs of pink. That being said, well-done is still their second choice (19%). Nearly one in 10 (8%) Independents also do not consume steak.
Baby Boomers are more likely than younger generations to like a medium-rare steak (26%) while Gen X is carrying the torch for well-done steaks (29%) alongside Millennials (27%). Americans making less than $40,000 annually prefer their steaks well-done (31%) while those earning more than $80,000 annually ask for a medium-rare (26%) steak.
When it comes to grilling up hamburgers, there is more uniformity that well-done is best. Four in 10 Americans (40%) choose a well-done burger, and just one in five (20%) want it served medium-well. There is still a gender divide, though—nearly half of women (47%) want a well-done burger compared with one-third (33%) of men. Politically speaking, Democrats (40%), Independents (39%), and Republicans (38%) all prefer their hamburgers well-done.
Alternatives to traditional meat have emerged as a way to lessen the environmental impact of consumption. Additional YouGov data found that over half of Democrats (53%) and just under one-third of Republicans (31%) are willing to reduce their meat consumption in order to reduce carbon emissions and combat climate change. Roughly two in 10 (21%) Democrats and 11 percent of Republicans are willing to eliminate it altogether. More than half of Republicans (53%) and 15 percent of Democrats say they are not willing to reduce the amount of meat they eat.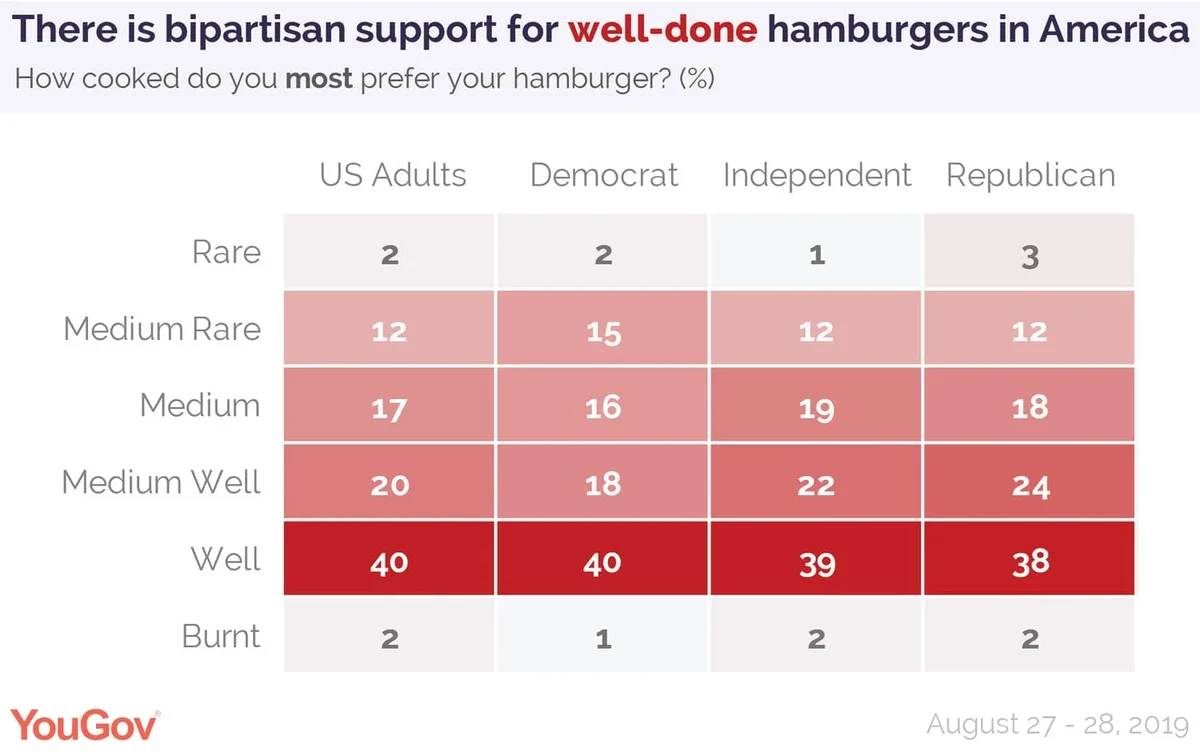 Methodology: Total unweighted sample size was 1,295 US adults, which included 478 Democrats, 326 Republicans, and 332 Independents. The figures have been weighted and are representative of all US adults (ages 18+). Interviews were conducted online between August 27 - 28, 2019. The data about steak spending comes from the YouGov Profiles tool, where respondents answered the question, "How much of your OWN money (i.e., do not include food bought on work expenses, or by someone else) do you spend on average per month on eating out at _steak casual restaurants_ (e.g., Outback Steakhouse, P.F. Chang's, Kona Grill, The Palm, etc.)? Please include money spent on drinks you have while eating. If you are unsure, please give your best estimate." In that question response, there were 3,978 Democrats, 3,290 Republicans, and 3,133 Independents. The figures have been weighted and are representative of all US adults (ages 18+).
See the full survey results here and sign up to be a part of the YouGov panel.
Related: Is your ideal banana more green, yellow, or brown?
Image: Getty