October is Domestic Violence Awareness Month, which seeks to educate the public about the issue of intimate partner violence and how it can be addressed. Domestic Violence Awareness Month began in 1981 as a way for those impacted by the issue to connect, work towards ending domestic violence, celebrate those who have survived, and mourn those who have died because of domestic violence.
New data from YouGov finds that most Americans say they would know where to find resources if someone close to them was experiencing domestic violence.
About four in ten (39%) are "very confident" they would know where to find support, while a similar number (37%) are "somewhat confident" they could find help.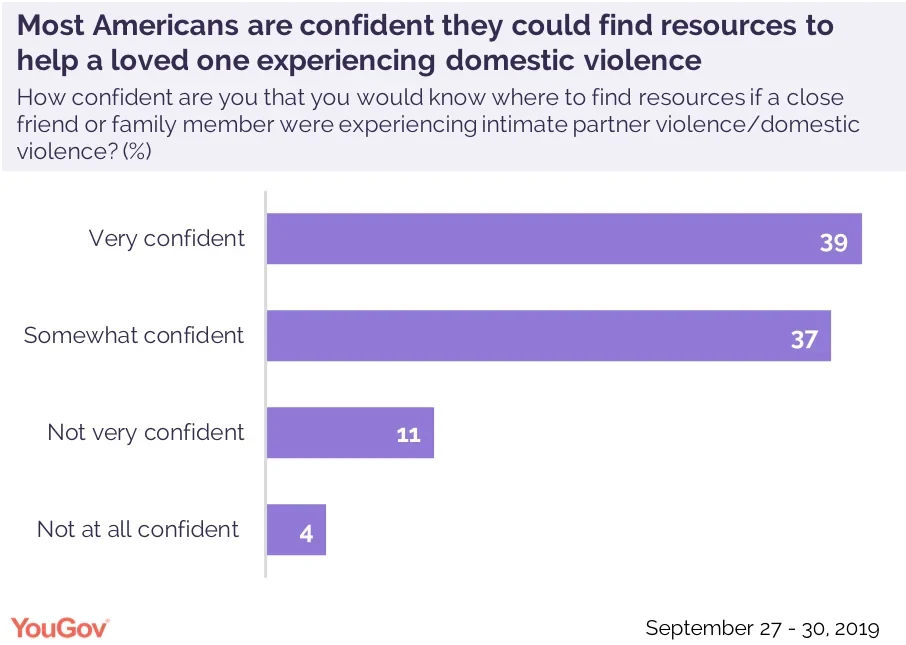 About one in seven Americans (15%) say they are "not very confident" or "not at all confident" that they would know where to find resources to help a friend or family member experiencing intimate partner violence.
YouGov's data indicates that older Americans are more likely to be confident about their ability to find domestic violence crisis resources. That said, more than six in 10 (63%) of those between the ages of 18 and 24 are confident they would know where to turn.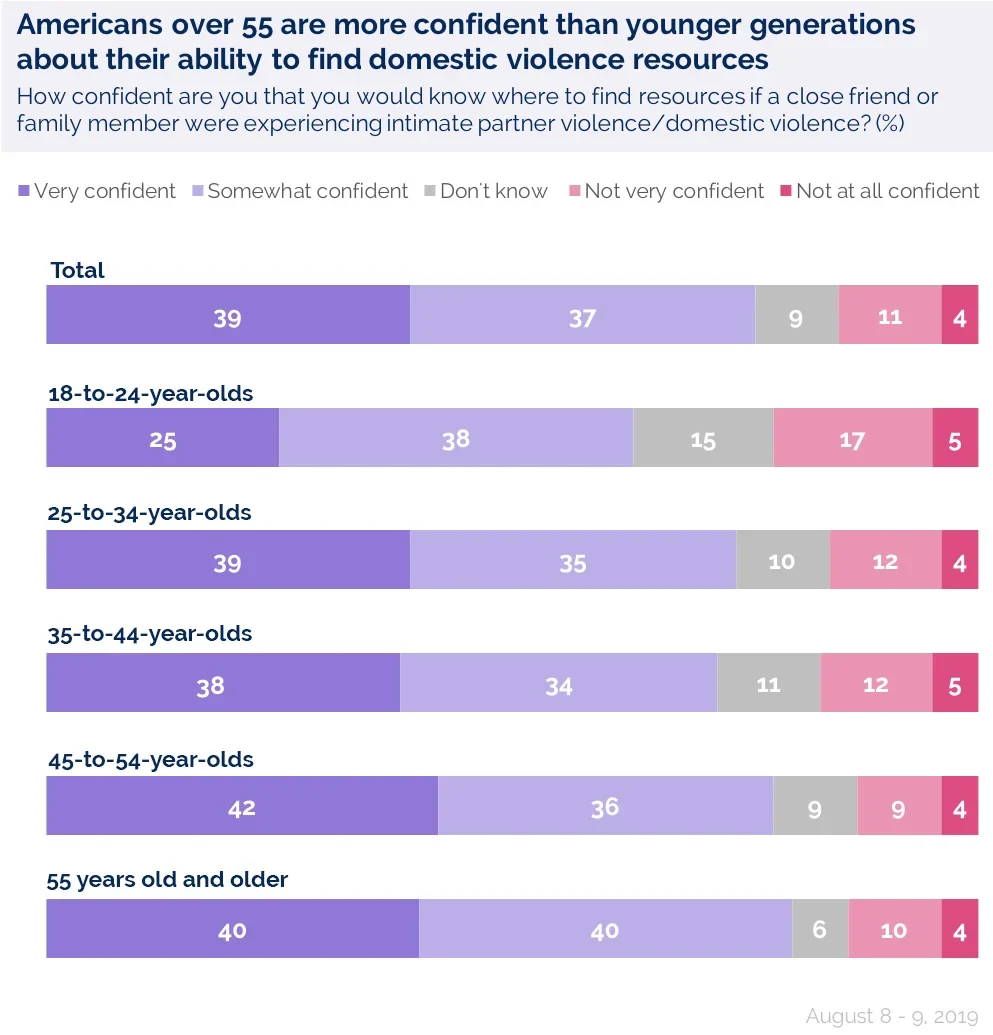 YouGov also asked Americans about how police and prosecutors should handle domestic violence situations.
A majority (56%) of Americans say that police and prosecutors should always arrest and charge suspected perpetrators of domestic violence, regardless of what the victim wants. About one-quarter (24%) say that victims should be able to decide whether or not to prosecute their alleged attacker in these situations.

LIVE SURVEY RESULTS

Men (29%) are more likely than women (19%) to say the decision should be left to the alleged victim. Inversely, women (61%) are more likely than men (51%) to say suspected perpetrators should always be arrested and charged, regardless of what the alleged victim wants.

There are many different forms of intimate partner violence: physical abuse, emotional abuse, sexual abuse and coercion, reproductive coercion, financial abuse, and digital abuse. The website for the National Domestic Violence Hotline offers more information about the different forms of abuse, as well as resources and confidential counseling.
If you or someone you know is experiencing domestic violence, The National Domestic Violence Hotline can be reached at 1-800-799-7233, or you can chat online here if it is safe for you to do so. You can also access local resources through the National Domestic Violence Hotline or by searching here.
Methodology: Total unweighted sample size for the questions "How confident are you that you would know where to find resources if a close friend or family member were experiencing intimate partner violence/domestic violence?" and "Should the police and prosecutors always arrest and charge suspected perpetrators of intimate partner violence/domestic violence regardless of what the victim wants, or should they allow the victim to decide whether or not to prosecute?" was 18,807 US adults. The figures have been weighted and are representative of all US adults (ages 18+). Interviews were conducted online September 27-30, 2019.

Image: Getty