It should come as no surprise that teens (and kids) today are spending a lot of time online.
New data from YouGov finds that almost a fifth (17%) of teenagers, defined as 13-17 years old, report spending 4 hours or more online every day. YouGov conducted the study among 8-to-17-year-olds and gained the children's parental permission before asking the questions on a range of topics, including online habits.
In terms of time spans online, slightly fewer (14%) children, defined as 8-12, report spending four hours or more online every day.
Overall, teens report spending more time online than do children: 45 percent of teens say they spend 2 hours or more browsing the internet, watching videos, playing games, chatting with friends, and other online activities. Fewer children (39%) report spending the same amount of time online.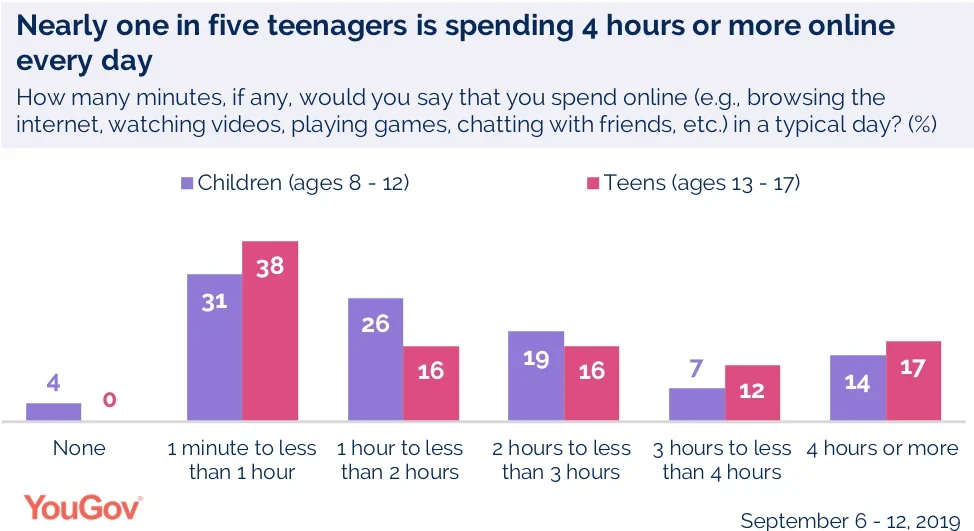 Most teens are spending at least some of their time online using social media. A majority (85%) of Americans between 13 and 17 say they have at least one social media account. (Children under 13 were not asked about social media accounts in this survey).
When asked about which social media platform they use most, Instagram topped the list, with 25 percent saying this is the one they use most often. A similar number (24%) say Facebook is their most-used platform, followed by Snapchat (22%) and YouTube (16%).
Teenage girls and boys tend to differ in which social media platforms they spend the most time on.
Among young women, Snapchat (29%) is the most-used platform. For young men, it's Facebook (27%).