'Tis the season for giving gifts. But not every American gives and receives the same. In fact, neighbors and colleagues don't seem to be high on many shopping lists for the holidays.
It's family first.
A majority of adults say they plan to buy Christmas gifts for their family members (75%) and significant other (54%), according to data from YouGov about holiday gift-giving. More than one-third of US adults (37%) plan to purchase a present for a friend. About three in 10 (31%) will buy a holiday surprise for their pet. Only about one in 10 plan to shell out for their coworkers (13%) or neighbors (10%).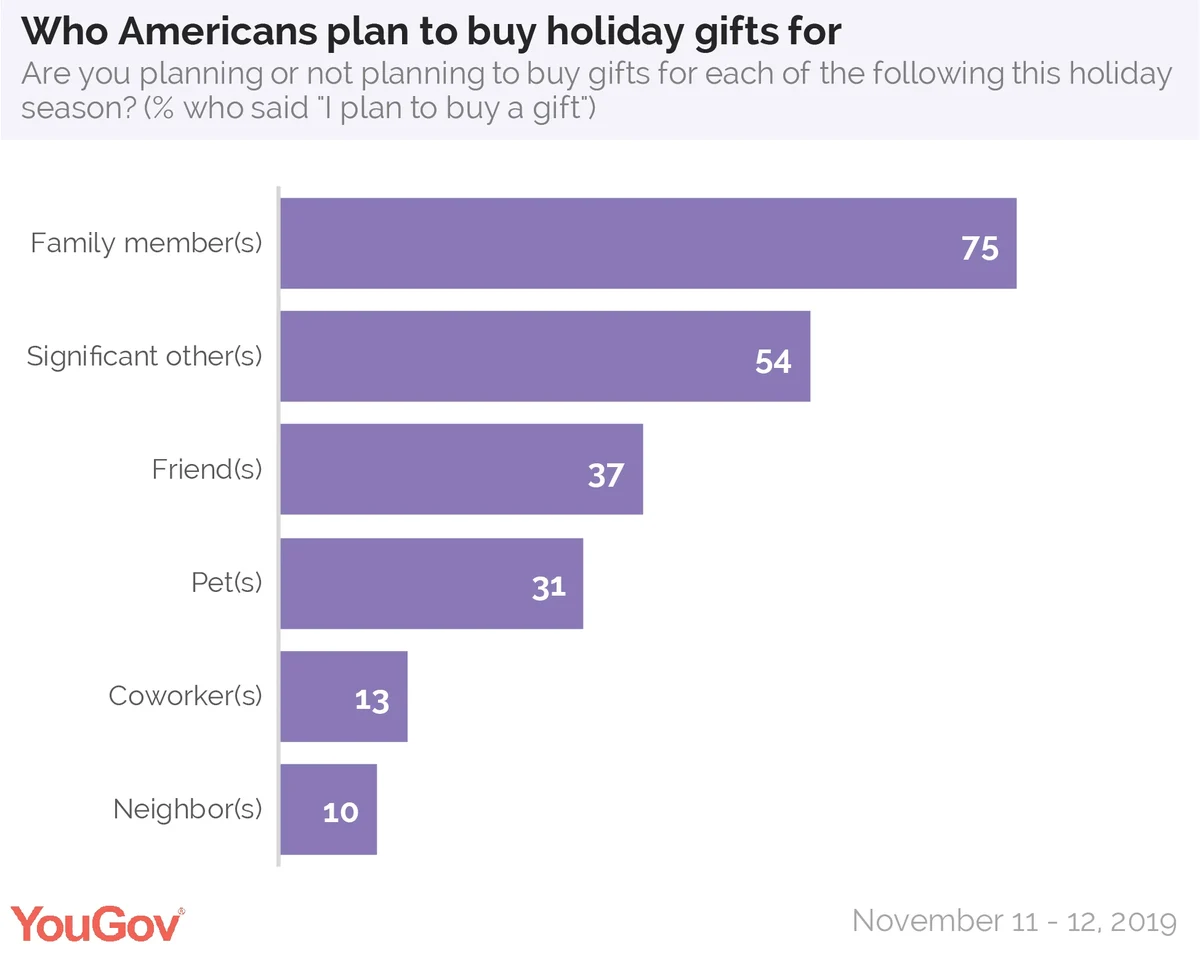 When it comes to gender differences, women seem to be more giving. Females are more likely than males to have plans to purchase gifts for family (79% vs. 70%) and friends (41% vs. 32%). About one-third of women (34%) and 28 percent of men plan to purchase a gift for a pet.
While women appear to be more generous gift-givers in some categories, there is one area where men are in lock-step: significant others. Half of men (54%) and women (54%) say they intend to purchase a gift for their significant other.
Men are less confident than women when it comes to wrapping those various holiday gifts, however. Men (33%) are more likely than women (18%) to say they are "somewhat bad" or "very bad" at wrapping gifts. Three in 10 (30%) women say they are "very good" at wrapping gifts, compared to 18 percent of men.
Perhaps unsurprisingly, men (12%) are about twice as likely as women (6%) to have someone else that they know wrap gifts for them. Men are also twice as likely (10% vs. 5%) to have holiday gifts wrapped professionally. When the holidays arrive, though, most Americans (80%) will be wrapping presents by-hand.