Just three-quarters of Americans (78%) say they always tip their waiter or waitress, and about one in 20 (6%) rarely or never tip at all, according to the results of a survey from YouGov about tipping in America.
America's waiters and waitresses are often paid less than the federal minimum wage and depend on tips for their income, although some states do mandate higher wages than others for tipped employees, like California, which requires $11-$12 an hour.
Older generations are more likely than younger ones to say they always tip waiters and waitresses. Nearly nine in ten Baby Boomers (89%) say they always tip their restaurant workers compared to about eight in ten Generation Xers (81%), and a majority of Millennials (63%).
Tipping habits are a bit different when it comes to food delivery workers, however. About half of the general population (52%) always gives a tip to food delivery people — though it's notable that about a quarter of Americans (24%) say they don't use food delivery services at all. A recent report from The New York Times revealed that some food delivery apps don't pass along the tips to the delivery employee, perhaps making it more understandable why one in 10 (10%) US adults say rarely or never tip food delivery people.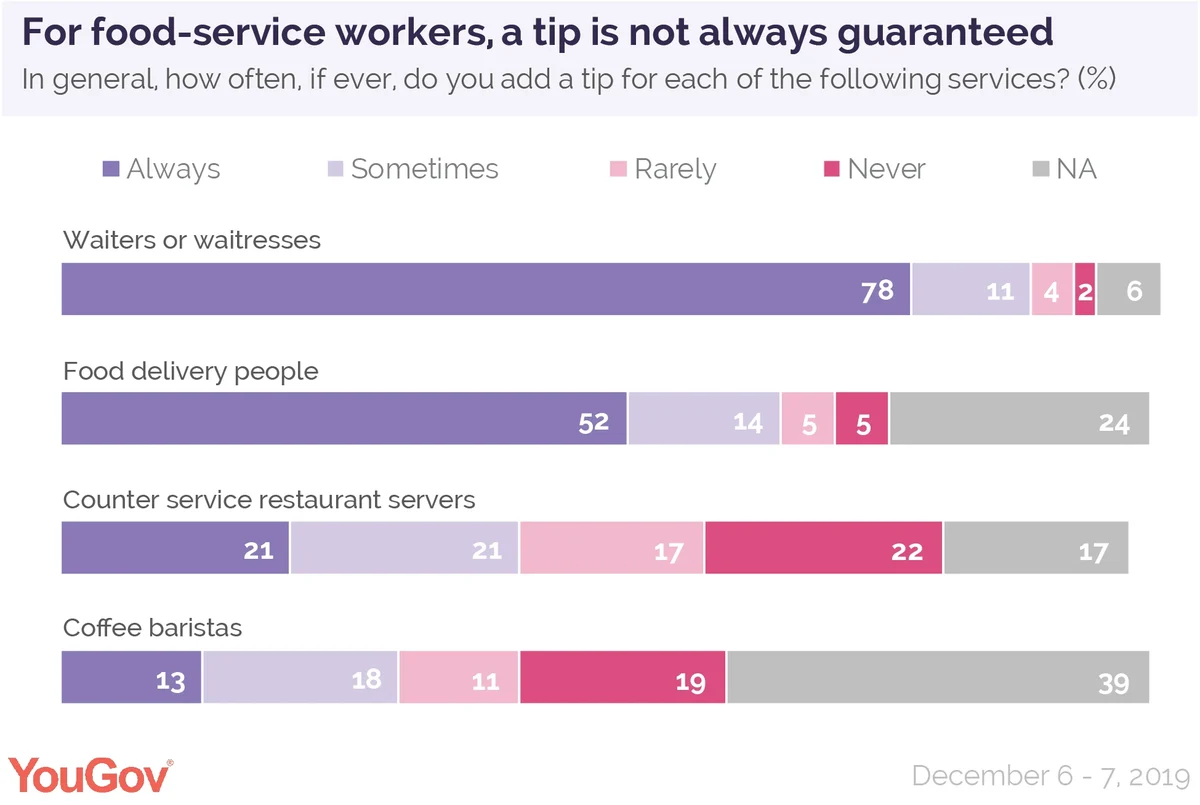 Counter service restaurant servers and coffee baristas are even less likely to be guaranteed a tip. About two in 10 (21%) Americans say they always tip quick-service counter workers, while 22 percent never do this. Just 13 percent "always" tip coffee baristas, and 19 percent say they never do this.
See the full survey results and sign up to be a part of the YouGov panel
Related: How America's pet owners feel about their furry friends
Methodology: Total unweighted sample size was 1,292 US adults, which included 376 Millennials, 350 Gen Xers, and 465 Baby Boomers. The figures have been weighted and are representative of all US adults (ages 18+). Interviews were conducted online between November 6 - 7, 2019.
Image: Getty