If you're thinking of breaking up with your partner on Valentine's Day, most Americans don't think that's the right move.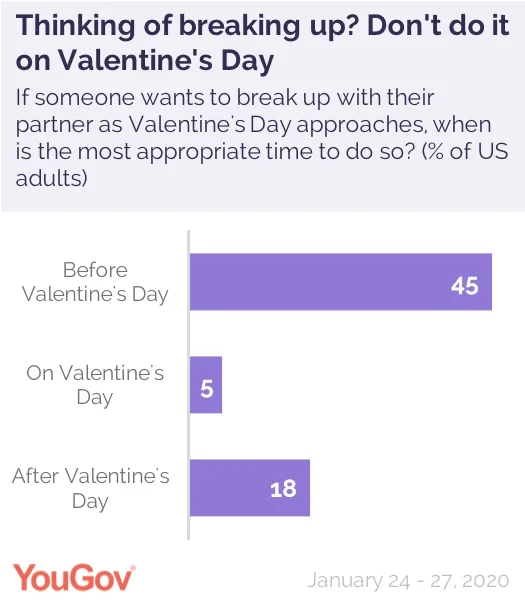 Data from YouGov finds that a plurality of Americans believe that if a person wants to end their relationship as Valentine's Day approaches, the best thing to do is to break up before (45%) Valentine's Day. One in 20 (5%) believes the best course of action is to break up on the holiday itself, while 18 percent believe you should wait until after Valentine's Day to break the news.
About one in 14 US adults (7%) says that they've broken up with someone on Valentine's Day. A similar number have broken up with a partner shortly before (6%) or shortly after (6%) Valentine's Day.
Millennials are most likely to have broken hearts on Valentine's Day: 11 percent of this generation says they've ended a relationship on Valentine's Day. Fewer Gen X'ers (9%) and Baby Boomers (2%) have done the same.
One in 10 Millennials have also ended relationships shortly before Valentine's Day (10%), or shortly after (10%).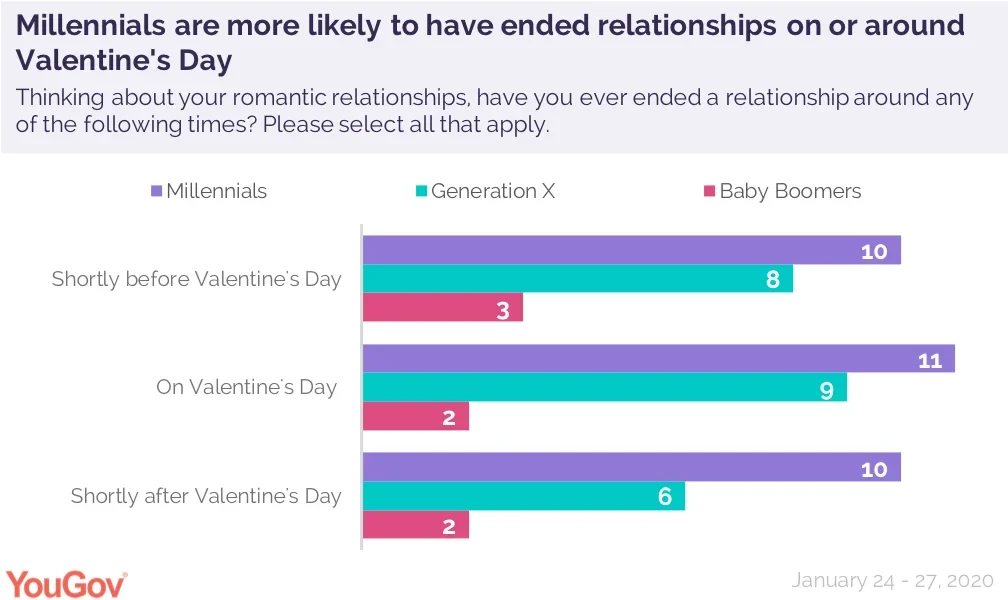 How do Americans feel about Valentine's Day in general?

Close to half (46%) of US adults believe that Valentine's Day is too commercialized. One in 10 says that they feel lonely on Valentine's Day, while 6 percent say they feel a lot of pressure to please their partner on Valentine's Day.
It's not all bad news, though: 30 percent say they see Valentine's Day as a celebration of many different kinds of love, not solely romantic love. A similar number (27%) say they think Valentine's Day is a good opportunity to show others how you feel about them, and one in five (20%) says they think Valentine's Day is romantic.
Additional data from YouGov Profiles finds that last year, 14 percent of Americans went out to dinner on Valentine's Day, while 8 percent say they cooked dinner at home.
As for this year, one-quarter (25%) of US adults say they think it's likely they'll go on a date on Valentine's Day. Here's hoping there are no unforeseen breakups over dessert.
See the full survey results and sign up to be a part of the YouGov panel.
Related: What men and women really want for Valentine's Day
Methodology: Total unweighted sample size was 1,352 US adults. The figures have been weighted and are representative of all US adults (ages 18+). Interviews were conducted online between January 9 - 10, 2020.
Image: Getty