As all but the most essential businesses shut down amid COVID-19, churches and other places of religious worship in several states continue to remain open. Elsewhere, some churches have made the decision to temporarily suspend services or to offer online or virtual services for their congregations.
So what does this all mean for Easter Sunday - one of the biggest religious holidays of the year for Christians?
A YouGov poll of nearly 11,000 US adults finds that many Americans (24%) plan to attend virtual religious services on Easter Sunday. But about one in every 25 (4%) Americans plans to defy social distancing advice and attend church in person on Easter.


Another 15 percent of Americans say that they usually attend religious services, but they don't plan to do so this Easter.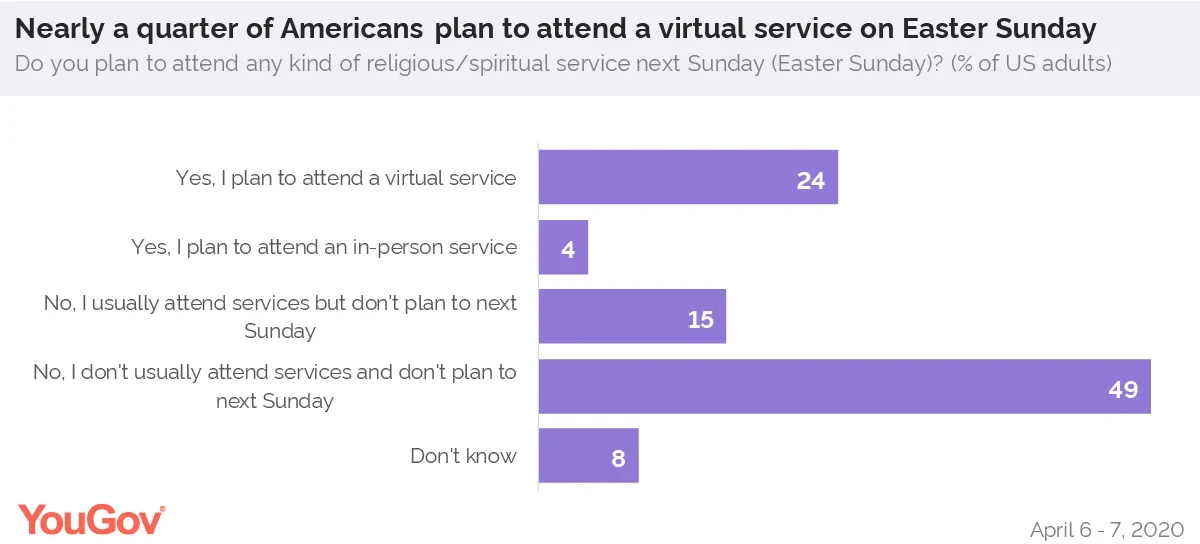 Overall, most Americans aren't convinced that religious or spiritual gatherings should be considered exempt from social distancing orders.
A YouGov poll conducted on April 2 and 3 finds that 71 percent of Americans don't think religious gatherings should be considered exempt. About one in five (21%) say such events should be excused from social distancing mandates.
Additional data from YouGov collected last year finds that 26 percent of US adults reported attending an Easter service in 2019. Mormons (54%), Protestants (44%) and Roman Catholics (36%) were especially likely to have attended Easter services in 2019.
Sign up for the YouGov Daily newsletter and take a short chat to tell us about your experience with COVID.
Image: Getty