It's been a while since that New Year's ball dropped in Times Square – and we've had just enough time to look back on, and feel nostalgic about, the music and artists that made 2011 for us all. We recently invited you to nominate just one single from 2011 that defined those twelve months in your eyes. It might have been a track from an artist who dominates the musical mainstream, with little chance of letting up, or on the flip-side, a newcomer who came out of nowhere to outshine all competition.
As hard-worn music lovers, you'll know that trying to choose just one song is no easy thing. And yet here we have it – your Top 10 most voted-for singles. Each song is peppered with comments from those of you who took part, and agreed to have their comments published.
Now it is time to check how your selections compare to last weekend's Grammy winners. Count down with us below to see which single – and artist – was music fans' clear winner…
OVERALL COLLECTION, LADY GAGA
Now, we know that technically this flouts the rules of a typical top ten singles vote. But so many of our music-loving participants said that The Gaga's set of 2011 releases had made it for them, and simply couldn't pick one track over another, that we had to give this recognition. Born This Way, Lady Gaga's second album, saw Mother Monster venturing still further into her creative depths – and for some, controversy. In You & I she appeared as Joe Calderone, her male alter ego. Her video for Judas featured a thorn crown. And the eponymous title track, Born This Way, which Gaga performed at a gay rights rally in Rome, has built a culture around it.
"Lady Gaga's songs are reincarnations of Madonna's best works" VJ Nicholas
"She is smart, innovative, stylized, has a distinctive voice and continues to innovate with every album and personal appearance. Plus she treats her fans particularly well" Anon
"She's popular to all kinds of listeners" Anon
NEED YOU NOW, BY LADY ANTEBELLUM
Nashville trio, Lady Antebellum, did great service to the good old-fashioned lovers' duet with Need You Now. Missing your faraway lover while "a little drunk" and lonely in the dead of night is a scenario many of us can identify with – enough so for the song to win four Grammy Awards last year, including Song of the Year and Record of the Year in February 2011. Lady Antebellum scouped Best Country Album for Own the Night at the recent 2012 Grammys.
"This is the one song that will define Lady Antebellum even if they never have a hit again. It'll be played decades later, long after I'm gone" Anon
"It sounds great every time you hear it" Bev
"It related to my life, and I know it affected others too" Syl
"They were a big cross over hit of the year" Anon
"Perfect for this band. Good story, good beat, great song" Anon
FIREWORK, BY KATY PERRY
When it comes to writing songs of wide-eyed teenage dreams and desires, Katy Perry is the queen-in-residence. As such, Firework's appearance on Glee couldn't have beenmore perfect. Firework was the third single off Katy Perry's candy-coated album, 'Teenage Dream', and inspired by a paragraph about compelling, colourful, "firework people" from 'On The Road' – a novel by by '60s beatnik author Jack Kerouac. "That's how I feel I am, who I want to be, who I want to surround myself with… the people who make life worth living, 110%", says Perry.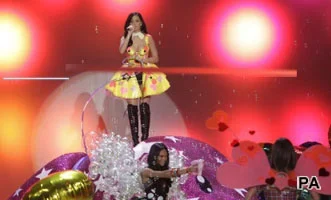 "I think the message to youth is so positive in terms of self-acceptance and diversity and hope, and it's in a mode that is very captivating" Rua Ting
"It's one of those songs that will make you stop what you are doing and listen. How can I quantify that?" Anon
"It is such an optimistic, hopeful song. It reaches out to awkward kids, lost young adults, and tired adults. I would like to think that 2011 was a year of optimism, a year where we at least began to fight for what we believe we deserve, for what we believe we are on the inside. So many movements began, and gained so much speed and weight in 2011, and the only song I can think that can encompass this movement for greatness is Firework, by Katy Perry" Waiting For Green
"2011 was a pretty explosive year all over, as far as the economy, politics, global unrest, domestic unrest, etc. Everyone needs to look within themselves to survive and get through the turmoil that was 2011 – and Firework is that inspiration" Bob O
OVERALL COLLECTION, ADELE
When Adele released her 'coming of age' album, 21 at the very start of 2011, little could she have known just how her voice – and what a voice –, her lyricism and her personality, would rocket onto the global stage. In a blog post at the end of last year, the ecstatic singer wrote: "Thank you to every single person who has taken a shining to this record, for making it have such an impact, this record has taken on a life of its own thanks to you. I made the record, and you've made it what's it's become".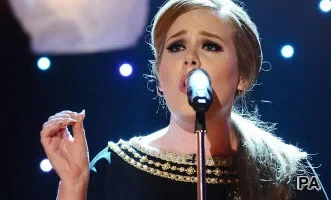 Adele was honored with six Grammys, sweeping the top categories, and joining Beyoncé as the most celebrated single-night female Grammy winner in history.
"Adele is the greatest artist of 2011 because she is real, her voice is real and her music is amazing!" Aseye
"She has a soulful voice and a uniqueness about her" Katrina
"She has changed music. She has a beautiful voice you can get lost in" Jet"A young star acting like a musician not a pop star" Anon
MOVES LIKE JAGGER, BY MAROON 5, FT. CHRISTINA AGUILERA
And if the video to this track is anything to go by, then Maroon 5 frontman Adam Levine tells no lie. This homage to the Rolling Stones' frontman, in which Levine and Aguilera celebrate the seductive power of Jagger's slinkily-hipped performativity, sealed Maroon 5's transition from indie sweethearts to premier pop-rock stars.
"I would say that this song should be Number One for a couple of reasons. First it's a song that like Santana's 'Smooth' before it crosses genres and has everyone dancing. Secondly, it was actually a good song that premiered on a TV talent contest – rare indeed" Steve Kane
"This song is so catchy! It just makes you want to get up and dance and sing along!" Carolyn
"A great, catchy song that I never got sick of" Anon
PARTY ROCK ANTHEM, BY LMFAO
Party Rock Anthem scored Number 1s the world over, and judging by its strong position in your Top Ten of 2011, the track by electronic duo LMFAO is one heck of a party song. In Australia, the song spent ten weeks at number one – the longest time that position has been held since Sandi Thom's "I Wish I Was Punk Rocker With Flowers In My Hair".
"This song was ubiquitous in 2011, fun and catchy. The music video is hilarious and even inspired Christmas tree light displays in other viral videos" Amanda M
"It came out in January 2011 and was played all year long.... on the radio, in clubs, at stadiums/sporting events, television commercials, etc." Kevin J Kelly
"Whenever anyone got together to 'have a good time' it would come on" Kathryn G
"It was everywhere… just EVERYWHERE!" Melissa
PUMPED UP KICKS, BY FOSTER THE PEOPLE
One of last year's biggest hits – but did you know that the indie group originally posted Pumped Up Kicks online as a free digital download? Having signed to Columbia Records, the group released their debut studio album in 2011, after which the track peaked at number 3 in the Billboard Hot 100 chart.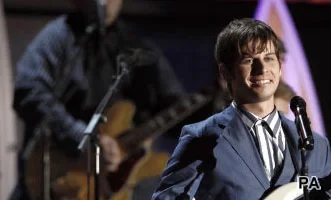 Foster frontman, Mark Foster, wrote the song while working as a jingle writer for commercials.
"One of very few acts that showed some real talent and originality" Anon
"A very easy-going song contrasted with a dark set of lyrics" Anon
"It was a breakout hit from a group that came out of nowhere and a rare rock crossover into pop music. It was everywhere this year, yet never really got stale" Aaron Maurer
"They really have an amazing ability in both song-writing and a good beat. They have captured their audience well" Luke Glister
BORN THIS WAY, BY LADY GAGA
A stick-it-to-them anthem for anyone who's ever been made to feel like they don't belong, Born This Way was released in February 2011 and has become so much more than just a song since then.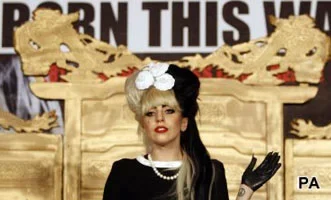 Lady Gaga and her mother are teaming up to launch the Born This Way Foundation http://bornthiswayfoundation.org/ campaign at Harvard on February 29, promoting Born This Way's message of bravery, love, individuality and acceptance.
"I saw her interviewed and heard her explanation of the song. It was interesting to say the least. I'm not a fan per se but I have downloaded some of her songs because the tunes are catchy and the production is outstanding. Whether I like it or not I think this song is creative and young people are responding" DaySpring50
"Born This Way had the biggest impact industry wise and culturally" DJ TJ Ford
"I think it's been the rallying cry of not only lesbians but also young girls everywhere. Rebels will always rebel, and it's nice that they now have a voice" Slycke
"It was political, won major awards, was #1 in many countries around the world, and debuted at #1 in the US!" Marlene
SOMEONE LIKE YOU, BY ADELE
Who could fail to be moved by Someone Like You? The song was inspired by the singer's break-up from her ex-boyfriend; its searing bittersweet-ness something that tappedinto many people's experiences.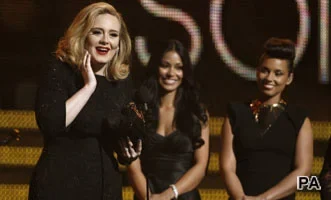 "This was me, kind of on my knees, really" says Adele of writing it. The song reached number 1 in the US billboard charts, and won Best Pop Solo performance at this year's Grammys.
"This was a great piece of music that people everywhere fell in love with regardless of their preferred genre. Adele has brought music fans together – from hip hop to country, from pop to Broadway. Someone Like You is the best track from her Album 21" Ryan King
This song was the most popular of 2011. It was by a very talented and unique artist" Chrystal J
"No frills, no hype, just a beautiful song performed brilliantly" Anon
"This artist was a surprise breakout this year. She's been around for a while but not until 2011 did people start to listen and take notice of her phenomenal voice" Donna A
"It was copied and repeated and covered and played so much" Anon
ROLLING IN THE DEEP, BY ADELE
That Adele has taken both top spots is testament to how this break-through artist smashed into popular consciousness last year to become a firm favourite. Rolling in the Deep was the first single to be released from Adele's coming-of-age album, 21, released in November 2010 – just in time to become 2011's ubiquitous title track - with three Grammy wins for Record of the Year, Song of the Year, and Best Short Form Music Video. Add these to her wins for Best Album and Best Pop Vocal for 21, and Best Solo Performance for Someone Like You - just one question remains for Adele. What's next?
"I think Adele was THE singer of the year. She is bold and vivid, and has a unique style" Carol Q
"Awesome vocals. Great soul..." Anon
"Finally – a singer who can sing! No gimmicks, no outrageous costumes, just a woman singing about love and loss" Anon
"Unique artist, rich voice of depth and powerful passion" Anon
"Song resonated with so many people, both men and women. Potent lyrics, emotional performance" Steve Mayer
"She was the break out artist of the year" Anon