With over 845 million monthly users worldwide, Facebook has become one of the most important social networking tools today. Among students and employees, however, Facebook's constant usage often blurs the line between private and public lives.

Among the concerns of whether private Facebook profiles should be made public to schools and employers, survey respondents seem to be fairly split between allowing access and not. 54% think that schools should never be allowed access to their students' private Facebook accounts; only 6% think that it is justifiable to require access under any circumstances. The remainder believes school access to the private accounts should only be allowed when there is socially unacceptable behavior suspected, such as bullying, (20%) or illegal behavior suspected (20%).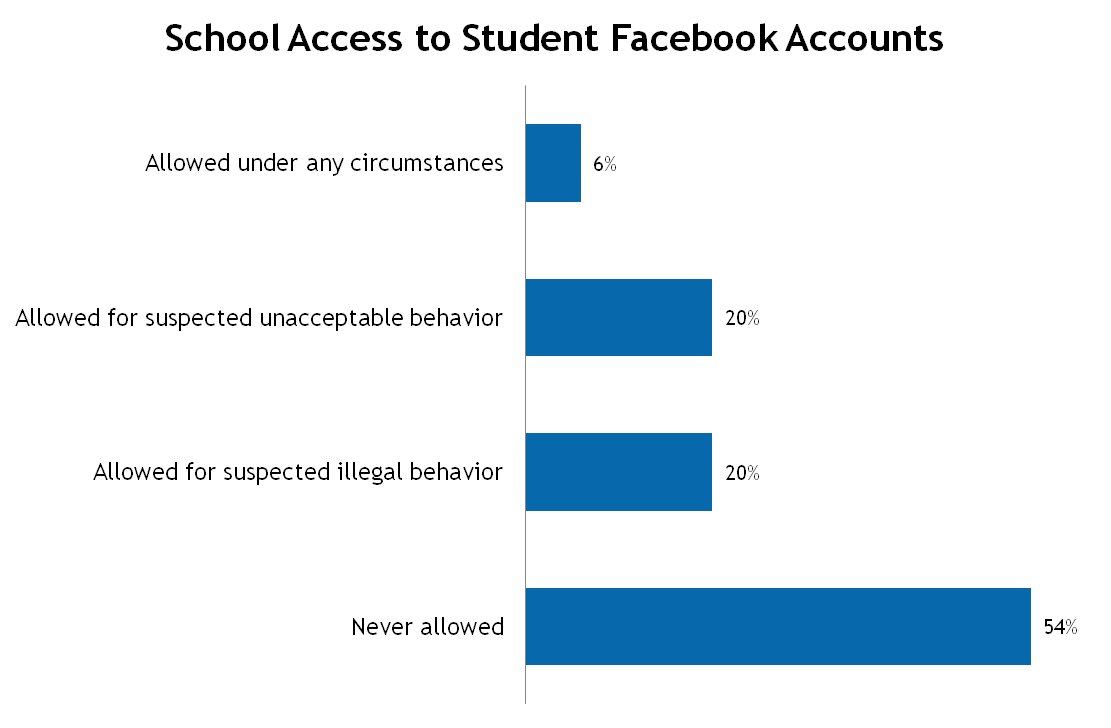 While 60% of Republicans believe that no access should be allowed for schools, only 49% of Democrats and 55% of Independents agree. Among annual household income ranges, households earning less than $40K were split exactly in half between believing that schools should be allowed any sort of access or none at all. In incomes ranging from $40-100K, 53% believe that there should be no school access whatsoever; 60% of those earning $100K+ in household income annually agree.

There was a more interesting contrast when respondents were posed the question of when employers have the right to access the private Facebook accounts of their employees. While a high majority (78%) believe that employers should never be allowed access to those accounts, more deviations among demographics were present among respondents.

While a majority (64%) of the younger generation, ages 18-29, believe that employers should never be allowed access, 8% think that they should be allowed whenever they want it; 14% think that it is acceptable when there is suspected engagement in unacceptable behavior, and the remaining 14% think that Facebook account access should be allowed during the pre-employment interview process, but not necessarily during employment. A lower number of respondents from the age range 30-64 think that employer access should be allowed; 82% believe that it employers should never be given that right. From the older generation, ages 65+, 79% believe in no access for employers, but 12% so think it is justified during suspected unacceptable behavior.


Among political parties, most Independents (83%) did not believe employers should be allowed access; Democrats (77%) and Republicans (76%) followed respectively. Eleven percent of both Democrats and Republicans believe that employers should be allowed access when an employee is suspected of unacceptable behavior; 9% of Independents agree.