In some households, Santa has a little bit of help finding out who's been naughty or nice, thanks to the Elf on the Shelf.
Elf on the Shelf is a holiday tradition for some households where adults place a toy elf in the home and tell the children that it is watching them and will report back to Santa about their behavior. The children are usually told that they can't touch the elf, and that the elf will not speak or move while the children are awake. Parents also usually stage the elf in a different scene each night for the children to discover when they wake up.
More than one-third (36%) of parents to young children (10 or younger) say that their household has an Elf on the Shelf. Among those who have an elf, the most common reason why they decided to get one is simple: they think it's "fun" (61%). About three in 10 say that an Elf on the Shelf is a family tradition (30%) or their children heard about the idea from someone else, and so their family decided to do it (29%). Another 22% say that it makes the children behave better.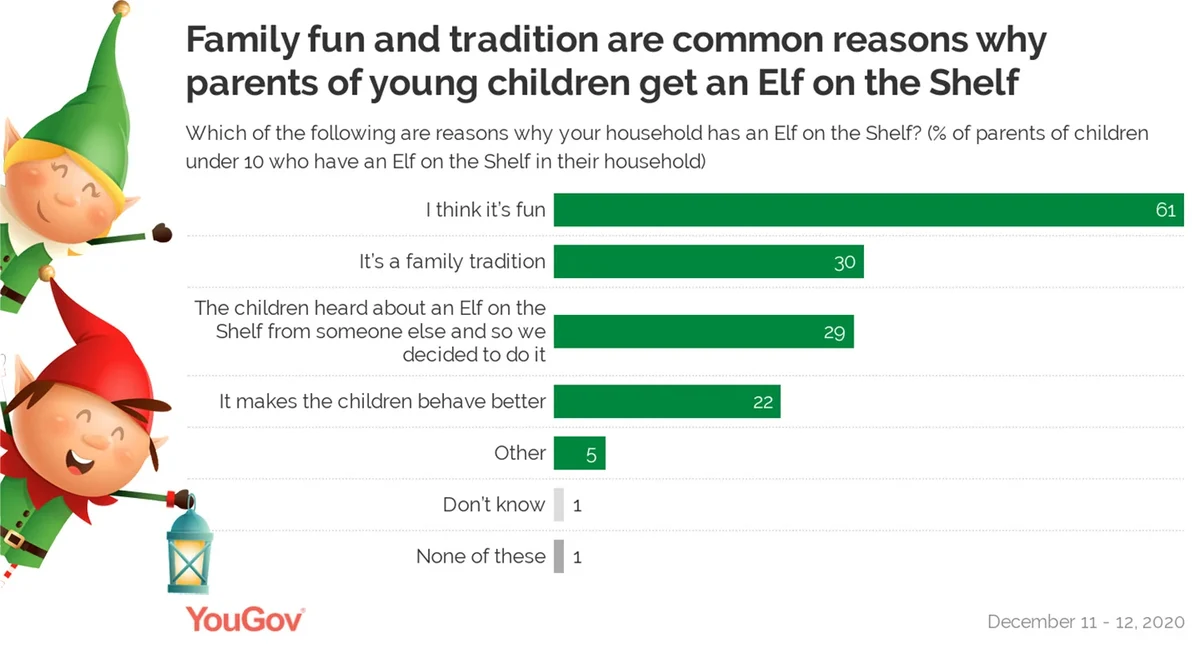 But a majority (61%) of parents say their household doesn't have an Elf on the Shelf. Among this group, 32% say they think the tradition is "weird or creepy." Slightly fewer say that they had simply never heard of this tradition (21%) and 20% say their children never wanted one. Another 18% say that it's just too much work.
Overall, two-thirds (66%) of parents with young children think the Elf on the Shelf is a harmless tradition, though 16% see it as harmful. Perhaps unsurprisingly, 81% of those who have an elf think that it's a harmless ritual. Among households that don't have an elf, 58% think it's harmless and 19% believe the opposite.
Among those parents who don't have an Elf specifically because they think it's "weird or creepy," 41% think that Elf on the Shelf is a harmful tradition while 36% of this group believes it is harmless.
See full results from this YouGov Direct Poll
Related: Three-quarters of Americans place themselves on Santa's "Nice" list

Methodology: 3,407 US adults, including 621 who are parents to children who are 10 years old or younger, were surveyed through YouGov Direct on December 11, 2020. Data is weighted on age, gender, education level, political affiliation, and ethnicity to be nationally representative of adults in the United States. The margin of error is approximately 2.5% for the overall sample.

Image: Getty