With a week until Christmas, half (48%) of Americans still haven't bought all their presents.
Recent YouGov data finds a third (32%) of Americans have purchased all the Christmas presents they intend to give this year – but not everyone is prepared. While a quarter (24%) of Americans say they have ticked off most of the gifts on their shopping list, 15% say they have only purchased some. With the holiday swiftly approaching, 9% of Americans say they haven't purchased any of the gifts they intend to give this year.
Americans between the ages of 18 and 24 seem to be the greatest procrastinators when it comes to Christmas gift shopping – 15% say they haven't done any yet.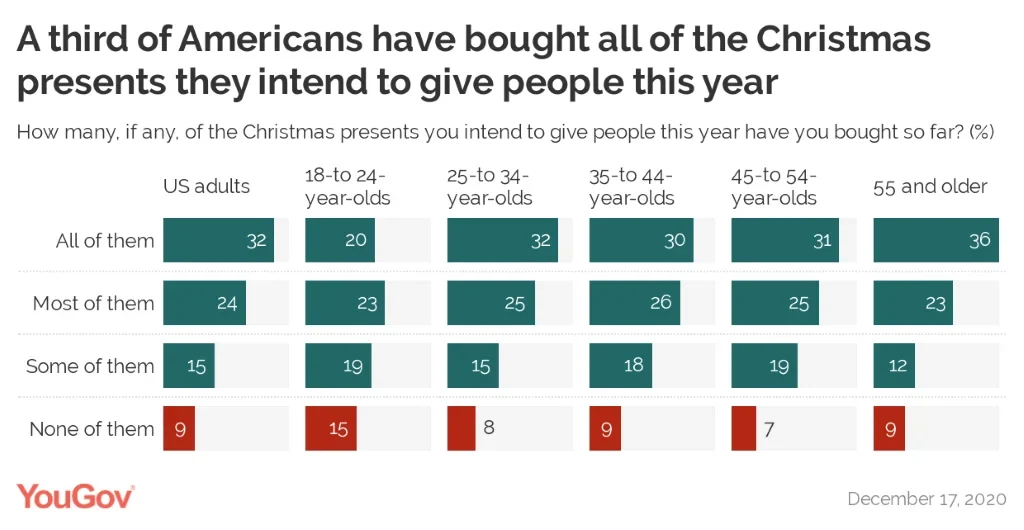 But when do Americans do most of their holiday shopping?
Three in five (62%) Americans had started their holiday shopping by December 3rd – with 13% reporting that their shopping was already complete. By the following week, December 10th, 20% of Americans had completed their Christmas gift shopping, while a quarter (26%) had bought most of their gifts.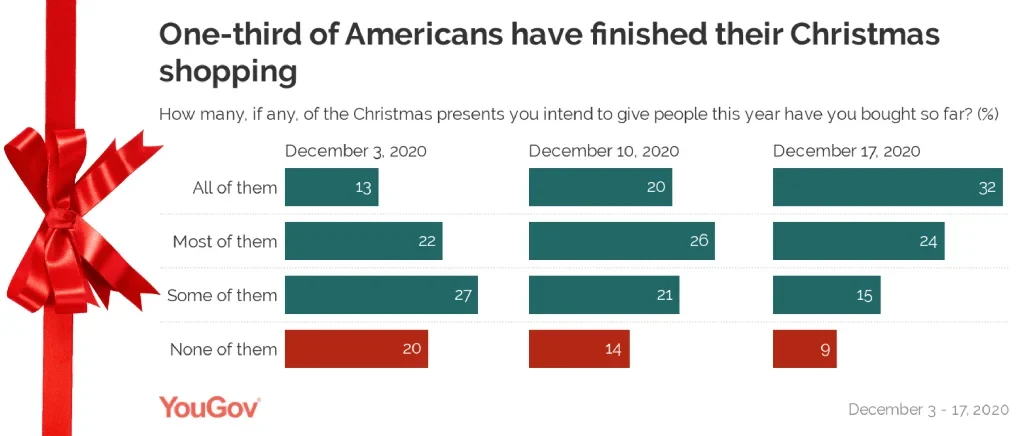 See the December 3, December 10, and December 17 topline results from this YouGov Poll
Methodology: Total sample size was 7,040 US Adults aged 18+ weighted to provide a representative sample of the United States. Participants were asked, "How many, if any, of the Christmas presents you intend to give people this year have you bought so far?" Response options were: "All of them," "Most of them," "Some of them," "Don't know," and "N/A - I don't intend to buy any Christmas presents this year." The survey was conducted December 3 – 17, 2020.
Image: Getty