A person's wedding day is often one of the most significant and joyous days of their life. But it can also be stressful, as couples attempt to navigate wedding traditions and keep their guests happy. In a new YouGov survey, we asked Americans who have ever been married whether they would approve or disapprove of a couple making certain wedding choices like having a cash bar, a child-free ceremony, or asking their guests to wear a specific color.

A majority of Americans who have ever been married say they would disapprove (59%) of a couple asking guests to wear a particular color to a wedding, which some couples do to achieve a monochromatic look in their wedding photos.
People who have been married also tend to disapprove of the idea of inviting some guests to pre-wedding events (such as an engagement party or bachelor/bachelorette party) but not to the wedding itself (50% disapprove vs. 27% who approve). Similarly, 49% would disapprove of a couple inviting some guests to the wedding reception but not the ceremony, and just as many (48%) would also disapprove of a couple requesting money instead of gifts.
As COVID-19 continues to be of concern for many people, some couples may ask their guests to be mindful of their coronavirus risk before attending. About half (49%) of Americans who have been married would approve of a couple asking that guests only attend the wedding if they're vaccinated or have a negative result from a COVID-19 test. One-third (32%) would disapprove of this.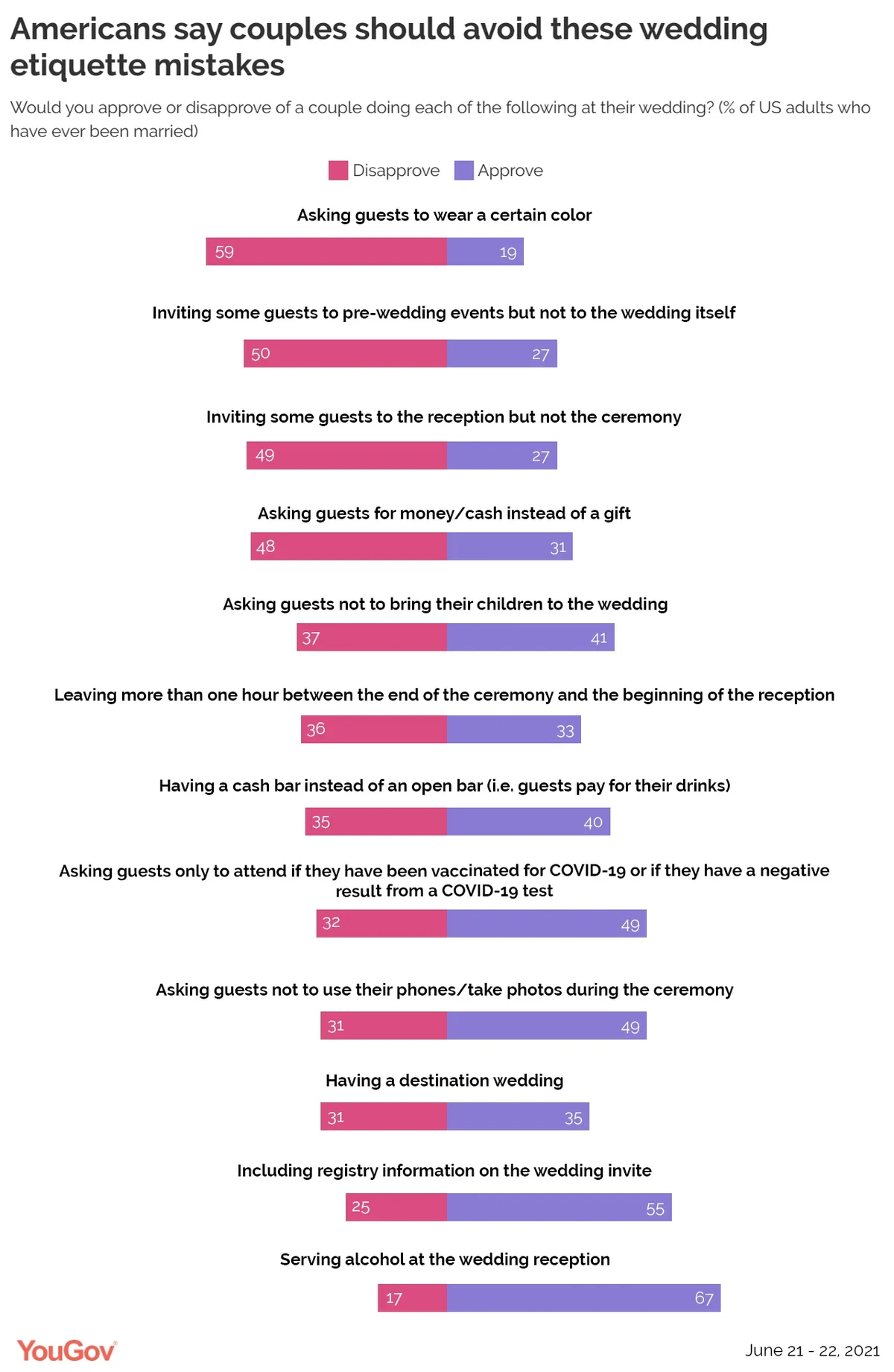 Public opinion is closely divided on a few wedding etiquette topics.
While 37% say they disapprove of a couple asking guests not to bring children to a wedding, a similar number (41%) would approve. Just over one-third (36%) would disapprove of a couple leaving more than one hour between the end of the ceremony and the beginning of the reception, while 33% say this is fine. Similarly, 31% disapprove of couples choosing to have destination weddings, while 35% would approve of this.
One thing is especially clear: Americans are definitely hoping to drink up at the reception – and they might even be willing to pay for it. Two-thirds (67%) say they approve of couples serving alcohol at the wedding reception. And 40% say they approve of couples having an open bar, meaning the guests pay for their own drinks (35% disapprove of this).

See full results here.

Related: Wedding traditions: the ones to keep and skip
Methodology: 1,295 US adults were surveyed between June 21 - 22, 2021. The responding sample is weighted to be representative of the US population.