When it comes to Americans' favorite Halloween candy, there are national favorites that make a perfect fit for any trick-or-treat bowl.
To discover which Halloween treats American adults want most on the spookiest and sweetest night of the year — and to round out the picture of kids' preferences we reported earlier this month — YouGov showed 1,188 U.S. adults a series of match-ups. Each match-up included two possible trick-or-treat items selected randomly from a list of 76, consisting of candies marketed especially around Halloween as well as candy alternatives.
Each match-up asked adults to choose which item they would prefer to get in a trick-or-treat scenario. The potential choices shown in a match-up included brand-name candies and candy-alternative foods — such as mixed nuts, apples, and mints. The Halloween foods were then ranked by their "win percentage," that is: how often each item won when it was included in match-ups presented to adults.
On Halloween night, American adults favor Original M&M candy, with the colorful, chocolate pack winning 76.1% of the match-ups it was shown in. The classic candy was followed by Reese's Peanut Butter Cups in second place, with a 74.4% win rate. These two were also the top two candies chosen, in reverse order, by the 8- to 14-year-olds whom YouGov surveyed, making them clear overall winners for people who want to fill their trick-or-treat bowls with nationally popular items. Just get ready to refill often.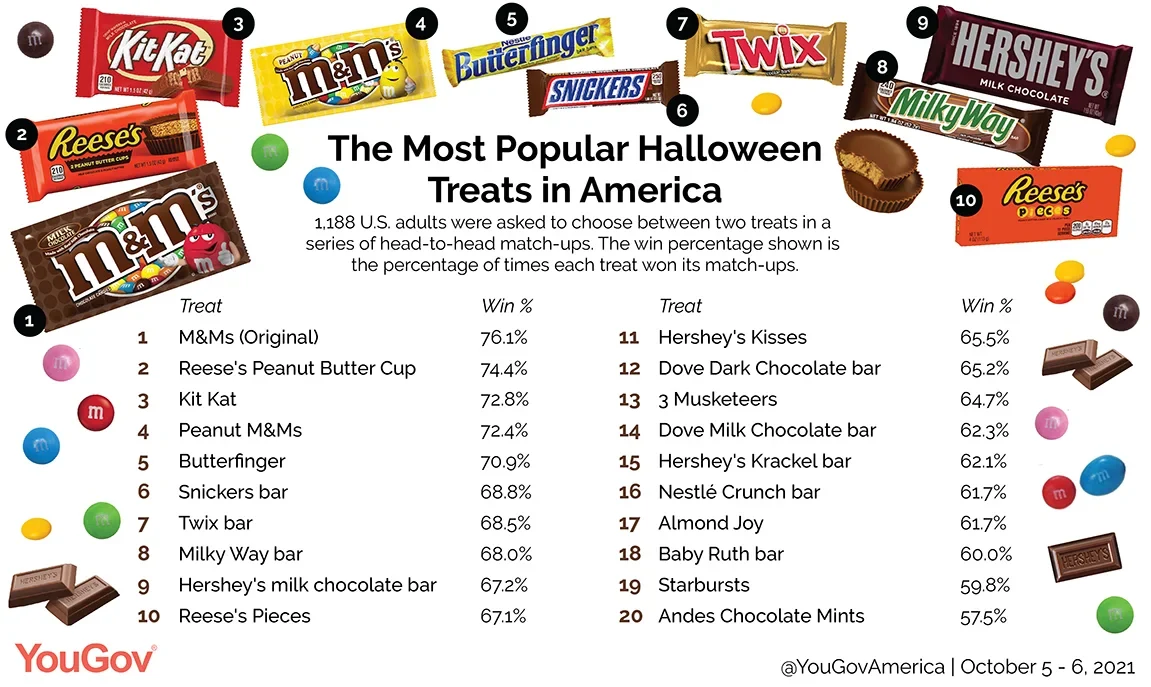 Reese's Peanut Butter Cups are followed by crispy Kit Kat bars (72.8% win percentage) in third place. The top five is rounded out by Peanut M&Ms and Butterfinger bars, which each won about 70% of their match-ups. Chocolate dominated: It was the main flavor in each of the top 18 adult picks.
The best Halloween candy to steal from your kids
Of course, most adults aren't trick-or-treating on Halloween night (unless they are taking kids). With that in mind, we looked at the differences in taste between adults and kids, which might make it a little easier to decide what candies considerate but hungry parents ought to swipe first from their kids, and which candies to leave behind.
Adults prefer certain chocolates — such as dark chocolate, mint chocolate, or nutty chocolate — much more than kids do. The adults we polled were much more likely than kids to choose Dove Dark Chocolate bars, Andes Chocolate Mints, and Almond Joys, for instance.
Kids are much more likely to select sour candies, fruit-flavored candies, or chewy candies. More than adults, they love Sour Punch Twists, sparking Pop Rocks, chewy AirHeads, or the straight sugar rush of Pixy Stix.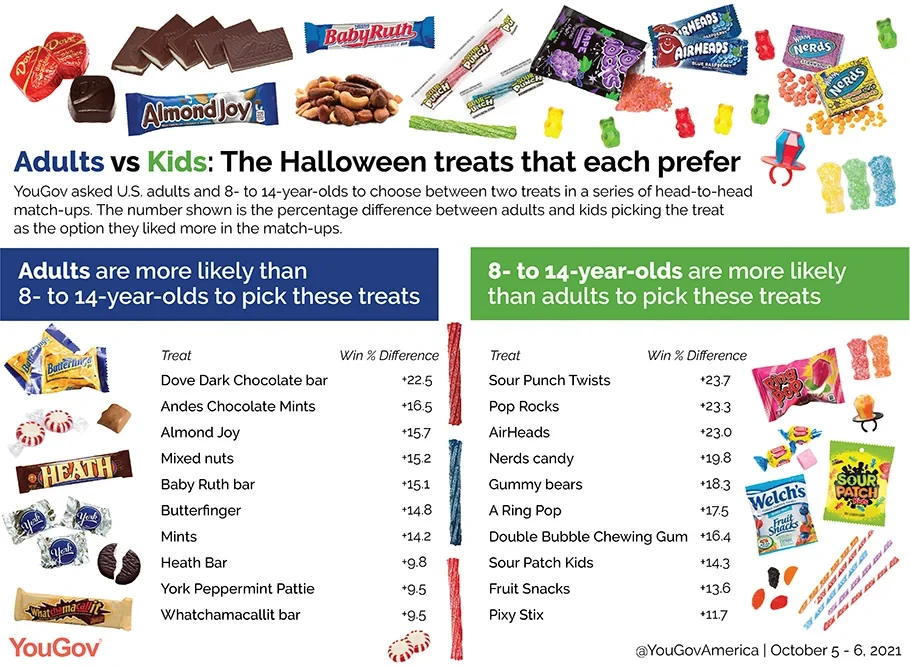 Americans do not want black licorice on Halloween
There's one thing that adults and kids can agree on: Black licorice does not have a place in trick-or-treating baskets. Black licorice candy landed in last place in both the adult poll and the 8- to 14-year-old poll. It won about a quarter of its matches among adults (25%) and an even smaller share among children (16%).
Even the supposed Halloween staple of candy corn got lackluster ratings all-around. It only won about 40% of its match-ups among both groups.
Explore how Americans rank your favorite Halloween candy below:
—Data analysis support by Mark White
For more information on this YouGov poll, email uspress@yougov.com
Related: Halloween: What is kids' favorite trick-or-treat candy?
Methodology: Total sample size was 1,188 U.S. adults ages 18 and older. The survey was carried out online. The figures have been weighted and are representative of U.S. adults ages 18 and older.
The respondents were asked to choose which Halloween food they liked better in a series of head-to-head match-ups that could include 76 different items that someone could give out on Halloween. The poll's introductory text stated, "On the next eight screens, we are going to show you two things that someone might give you while you are trick-or-treating for Halloween this year. On each screen, we want you to click the one that you would rather get if you were going trick-or-treating." Each participant saw 8 match-ups that showed the names of two different Halloween foods. Each of the 76 items appeared in at least 219 match-ups; the two foods in each match-up were selected randomly. The survey was conducted between October 5-6, 2021.
Image: Getty