A recent YouGov poll finds that Americans have mixed opinions on how pets should be treated by society, including their rights, what spaces they should be allowed in, and how they should be handled in divorce settlements. Americans with pets are more supportive of policies that expand the rights of animals in society than are people who do not have pets.
Animal rights
About one in three Americans say that animals don't have enough legal rights in society. A similar share say animal rights are good as is, and only 8% say animals have too many legal rights. People with pets are twice as likely as people without pets to say animals should have more rights. There is also a gender divide: Women are significantly more likely than men to believe animals don't have enough rights.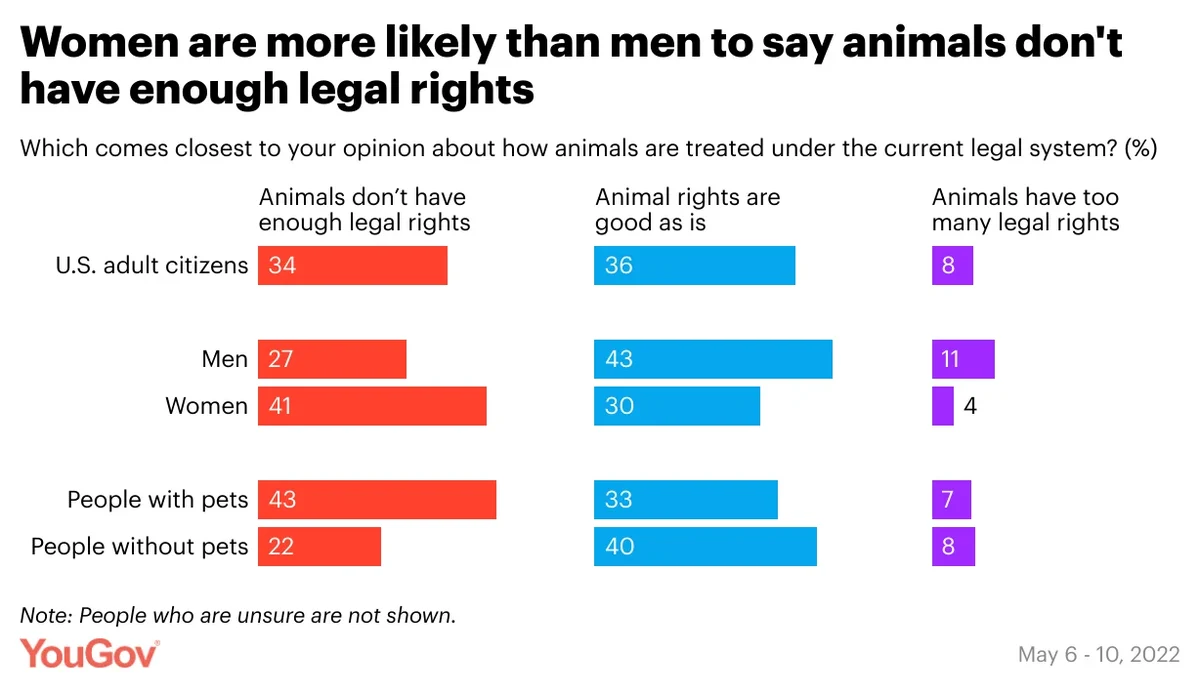 Nearly half of Americans (46%) believe that animal-cruelty laws in the U.S. are not strict enough, while about one-third (32%) say they're about right and 5% say they're too strict. On this question we also find a gap between people with and without pets – people with pets are 20 percentage points more likely than people without to say animal-cruelty laws are not strict enough. On this topic, too, there is a gender gap, with women being more in favor of strengthening laws around animal cruelty than men are.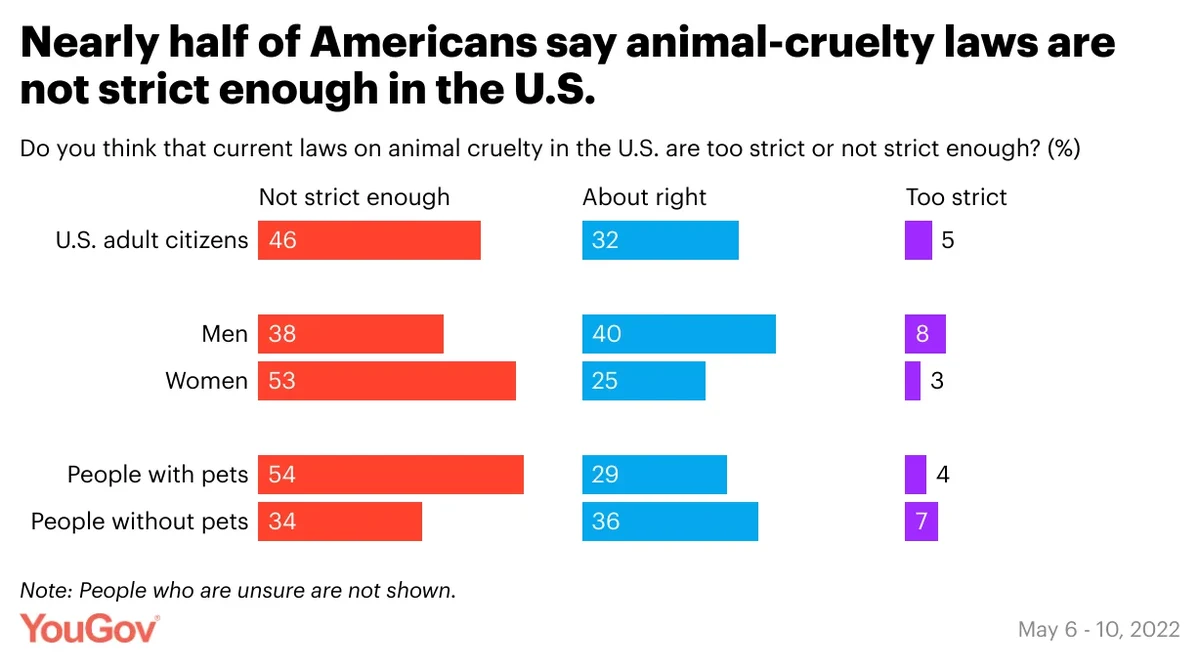 Dogs in public places
There is often debate over where pets — and, in particular, dogs — should be allowed to go in society. We asked Americans their opinions on allowing dogs in four places: offices, airplanes, shopping malls, and restaurants. Most people support allowing dogs in these settings under some circumstances, though majorities who support allowing them in each of the settings think these privileges should be restricted to service dogs. Fewer believe non-service dogs should be allowed in offices (32%), airplanes (31%), shopping malls (27%), and restaurants (18%). People with dogs are more likely to say all dogs should be allowed into these places than are people without dogs.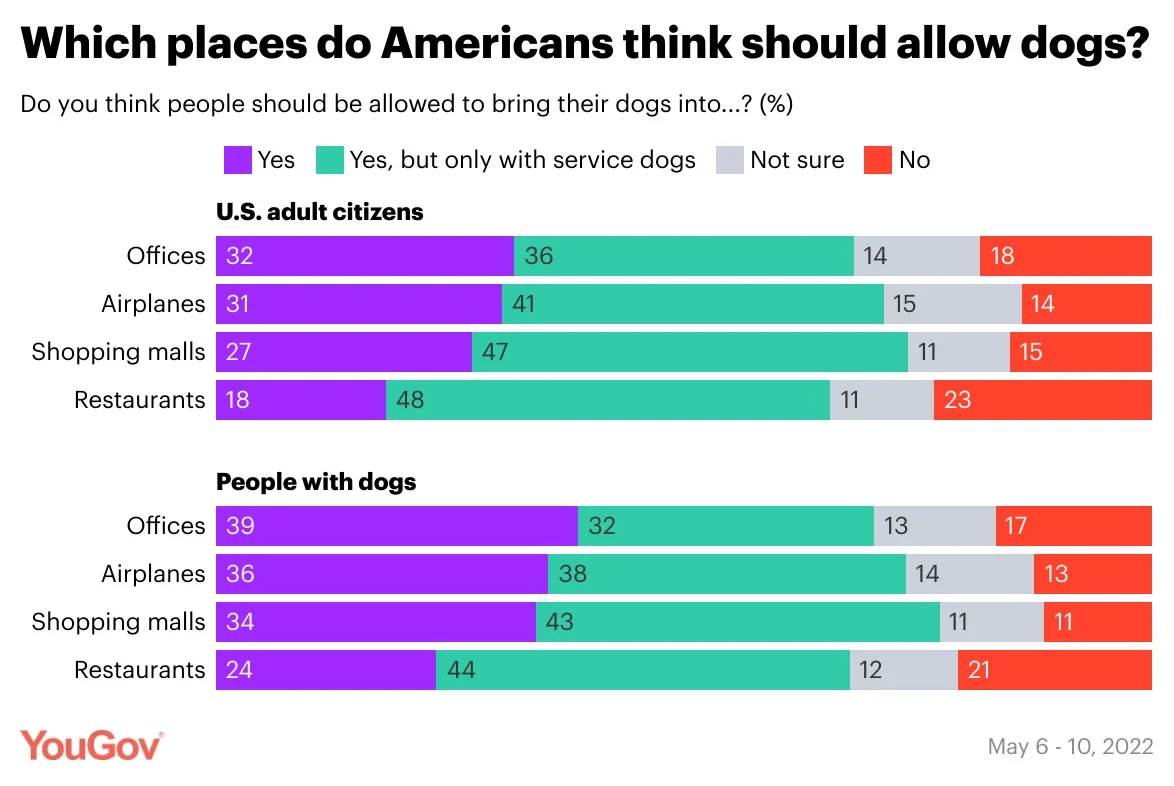 Other pet-related policies and issues
Two-thirds of Americans with pets (66%) say that when a couple who shares a pet together divorces, the judge should consider the pet's best interests when deciding who gets custody of the pet. Nearly half (46%) also approve of judges giving divorcing couples joint custody of a pet, so that each person takes turns looking after the pet.
Almost half of Americans with pets (46%) say that workplaces should extend bereavement leave, or time off following the loss of a family member, to employees whose pet has died. Half as many people without pets support this (23%).
Most people (80%) say that if you're in public and see someone with a dog on a leash, it's OK to pet the dog. However, three in four say you should ask for permission first (74%) while far fewer (5%) say you don't need to ask for permission. About one in 10 (12%) say it's not OK to pet someone else's dog in public no matter what.
The vast majority of people who walk their dog on the sidewalk (95%) say that they pick up after their dog after it goes to the bathroom; only 5% say they do not.
Most people – cat parents and non-cat parents alike – approve of people walking their cats outdoors on a leash. Interestingly, however, people with cats are somewhat less likely to approve of this than people without cats are.
Most people with an opinion on the subject (72%) disapprove of vegetarian or vegan pet parents feeding their dogs a meat-free diet, while 28% approve. People with dogs are somewhat more likely to say this is OK than are people without dogs.
– Carl Bialik and Linley Sanders contributed to this article.
Related: Dogs, cats, and other pets play a meaningful role in the lives of many Americans
This poll was conducted on May 6 - 10, 2022, among 1,000 U.S. adult citizens. Explore more on the methodology and data for this poll.
Image: Sasha Sashina on Unsplash