Charging airline passengers by the pound, like the recent initiative from Samoa Air, doesn't win much favor in the US, but there is much more support for oversized fliers to be required to purchase more than one seat, according to the YouGov Omnibus public opinion survey taken April 12 - 14, 2013
A majority of Americans (59%) don't support airline passengers being charged by their personal and luggage weight combined. Of that total, 35% said they "strongly disagree" with these tactics. However more than half (63%) believe passengers should be required to buy a second seat if they cannot fit into a single seat with the arm rest lowered.
The idea of being publicly weighed in at an airport divides small and large sized people very closely: 40%, regardless of weight, would not mind being weighed while slightly more 42% said they would feel humiliated, with 17% saying they are undecided.
Which one of the

following, if any, best describes how you would feel about being publicaly weighed in an airport?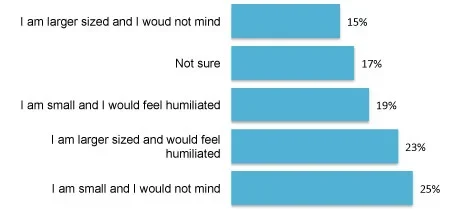 For further information about poll results, and for details about methodology and Omnibus services, please email omnibus.us@yougov.com.