Reebok recently pulled Rick Ross, aka "The Boss," as their spokesperson for releasing a song about drugging a woman and having sex with her without her knowledge. Reebok continued to take heat from women's groups despite an apology from Ross. Reebok stated, "We are very disappointed he has yet to display an understanding of the seriousness of this issue or an appropriate level of remorse."
It appears as though respondents of a recent Omnibus survey agree with Reebok's decision. Although only a quarter of these respondents had heard of the rapper, 70% agreed that Reebok should sever ties with Ross while only 7% felt that Reebok should not do so.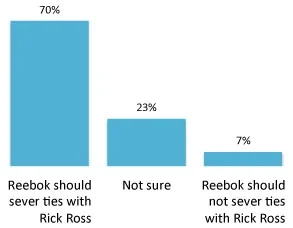 So what do celebrity endorsements actually do for brands? Over half of the respondents (52%) felt that celebrity endorsements have no effect on what they thought about any given brand. A quarter of respondents (25%) believe that endorsing a brand does not affect what they think of a celebrity.
For further information about poll results, and for details about methodology and Omnibus services, please email omnibus.us@yougov.com.