With summer blockbuster season opening this weekend with "Iron Man 3," you may feel that you've already seen the best scenes in the movie.
You're not alone.
Half of all Americans (49%) feel that movie trailers these days give away too many of a movie's best scenes, with a full 16% agreeing strongly, according to the YouGov Omnibus survey taken April 26 - 28, 2013.
One in three Americans (32%) believe that movie trailers give away too much plot, while half (48%) disagree.
Should film companies and theater chains be worried that trailers which give away too much plot may cost them business?
Although 19% of respondents said that trailers revealing a lot of the plot have deterred them from seeing a film, slightly more than that, 24%, said it makes them want to see the film more. 35% said it has no impact at all.
Trailers play a huge role in getting people into theaters: Americans cite the two biggest factors in helping them decide which movies to see as trailers (48%) and personal recommendations (46%). Not far behind, the fact that the movie is the sequel of a movie they enjoyed (39%). One in four cited movie reviews that they either read online (25%) or saw on TV (23%). A mere 6% said movie-booking sites such as Fandango or Moviefone helped them to decide.
As to the most important element in a movie, it is overwhelmingly the plot or storyline (77%), followed by the cast (45%), the genre (22%), the director (20%), and the book or play it's based on (15%). The most popular genre is Action/Adventure (64%) followed by Comedy (59%).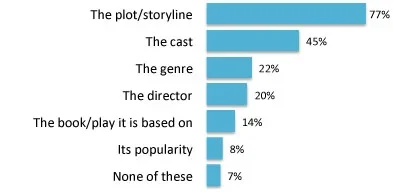 For further information about poll results, and for details about methodology and Omnibus services, please email omnibus.us@yougov.com.