More than one in two people (53%) think that the curtain should fall on long-running TV show "American Idol" because it is no longer relevant, according to the YouGov Omnibus survey taken June 4 through 6, 2013.
Only 16% of respondents thought "American Idol" should continue production for a few more seasons.
The one in four Americans (26%) who are former viewers of the show but have now lost interest, are the strongest advocates for ending the program (66% of them) while a rousing 79% of the loyal followers who still watch regularly (8% of all respondents) feel the show should go on. Even half of the people who claim they've just watched a couple of episodes say the show has got to go.
With all the judges having now left the program, many celebrity names have been suggested as possible replacements. The personalities whose names are cited the most by poll respondents as good judge candidates are Kelly Clarkson (20%), followed by Phil Collins (16%), "a previous American Idol winner" (15%), Cyndi Lauper (15%), Lady Gaga (13%), and a tie between Snoop Dog and Eric Clapton (12%). 44% of respondents were not sure.
Famously snarky Simon Cowell is the favorite American Idol judge of all time (21% of the vote), with Randy Jackson in a very distant second place (5%). With her brief stint as judge, Ellen Degeneres mustered 4%. Half the respondents (51%) said they were not sure who their favorite judge was or had no favorite judge.
Who is your favorite American Idol judge of all time?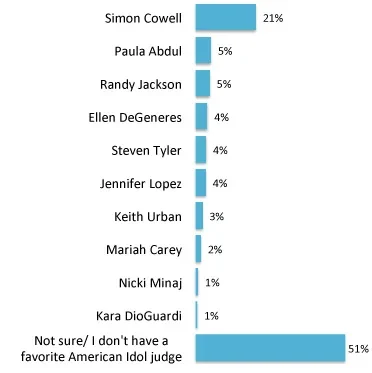 The favorite judging team of all time is the original lineup of Simon Cowell, Paula Abdul, and Randy Jackson (25%). The team that has just ended its run is the least favorite: Mariah Carey, Randy Jackson, Nicki Minaj and Keith Urban (3%), followed closely by Paula Abdul, Simon Cowell, Kara DioGuardi and Randy Jackson (4%). More than half (55%) were not sure who their favorite judging team was or don't have one.
For further information about poll results, and for details about methodology and Omnibus services, please email omnibus.us@yougov.com.