On the occasion of her 114th birthday, the oldest living American Jeralean Talley revealed her secret to long life: treating others as you would like to be treated.
Scientists have tried to pin down a more measureable key to longevity. We're bombarded with the message that smoking, drinking too much alcohol and eating too much junk food can shorten our life expectancy.
Vitamin supplements, health drinks and yoga have all been tipped to bring a longer, more healthy way of life. Even coffee has been found to contain healthy antioxidants that could lower the risks of disease and cancer among regular drinkers.
Instead having a detox diet, Ms Talley – who celebrated her birthday in May with her great-great-grandchildren – likes to eat potato salad, honey buns and chicken nuggets.
And for Americans it's happiness – as well as eating healthily and exercising more – that is seen as a significant factor in increasing our life expectancy.
More exercise (58%) and eating greens (39%) are the most cited activities believed to support longevity
Respondents favored spending time with loved ones (28%) and smiling more (17%)
Men are more likely see personal hygiene (18%) as a key to longevity than women (11%)
Women favored smiling more (21%) over men (14%)
Parents are more likely to say having kids makes you live longer – 12% as opposed to 4% among adults without kids
Being born with lucky genes, laughing, making lots of money, doing volunteer work and keeping a pet were also tips to longevity mentioned by some of our respondents.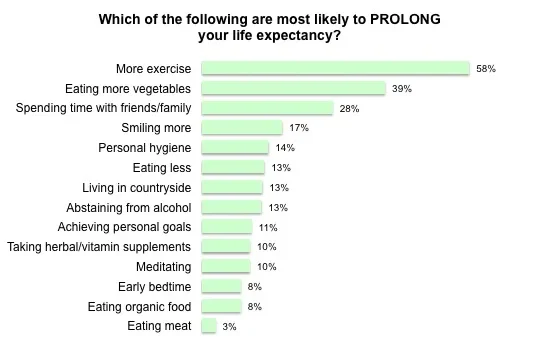 Smoking, obesity and stress are the biggest killers, according to Americans – more than half (52%) of the population thought that cigarettes are most likely to shorten our life expectancy.
Mental factors are also thought to impact our longevity – 13% said depression could lead to a shorter life, along with loneliness (6%) and feeling unfulfilled (3%).
Depression is a bigger issue for younger respondents (17% of 18-34s) than older (9% aged 55 and over)
More women think a genetic disease will most likely shorten life expectancy (14%) than men (11%)
23% of adults educated up to high school said drinking alcohol was a factor compared with 18% of college graduates and 14% with a postgraduate degree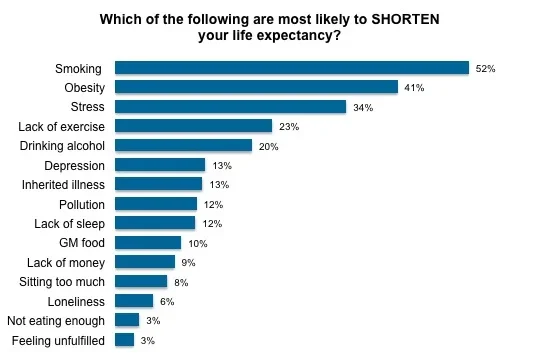 Too much pollution, global warming, modern technology and a lack of affordable healthcare were also named by some respondents as negative factors in our life expectancy.
Do you think smiling more could bring on a new generation of supercentenarians? Please add your comments below.
For further information about poll results, and for details about methodology and Omnibus research services, please email omnibus.us@yougov.com.