(Week of 7/20/2013) The announcement last week that the City of Detroit was filing for bankruptcy, becoming the largest U.S. city to do so, was noticed by nearly three out of four Americans, though only 14% have been following the story very closely. In the latest Economist/YouGov Poll, a third of Americans say their own community is experiencing similar economic problems.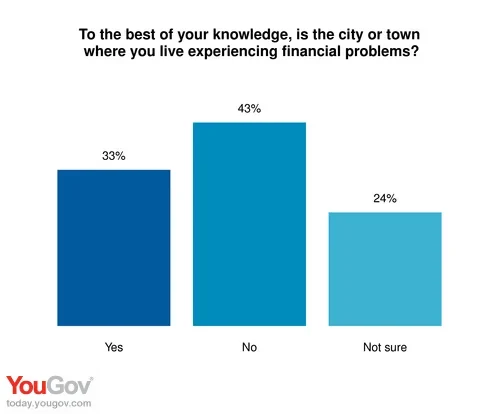 Those in the Western part of the country are especially likely to say that.
There is no consensus on how to fix problems with local budget shortfalls. Just about as many would raise taxes as would cut services or cut salaries and benefits to city employees and retirees.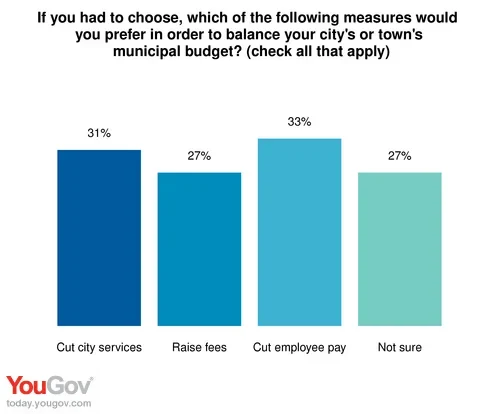 Democrats, liberals, and those under 30 prefer raising fees and taxes, while Republicans and those with incomes greater than $100,000 a year favor cutting municipal services. However, deciding on service cuts is extremely difficult. Majorities would not make any cuts, even minor ones, in services like the police, schools, health services, water, fire department, electricity or food inspection. Close to a majority of people would not cut garbage or natural gas services. Americans were more willing
to make cuts in services like public libraries, museums, parks, public housing, street maintenance, public transit, or parking.
As for Detroit's problems, the public is somewhat more likely to blame the city's management than it is to blame the city's economic woes. Although more than half say long-term economic trends and the recent economic crisis are major factors in Detroit's bankruptcy filing, even more blame government corruption and mismanagement.