J.K. Rowling's latest book – The Cuckoo's Calling – may be a gritty detective novel, but Harry Potter fans are much more likely to pick up a copy than those who haven't read a Potter book at all.
22% of Americans who have read at least one of Rowling's books on the wizarding world say they are likely to read The Cuckoo's Calling – even though it follows the story of the war veteran-turned private investigator Cormoran Strike, who delves into the mystery of the supposed suicide of a young model.
Despite the twists and turns of the detective novel, the greatest revelation of all was that that book, written by Robert Galbraith, was in realty Rowling writing under a pseudonym. That was before literary critics had praised the quality of the novel for a 'first-time' author, and even wondered at the 'male' novelist's ability to describe women's clothing in such detail.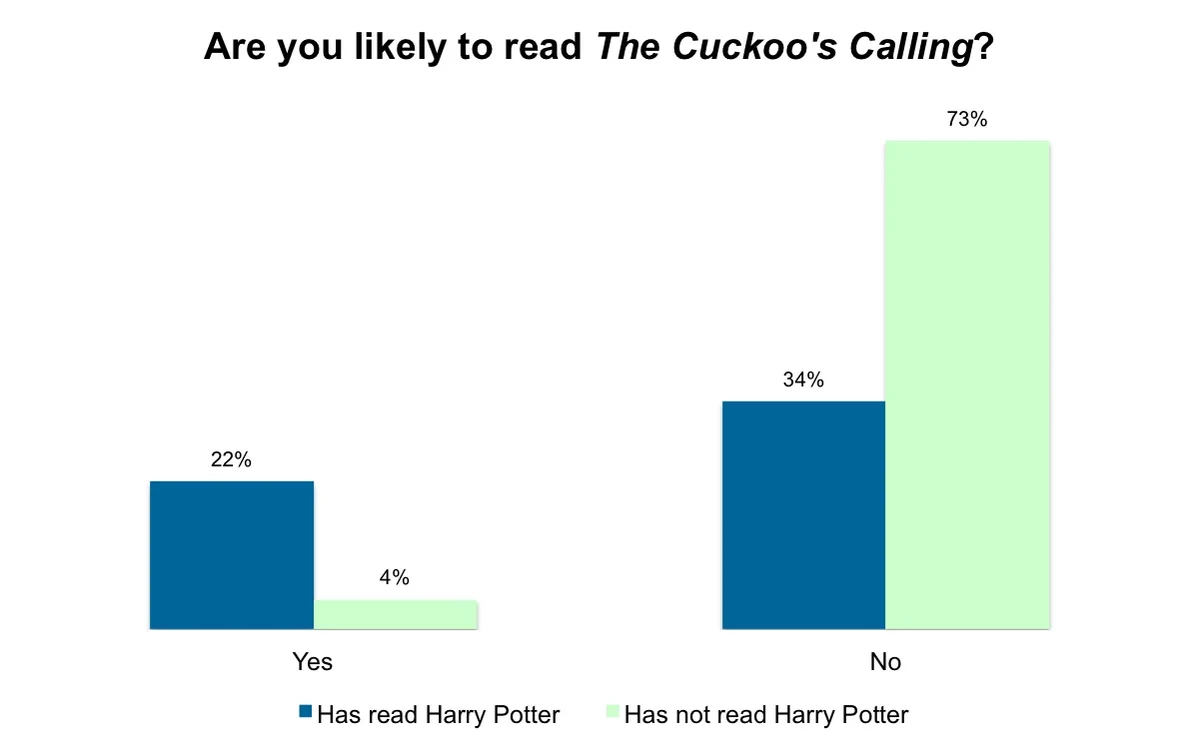 It was only when a confidant of Rowling's from a law firm couldn't contain the secret any longer that her true identity was revealed.
Rowling described writing under a pseudonym as a "liberating experience". She said: "It has been wonderful to publish without hype or expectation and pure pleasure to get feedback from publishers and readers under a different name." The British novelist had previously written an adult's book, The Casual Vacancy, under her own name amid much anticipation.
Despite the hype surrounding The Cuckoo's Calling's authorship, 60% of Harry Potter readers and 75% of those who have never read a Harry Potter book said they had never heard of it. 31% of Americans who had read Harry Potter say they knew The Cuckoo's Calling was written by Rowling, compared with just 19% among those who have never read Harry Potter.
Young demographic biggest Potter fans
With 35% of Americans having read at least one Harry Potter book, among the biggest fans are men aged 18-34 (44%), women aged 18-34 (61%) and women aged 35-54 (41%).
The age and gender group least likely to have read about Harry's adventures at Hogwarts were men aged over 55 – just 21% of this age group had read at least one of Rowling's spellbound series.
Although millennial men are among the most likely to have picked up a Potter book at one point or another, they are the least likely age and gender group to have finished the whole series. 26% of men aged 18-34 who had read at least one Harry Potter book say they completed the entire series. Women of the same age were more likely to persevere – among 18-34 year old women who have read a Harry Potter book, more than half (61%) had read books one through seven.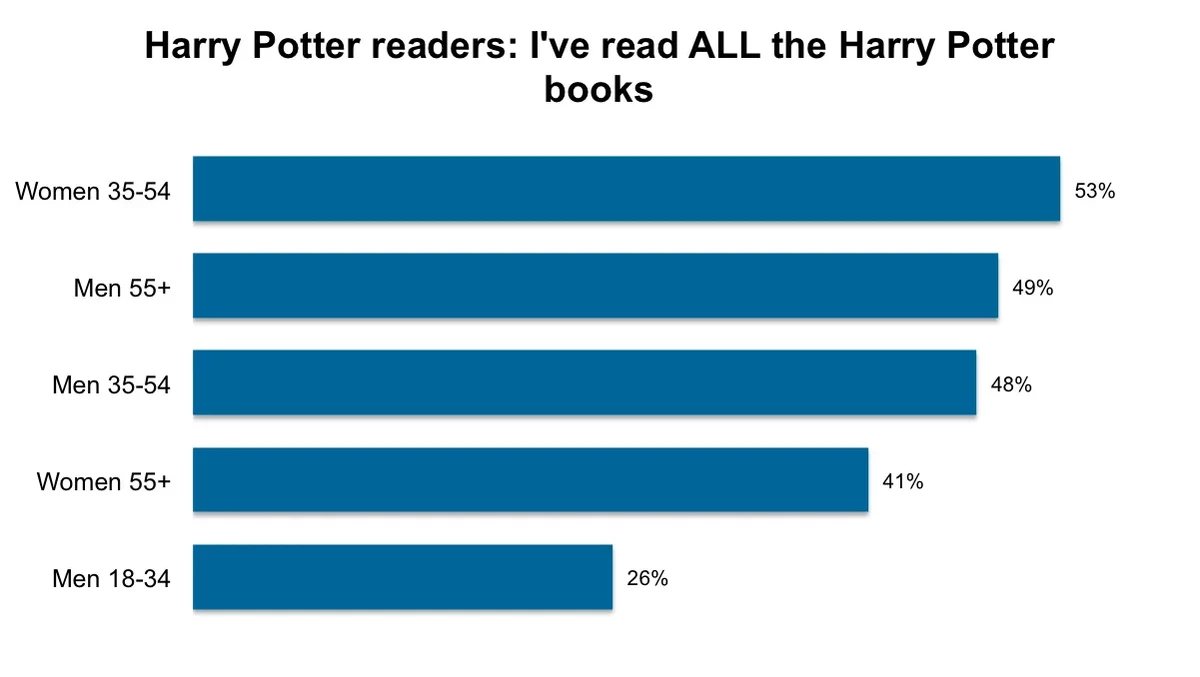 Once Americans have read one Harry Potter book, as a nation we're hooked – YouGov asked which Harry Potter Book people had read. Among those in the US who had read at least one book, 47% had got through the entire series.
The most-read book among Harry Potter readers charted Harry's move from Privet Drive to Hogwarts in the first book, Harry Potter and the Philosopher's Stone (43%). Just 5% of Harry Potter readers had trawled through the almost 800-pages that make up the final book in the series, Harry Potter and the Deathly Hallows.