Being suited and booted is by no means the only option for Americans in the workplace. While 79% of Americans think a business suit is appropriate for a man or a women to wear a work, popular work time outfits also include wearing jeans for women (57%), a short sleeve button up for men (71%) and a t-shirt for women (31%) and men (33%).
YouGov has asked Americans what they think is suitable for men and women wear while at work, while shopping, and at a bar or restaurant – and there's no code when it comes to dressing the nation.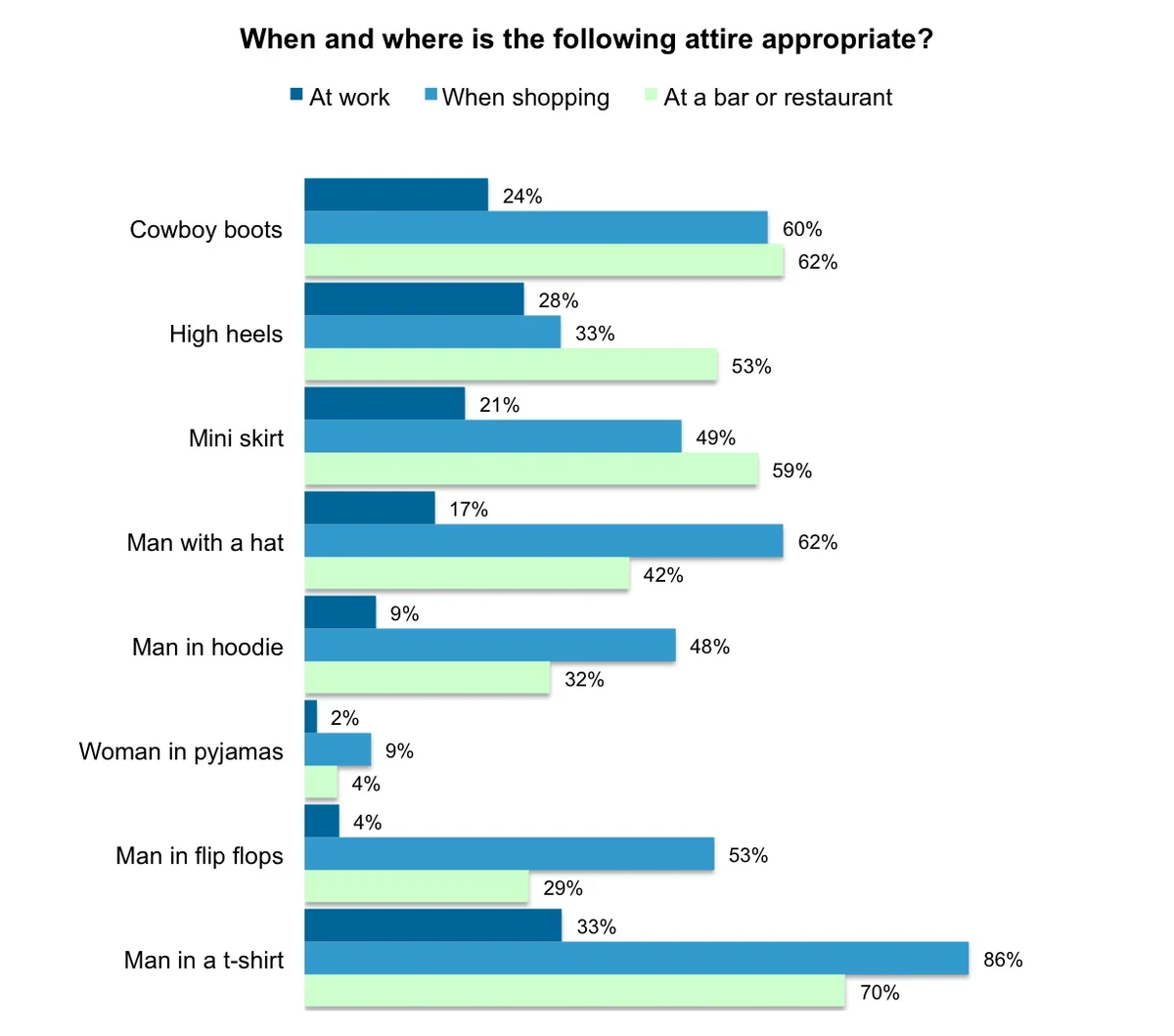 Clothing rules in the workplace could be a little more relaxed for men, as more Americans think male workers can wear casual items like t-shirts, a hoodie and jeans than women. But women may be more able to stay cool this summer without breaking the office rules, as sandals and shorts are seen as more female-appropriate at work. In what we see as appropriate apparel for the sexes, Americans say:
33% think a t-shirt is acceptable for a man to wear and 31% for a woman to wear
79% think a business suit is appropriate for a man or a women to wear to work
9% think a hoodie is suitable work attire for a man, and 8% for women
Jeans are okay for men to wear for 60%, and 57% agree for women
Sandals are suitable for women for 38%, but only 9% say so for men
Men can wear shorts to work for 18% and women for 20%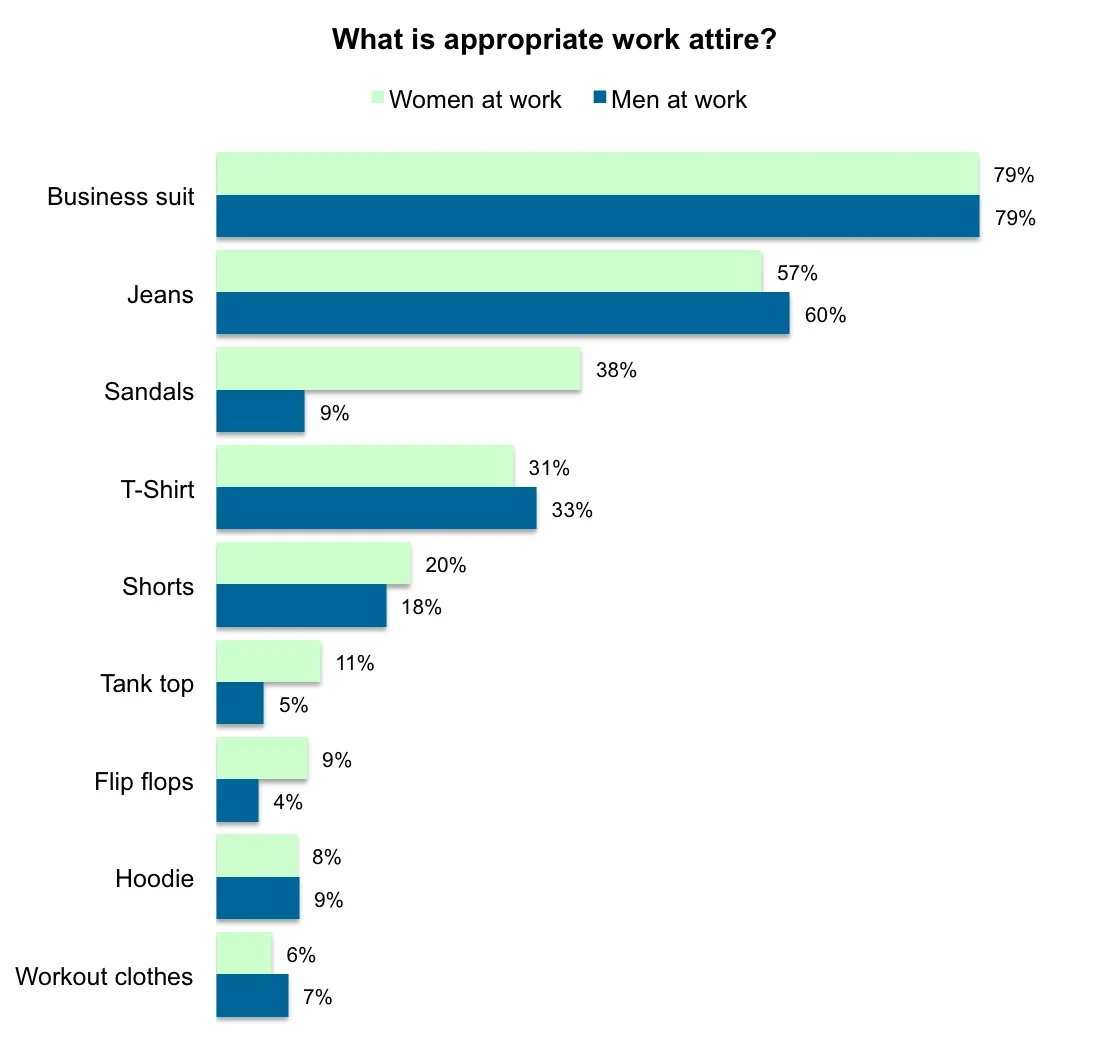 In the workplace, a business suit is boss ­­– but less than half (48%) of Americans think it's okay for a man to wear a suit while shopping, while 59% say it is appropriate for a woman to wear a suit at a restaurant and bar.
Denim is the go-to outfit for the mall, according to Americans. 90% thought that jeans were appropriate for men to wear while shopping, and 87% thought so for women. Wearing a t-shirt while shopping is more suitable for a man, according to the respondents – 86% thought a man could wear a t-shirt while shopping, and 78% said it was suitable for a woman to wear. Even workout clothes (41% for men and 42% for women) and pyjamas (7% for men and 9% for women) were seen as suitable outfits for a spree.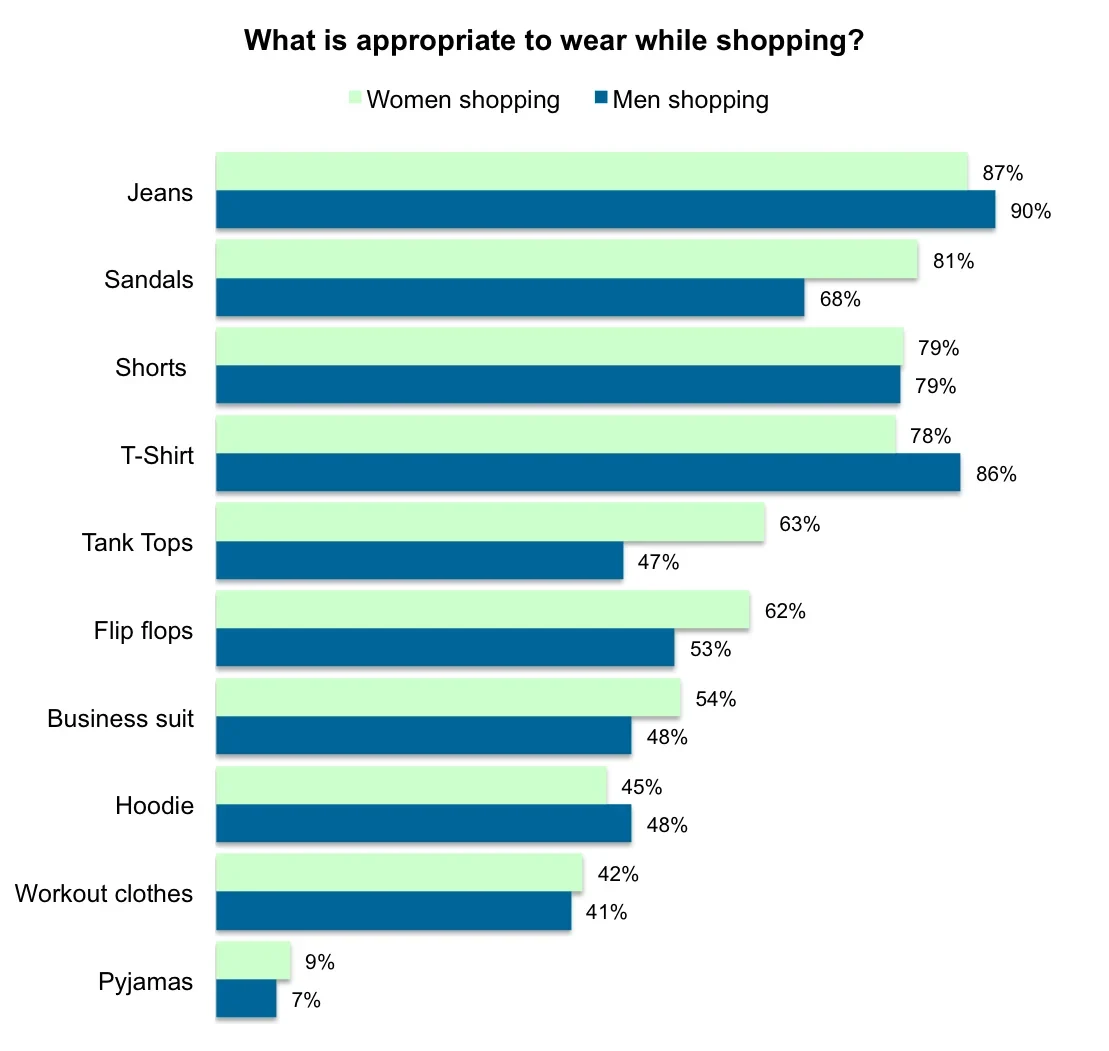 In a few years' time, alternative outfit choices could be the norm – younger respondents consistently found items like a hoodie, flip flops, sandals, a t-shirt, shorts, high heels and mini skirts more suitable for wear than older respondents. Cowboy boots were a rare exception –20% of 18-34 year olds thought the shoes were acceptable for men to wear at work, compared with 30% aged 55 and over.
Cowboy boots are suitable attire for men, for 29% living in the West, 22% in the South and 18% in the Northeast
Flip flops are fine for men to work in for 8% of 18-34 year olds and 3% of over-55s
Men can wear shorts to work for 23% of millenials and 14% of over-55s
When it comes to getting dressed up for a night on the tiles, the clothing code can be a bit more relaxed. For women, wearing a mini skirt and high heels is seen as more appropriate. For men, wearing a t-shirt or cowboy boots is seen as a more bar-friendly outfit.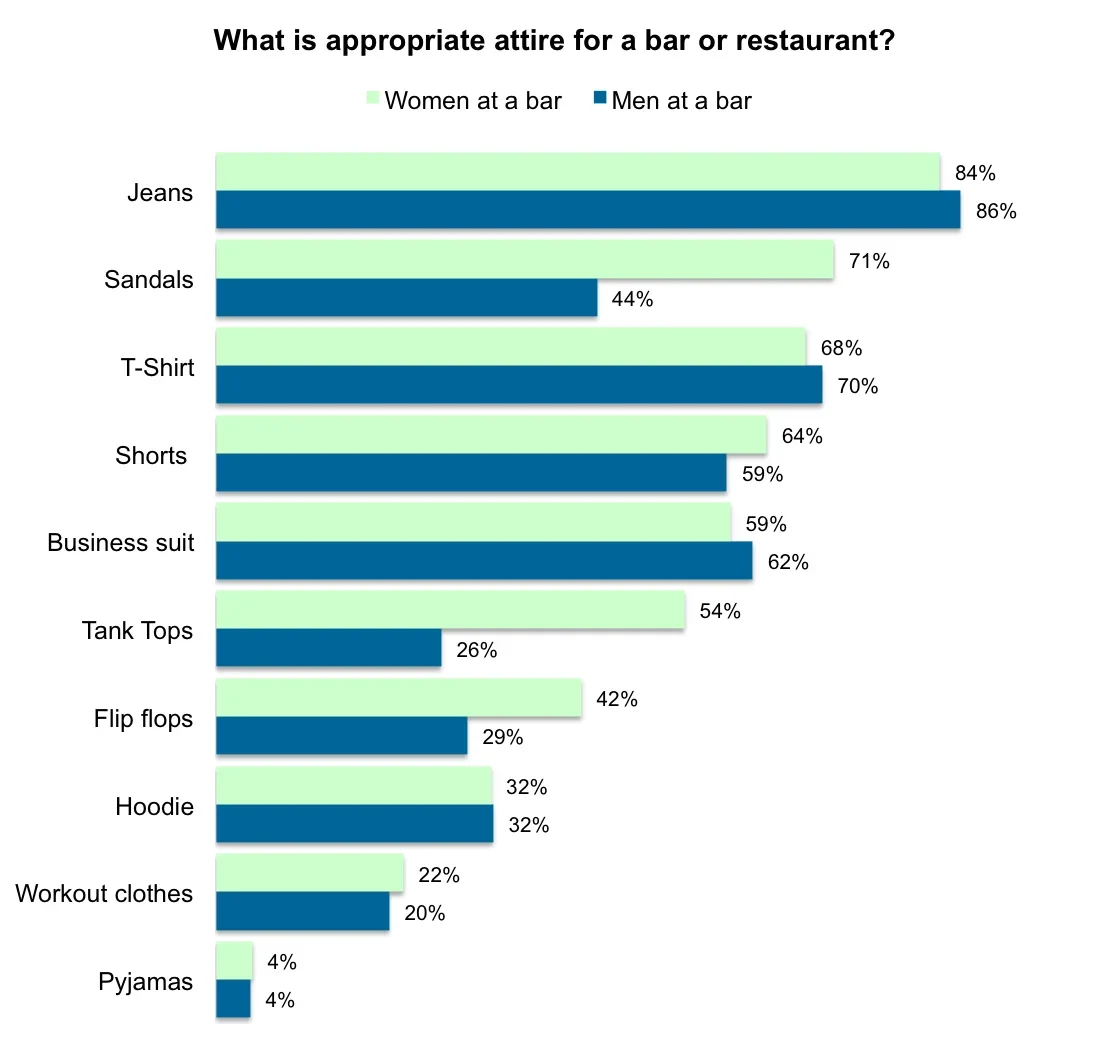 Even on a night out, the business suit remains a favorite – 62% thought it would be suitable for a man to wear, and 59% for a woman. It's acceptable for someone to wear jeans at a bar or restaurant for the majority of Americans (86% for men to wear and 84% for women). As with at work and shopping, the biggest no-no were pyjamas – just 4% of the nation thought a man or woman could go to a bar in their PJs without being dressed inappropriately.
For further information about poll results, and for details about methodology and Omnibus research services, please email omnibus.us@yougov.com.
Click here for full results.
Image: Getty.