Half of the US population has checked the Sex Offender Registry to find out if there are any offenders near to their home.
With more than 700,000 entrants, all US states are required to publish information on registered sex offenders, including information such as the offender's name, picture, address, incarceration date and nature of the crime. The requirement, known as Megan's Law, has been in place since 1994 – but it is only with the widespread use of the Internet that the register has become more easily available.
Now Americans can look up sex offenders by locality by visiting the US Department of Justice's website, typing their address into Family Watchdog or even downloading the Sex Offender Search app.
Moms more concerned
Women and parents are among the most likely to have checked whether sex offenders live in their neighborhood – 66% of parents with kids have checked the register, compared with 46% of adults without children under 18. 54% of women and 47% of men say they have checked for offenders.
What classifies someone as a sex offender varies from state to state. In the US a person can be convicted for prostitution, obscene content in the form of a text message, sex with a minor, or other sexual assault convictions.
Is this information vital?
62% of the population thinks it is very important that the information is publicly available – 71% of women and 52% of men strongly support making sex offender homes public information. Men are more likely to feel that it is not important to make people's homes on the Sex Offenders Registry public – 10% of men compared with 4% of women.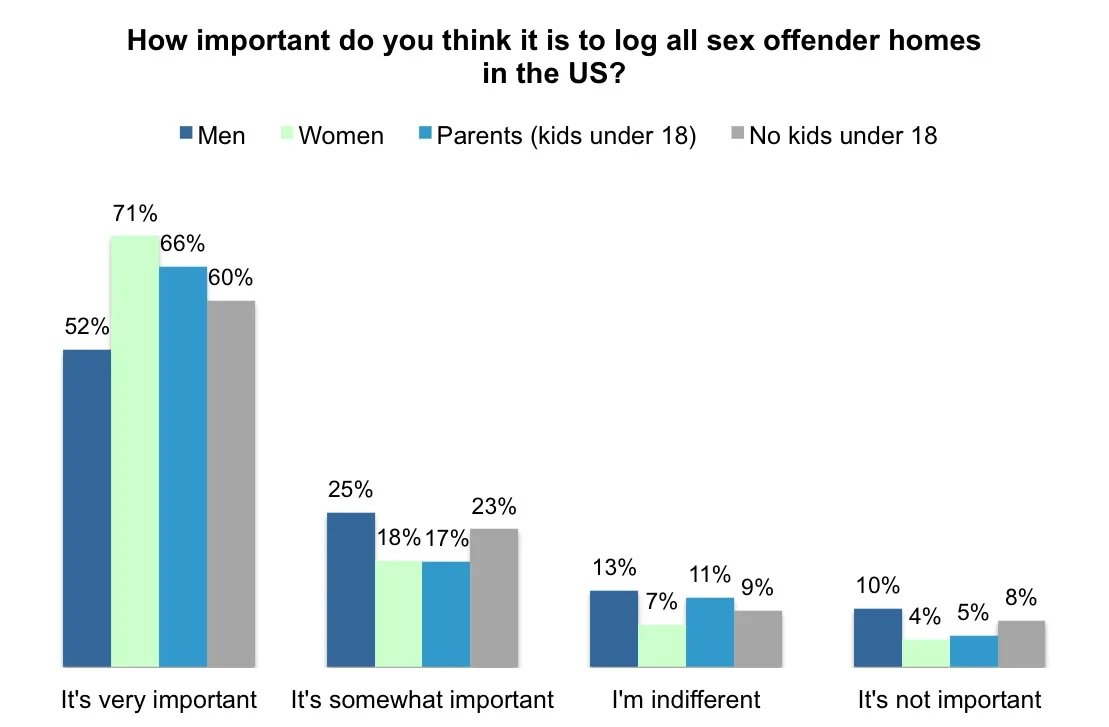 Details available on the register vary across the US. In Michigan, for example, Megan's Law is implemented on a registry with 'grades' of offences ranging from one to four. Regardless of the level, a driver's license picture of the individual is placed on the registry for 25 years.
The register states its purpose is for public protection, and one of its terms of use is that it should not be used to commit a crime or harass an offender. But in 2006, a 20-year-old man made the headlines when he searched the Maine registry before killing two offenders.
19% trust its accuracy
With many offenders are registered as 'unmapped', where the regulatory authority does not have an address for the convicted offender, just 19% of adults trust the Sex Offenders Registry is accurate and up to date.
44% of the population does not trust its accuracy. Parents are more likely to trust the register's accuracy (22% of adults with kids as opposed to 18% among adults without kids).
Offenders and their freedoms
27% of Americans think that sex offenders should not be allowed to live within 10 miles of a school. State laws can impose restrictions on where offenders may live, with some requiring that a convicted offender live at least 1000 feet from a school.
Some "community protection zones" – dubbed "pedophile free zones" have also been ring-fenced in American localities as areas where convicted offenders are not allowed to enter.
19% of Americans don't mind where sex offenders live, as long as they are still logged in the registry. 6% said that sex offenders should be able to live anywhere whether they are included on the registry or not.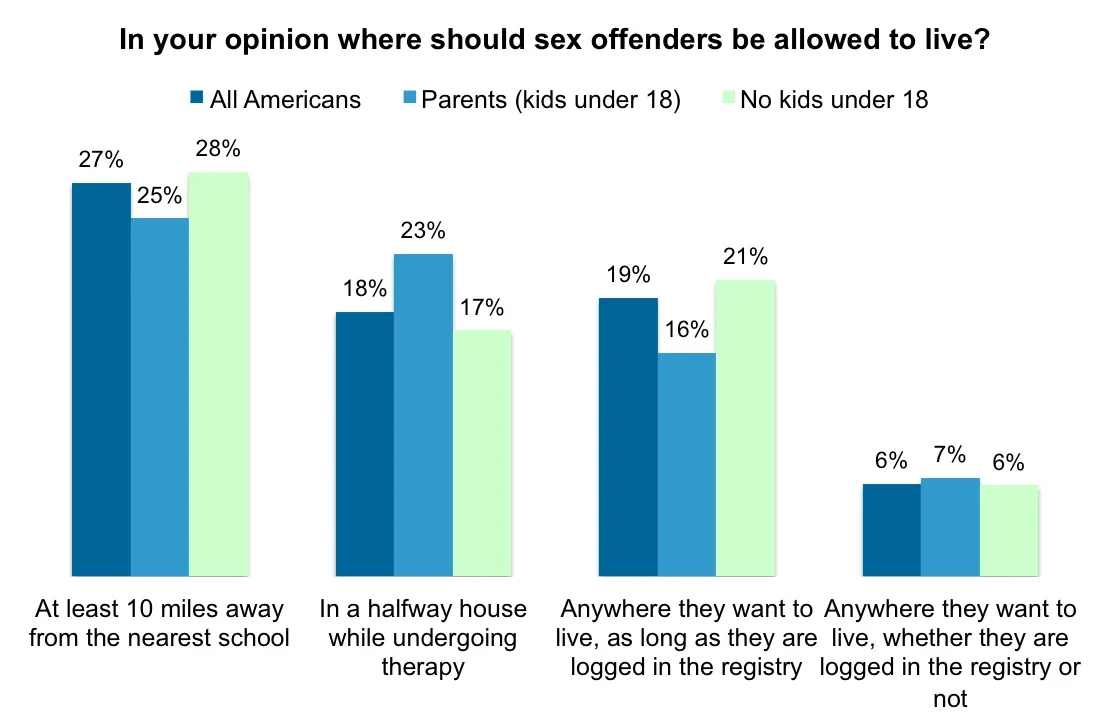 Southerners most 'shocked' at register
Out of adults who have checked the register, 42% of those living in the South said they were 'shocked' at the results they found. Just 26% of those who checked the register living in the Midwest also said they were shocked – this region returned the highest proportion (30%) of people saying they felt safe after checking the register. Just 18% living in the South said they felt safe after checking their neighborhood for offenders.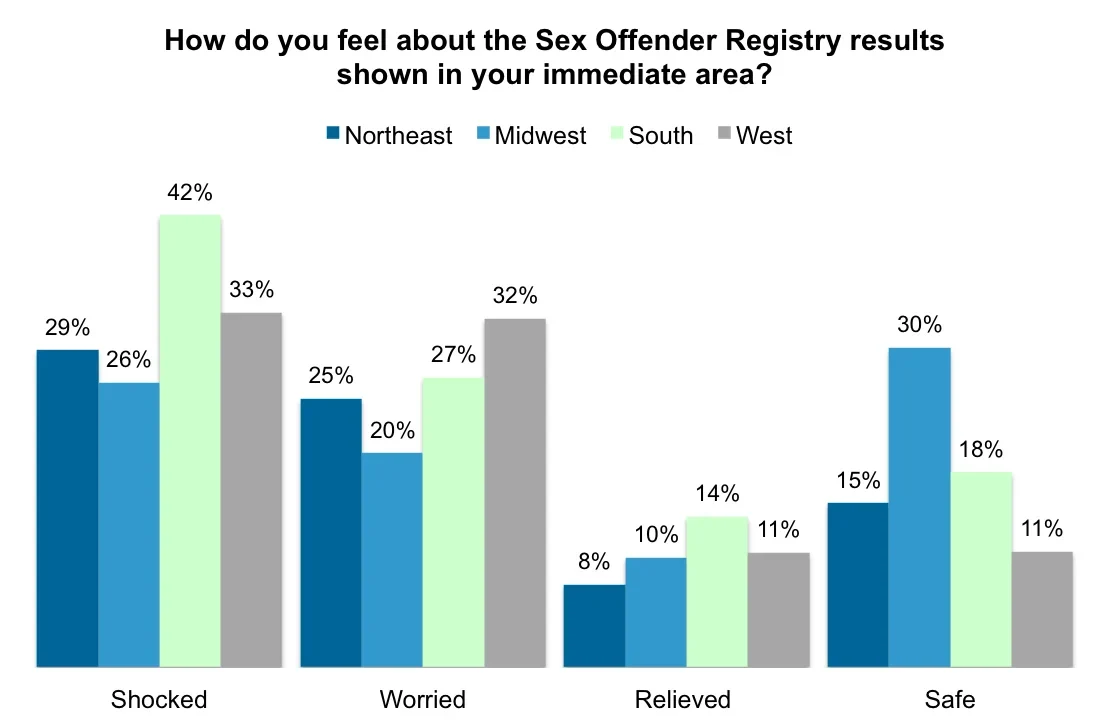 Parents with children are also more likely to feel concerned after checking the register than adults without kids under the age of 18. 37% of parents with kids (and 33% without kids) felt shocked after checking the register, but 21% felt safe (and 17% among those without kids) after looking up their neighborhood.
Family Watchdog advises parents not to frighten their children by telling them about the register. Despite technology's impact on making the information readily available, the advice parents should give to kids remains the same – such as telling them not to take a ride from strangers and to use a buddy system when playing outdoors.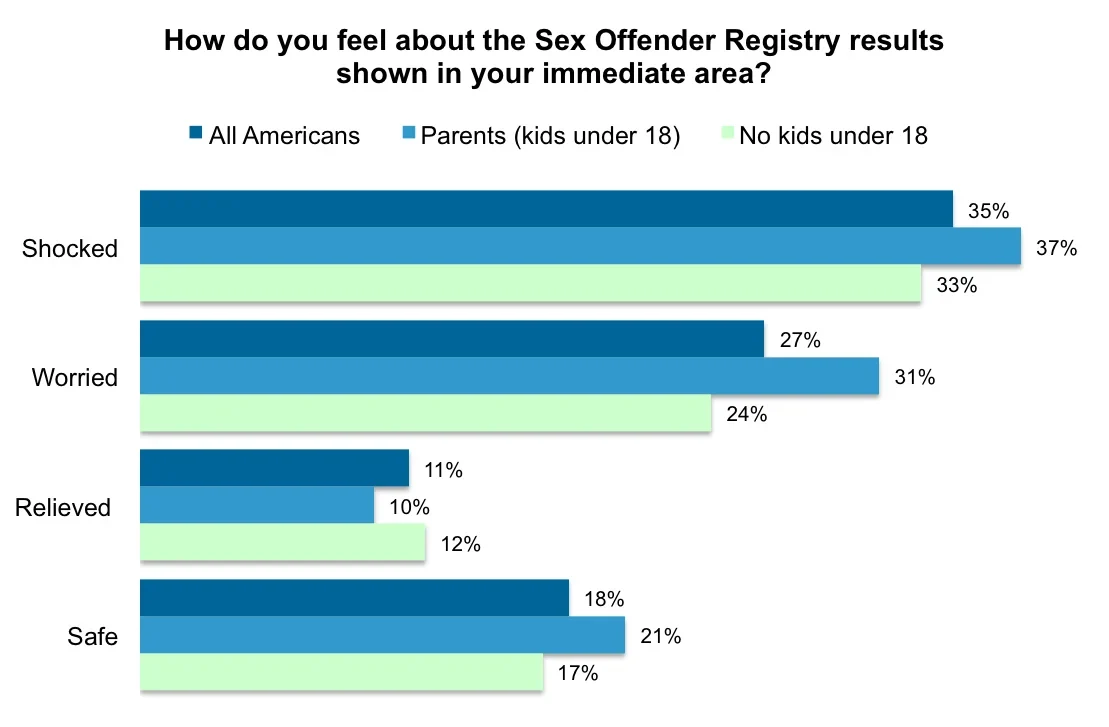 For further information about poll results, and for details about methodology and Omnibus research services, please email omnibus.us@yougov.com.
Click here for full results.
Image: Getty