Jack Nicholson might be about to leave the industry, but Americans fondly remember many of his classic performances - above all in One Flew Over the Cuckoo's Nest.
The internet rumors of 76-year old Jack Nicholson's retirement from acting may or may not be true, but the star hasn't made a movie since 2010. YouGov wanted to know what Americans though were Nicholson's best movies: three stood out from the field, and they span three decades.
The rumours of his retirement state that he's retired due to old age and memory loss, but Jack Nicholson probably doesn't need to worry about aging affecting his popularity with his fans as according to data from YouGov's Opigram service, the late Andy Griffiths is the favorite actor of Jack Nicholson fans.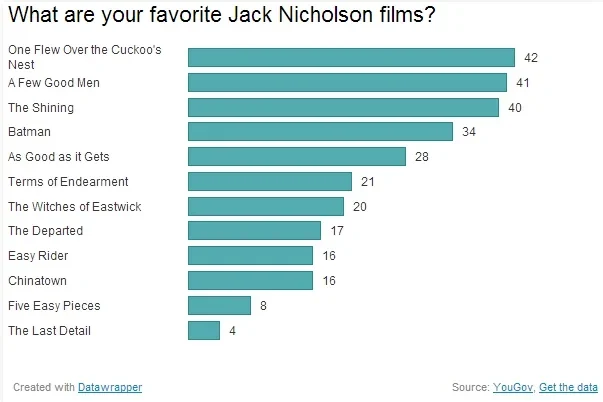 All three of those films showed Nicholson's odd and sometimes scary side: the haunted and crazed writer of The Shining (1980), the criminal who feigns insanity in One Flew Over the Cuckoo's Nest (1975), and the out-of-control military commander in A Few Good Men (1992). Four in ten Americans checked each of these as a favorite.
Close behind at 34% is Batman (1989), in which Nicholson also played villain, this time a caricatured one, the Joker. And one in five like The Witches of Eastwick (1987), where Nicholson took on the persona of the ultimate villain, Satan himself.
Two other popular movies, As Good As It Gets (1997) and Terms of Endearment (1983) showed the softer side of Nicholson. He won two of his three Oscars for those films (his third was for One Flew Over the Cuckoo's Nest). Women are more drawn to these two movies than are men, but still prefer the top three films more.
Many may not remember some of Nicholson's earliest movies – or perhaps films like Chinatown, Easy Rider, Five Easy Pieces, and The Last Detail, all made between 1969 and 1974, have been overshadowed by more recent films. Less than one in ten of those under 30 cite any of those; they are listed by more respondents 65 and older. A third of those under 30 say none of the offered Nicholson films were favorites of theirs (The Shining and Batman ranked one and two for young adults.
The internet rumors about a possible Nicholson retirement cited memory difficulties as the reason. Nearly half the public says they know someone with the problem. Recognition comes with age: more than half of those 45 and older know someone, but just 28% of those under 30 do. But just about four in ten in all age groups thinks occasional memory loos is a normal part of aging.
Full results can be found here.
Image: Getty.