Seventeen percent of the population has a type of music they secretly enjoy but won't admit to listening to. Women are more likely to conceal a secret listening habit than men.
Pop music is by far the most popular music taste that people won't own up to, with men particularly harboring a furtive passion for pop. 43 percent of male and 35 percent of female secret listeners were quietly indulging their secret pop passion.
Women seem to have a wide range of secret musical passions. A quarter of women who enjoyed music they weren't prepared to admit to, were secret hip-hop fans, 24 percent were getting clandestine fixes of country and another 21% didn't want the world to know they were musical fanatics.
Secret music passions are generational. The 16-34s who had secret music habits were generally hiding a love of pop and hip-hop. Those who were 55+ didn't mind who knew they listened to opera but a third of them were not admitting their passion for folk music to anybody.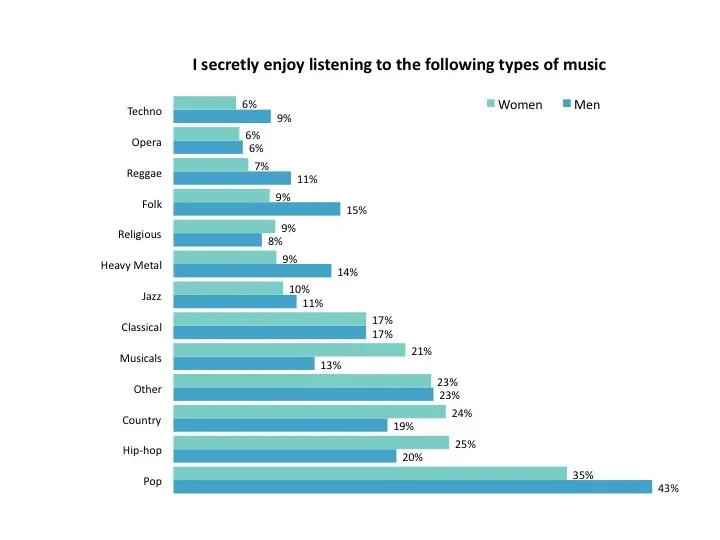 While we probably won't be able to tell who are secret hip-hop fans at the upcoming 2013 Rock the Bells Festival presented by Guerilla Union, there certainly will be a lot of history in the making as 50+ HipHop acts perform live on 3 stages for 2 days straight in the nation's capital Washington DC at RFK stadium grounds (September 28-29) and Meadowlands Racetrack in East Rutherford, NJ (October 4-5) featuring stars such as Wu-Tang Clan, J Cole, Black Hippy (Kendrick Lamar+SchoolBoy Q+AB-Soul+Jay Rock), A$AP MOB, Wale, and legendary hip-hop acts such as KRS-One, Doug E. Fresh and Slick Rick. This year's festival which is also the festival's 10-year anniversary, will also make history as it features original virtual performances of Ol' Dirty Bastard and Eazy-E.