Most Americans say that the the Medal of Honor, the highest US military award, is the most prestigious honor you can receive, while many think that the Nobel Peace Prize is becoming less prestigious.
The Nobel Prizes were created in 1895 to recognize outstanding cultural and scientific achievements, while the Nobel Peace Prize was created in 1901 to honor people who had made significant contributions to world peace. Former laureates include the Dalai Lama, Nelson Mandela but the award hasn't always escaped controversy, awarding it in 2009 to Barack Obama. The 2013 Prize was given to the Organization for the Prohibition of Chemical Weapons, an institution dedicated to ending the use of chemical weapons, in part by enforcing treaties that ban them.
The latest research from YouGov shows that most Americans (51%) think that the Nobel Peace Prize is becoming less prestigious than it used to be. This reflects a partisan divide, however, with Republicans (70%) being much more likely than Democrats (31%) to say that this is the case. Just under half of Democrats (47%) think that the Prize is as prestigious as it has ever been.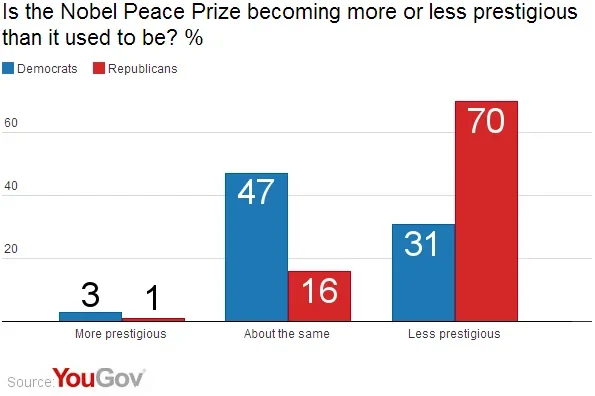 Americans (47%) are most likely to believe that the Medal of Honor, our nation's highest military honor, is the most prestigious award a person can receive. The Nobel Prize comes in second, with 20% of people saying it is the most prestigious, followed by the Olympic Gold Medals and Pulitzer Prizes are both considered the most prestigious award by 6% of people.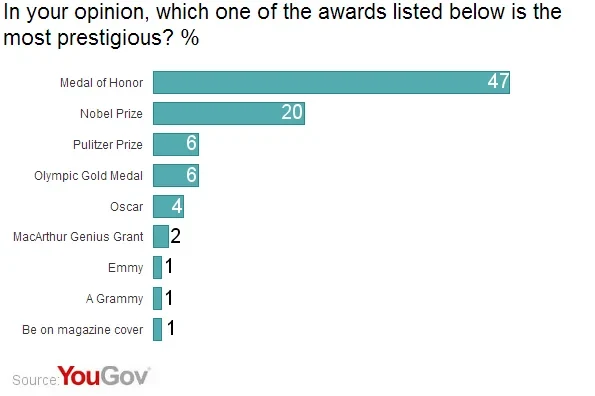 Interestingly, when people are asked which award they would most like to win personally, the Medal of Honor is still at the top of the list, but other less prestigious awards become more popular. 13% of people would want to receive a Nobel Prize, 10% would want an Olympic Gold and 9% a Pulitzer Prize. 6% would like to receive a MacArthur 'Genius Grant', which is an award for $500,000 to people who display 'exceptional merit and promise' in any field.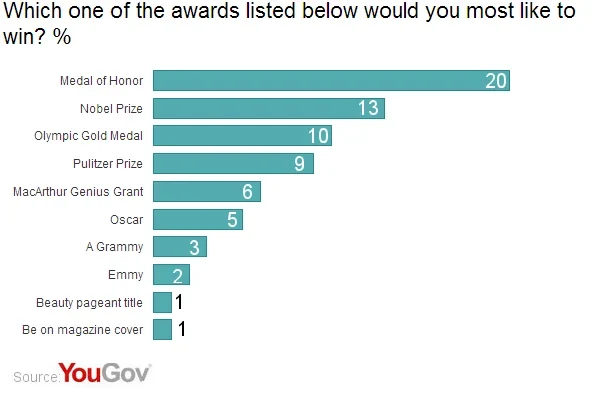 Similar research done in the UK found that 40% of Britons think that the prize is becoming less prestigious.
Full poll results can be found here.
Image: Getty.