Nearly half of older Americans want the rock-toppling Scout leaders to face criminal consequences, while few Americans believe their excuse as to why they destroyed the ancient rock formation.
On October 11th, two Utah Boy Scout leaders took their troop to Goblin Valley State park. While there they pushed over a rock, destroying one of the 170 million year old geological formations the park is famous for, recording a video of these actions and uploading it to Facebook. When they came under fire last week they gave a statement claiming that they feared the rock formation was loose and posed a danger to others, motivating their actions. The video, however, shows the group cheering, causing speculation as to whether this was the only motivation. Boy Scouts of America quickly dismissed the two men from Scout leadership once news of the event came out.
The latest research from YouGov shows that most Americans support (39%) rather than oppose (26%) prosecuting the Scout leaders at the center of the controversy, but opinions change relative to age. Older people are more likely to think the Scout leaders should face criminal charges, with those 45-64 (48%) being the most adament about this. Younger people are mostly unsure (44%), but they are also the only age group where more said the Scout leaders shouldn't face criminal charges (30%), than should (26%).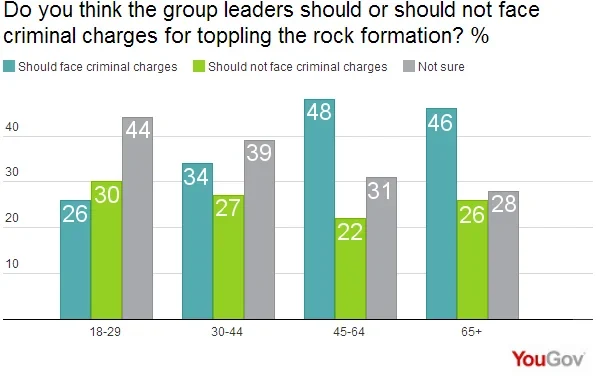 Few Americans believe that the Scout leaders are telling the truth when they say that they were trying to prevent someone being hurt by the rock, while 51% disbelieve the men.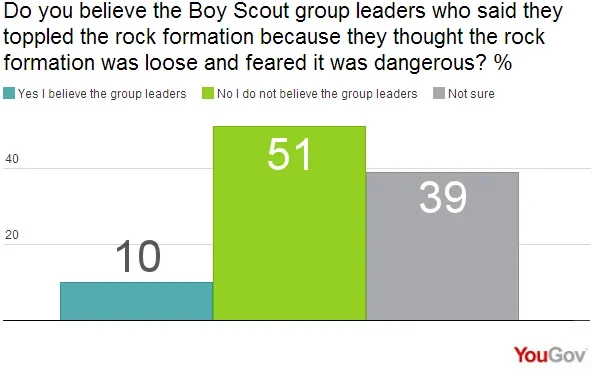 When asked whether the decision to fire them as Scout leaders was a good one or not, most Americans think that it was a good idea to remove the Scout leaders from their posts.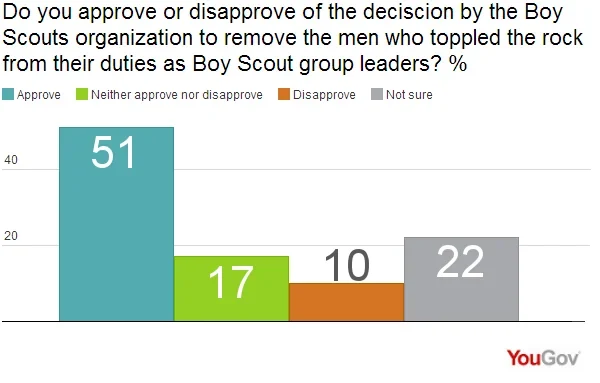 The Boy Scouts issued a statement saying Boy Scouts organization follows 'leave no trace' principles when in nature, and were disappointed with the now-former Scout leaders behavior.
Full poll results can be found here.
Image: Getty.