Only 1 in 4 think that the US will be the first country to send a man to Mars, but over half think it's important to send someone to the Red Planet.
Earlier this week India launched a satellite into space, with a trajectory set for Mars to measure methane gas levels on the surface of the planet. The satellite will be the first launched by an Asian nation to reach Mars, if all goes well, beating regional rivals China and Japan to the red planet. Both countries have plans for Mars probes of their own but have yet to successfully send similar satellites such a distance.
According to the latest YouGov research, many people (31%) can't predict which agency will be the first to send a human being to Mars. Out of those who did pick a country, 23% chose America's own NASA program, but many Americans have doubts in the ability of the government to rise to a second iteration of JFK's challenge, and reach Mars. Many older people (those aged 65+), were split between NASA (20%) and the Russian space program (15%). By contrast, younger people (ages 30-44) were split evenly between NASA and private organizations, giving both 17%.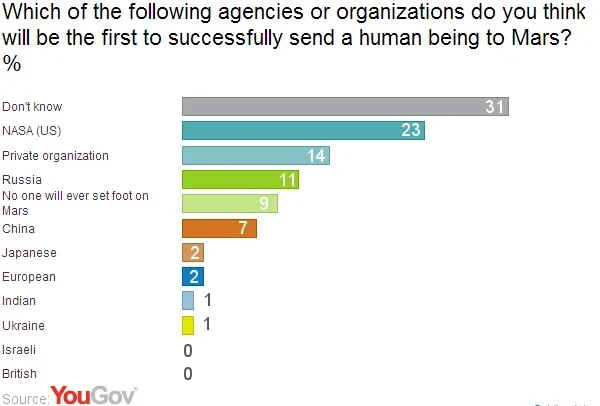 Though a majority of both Republicans (54%) and Democrats (60%) think it is important for a human being to set foot on Mars, Independents do not share this view. When asked, Independents were far more likely to say that it wasn't important to send a man to Mars, with equal numbers (44%) saying it was 'unimportant' as 'important'.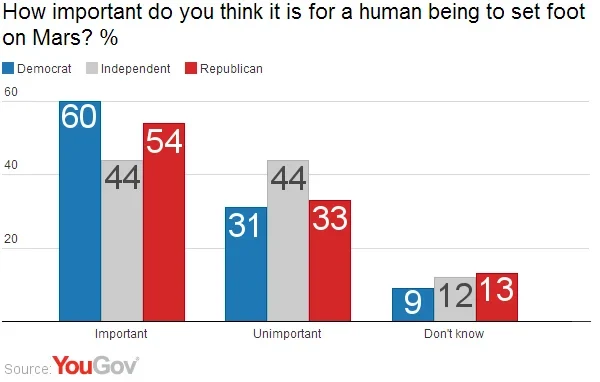 Women (17%), interestingly, are only about half as likely as men (30%) to think that NASA will be the first space agency to send an astronaut to Mars. However, women also seem to think the issue is a bit less important in general. 44% of men thought human space exploration was "very important" compared to only 25% of women.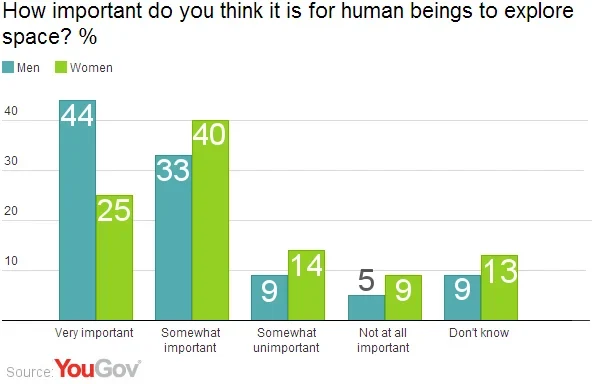 Americans had the opportunity to look upon Mars' surface this past August thanks to the NASA-launched Curiosity rover. Currently, the world's eyes are on the Indian satellite mission, as the most recent Russian mission carrying a Chinese satellite to Mars failed in November 2011. Japan's last attempt to Mars in 1998 also failed.
Full poll results can be found here.
Image: Getty.