For many Americans Thanksgiving weekend marks the start of holiday shopping season. According to the latest YouGov Omnibus survey conducted November 28th – December 2nd half of Americans (51%) planned to shop, online or in-store, over Thanksgiving weekend.
Older Americans were the least likely to shop over the holiday weekend, with nearly 3 out 5 (58%) respondents over the age of 55 stating that they were not planning on doing any shopping .
Americans are definitely swayed by the marked down prices offered by retailers on Black Friday, with 32% of respondents planning on going shopping on that day, making it the most popular day to shop during Thanksgiving weekend. Americans ages 18 to 34 were the most likely to shop on Black Friday, with 43% stating they planned to shop on the highly advertised commercial holiday.
Black Friday is also highly popular amongst Blacks and Hispanics with 42% and 43% of respondents who identified themselves as either Black or Hispanic stating they would be shopping on Black Friday. Overall Thanksgiving weekend is highly popular amongst Black and Hispanics for holiday shopping, with only 35% of Blacks, and 30% of Hispanics indicating that they would not be partaking in any sort of shopping during the weekend.
Parents of children under 18 were also planning on taking advantage of the specials offered by retailers on Black Friday with 40% claiming they would shop on that day. Only 35% of Americans with children under 18 were not planning on doing any shopping over Thanksgiving weekend.
Although shopping over the Thanksgiving holiday appears to grow in popularity each year, for most Americans Thanksgiving day is still not a big day for shopping, with only 14% claiming they would be shopping either online or in-store on the holiday.
On which of the following days will you be shopping (online or in person) for yourself or for gifts for others, over the Thanksgiving weekend?Please check all that apply.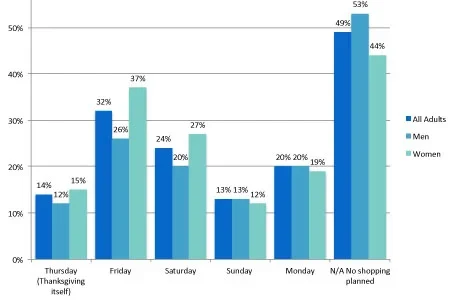 For further information about poll results, and for details about methodology and omnibus services, please email omnibus.us@yougov.com.
Find the full results here.
Image: Getty