In July 2011 the UN General Assembly passed a historic resolution inviting member countries to measure the happiness of their people and use this to help guide public policies. The first UN meeting to discuss happiness was chaired by the Prime Minister of Bhutan, a country that makes public happiness a matter of public policy.
In general Americans seem to be inclined to happiness with 60% experiencing at least some moments of happiness every single day. Older Americans 55+ are more likely to be happy daily (68%) as are 72% of retired people.
Singles (51%) are less likely to be happy every day than married couples (66%). Parenting younger children, however, takes its toll. Parents of children 18+ (67%) are more likely to experience daily happiness than parents of younger children (57%).
Who is really happy?
72% of retired people are likely to be happy every day.
76% of those who are very satisfied with their jobs.
Volunteers for charity (74%).
Participants in team sport (75%).
Those who are actively involved in politics (see below).
Running for or having held political office (79%), serving on committees (73%) and working for political parties (74%) apparently makes a person very happy indeed, although those actively involved in politics tend to be angrier than the general population.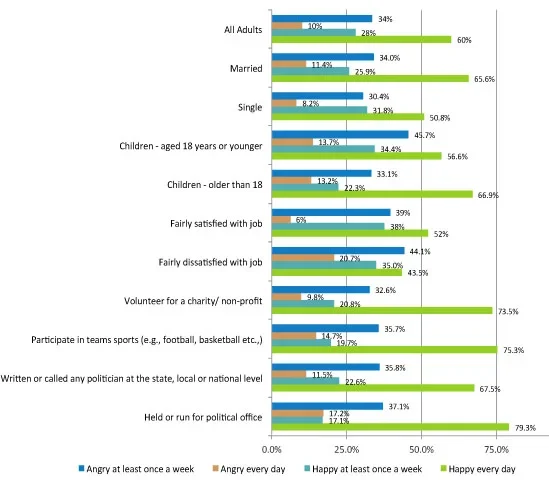 Our unhappier responders are among the unemployed or underemployed, or they work for a job they really don't like.
On the flip side of the emoti-coin one in ten (10%) Americans are angry every single day, while a further one in three (34%) admit to veering into their personal red zones at least once a week.
Parents of younger children don't fare well with anger levels; neither do those dissatisfied with their work:
14% of parents with children under 18 are angry at least once a day and 46% once a week.
18% of homemakers are likely to lose their cool on a daily basis.
21% of those who are fairly dissatisfied with their jobs are also likely to have a daily blowout compared to only 6% of those who are fairly satisfied at work.
The retired population seems to be the most mellow with only 3% admitting to daily meltdowns.
Although owning a pet doesn't seem to help anger levels with 12% of pet owners likely to have a daily anger incident compared to only 8% of non-pet owners. Pets do seem to help their owners in other ways:
62% of pet owners say that pets reduced their stress
52% thought their pets made them keep calm
38% though their pets made them more tolerant
Only 49% of pet owners with children under the age of 18, however, found their pets reduced stress levels. There may be a limit to pet power when faced with a house full of children.
For further information about poll results, and for details about methodology and omnibus services, please email omnibus.us@yougov.com.
Find the full results here.
Image: Getty