Most Americans want Justin Bieber deported if he is convicted of one of the crimes he's accused of, with only 9% of Americans having a positive view of him
Last week, teen pop star Justin Bieber was arrested in Miami after being arrested for allegedly Driving Under the Influence (DUI) and resisting arrest. After spending only around 4 hours in jail he was released on $2,500 bail. The arrest follows other questionable behavior, including the suspicious egging of Bieber's neighbor's house in Calabasas, CA. The egging is currently being investigated as felony vandalism as it caused several thousand dollars worth of damage to the neighbor's property. Because Justin Bieber is Canadian, any conviction of a serious crime such as this could result in his deportation to Canada. Currently there is even a petition for the White House that has been signed by over 100 thousand people, which asks for the revocation of his green card, (even though he does not currently have a green card).


According to the latest YouGov research, 4 out of 5 Americans (80%) hold an unfavorable opinion of Justin Bieber. A majority of people (56%) hold a very unfavorable view of him. His general unpopularity is consistent across both age and partisan groups. It is little surprise, then, that a majority of Americans (52%) want Justin deported if he is found guilty of any of the crimes he has been accused of.
Unfortunately for those who want to see Justin Bieber deported, the crimes he is accused of do not necessarily warrant deportation. Though legal aliens convicted of felony charges are more likely to be expelled from the US, the final say is often at the discretion of police forces. There is also speculation that Bieber is receiving better treatment than other immigrants would be because of his fame and wealth.
Though he may not get deported, he is moving. After the egging scandal and multible noise complaints from neighbors, Bieber has put his Calabasas home up for sale earlier this week.
Americans are strict in regard to immigrants who commit crimes. 75% of people say that immigrants who lie on an immigration form should be deported. Possession of hard drugs (65%), and vandalism (63%) were also popular reasons to banish people from the country. Just over half of Americans (52%) think that serious driving crimes should also warrant deportation, even though these crimes are generally treated as misdemeanors. Two crimes that most Americans do not think are severe enough to necessitate deportation are possession of small amounts of marijuana (33%), and speeding (18%).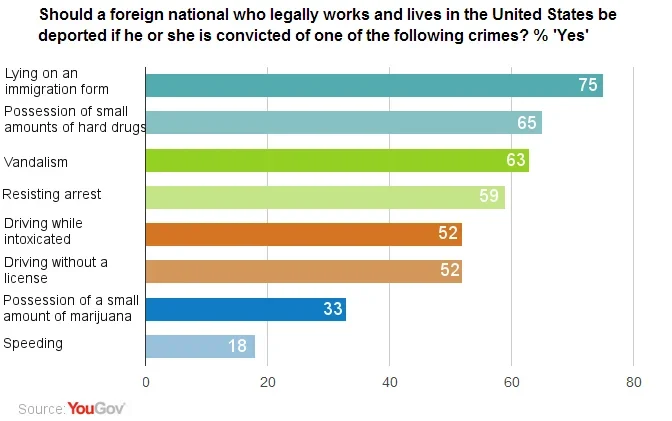 His legal problems don't stop at the US border, however. Bieber was arrested on Wednesday for assaulting a limousine driver last month outside of a Toronto nightclub. After he was officially charged with assault, he turned himself in as requested to a Toronto police station, making this the second time he has been arrested this week.
Full poll results can be found here.
Image: Getty