Americans are divided over whether Woody Allen deserves a lifetime achievement award, while older Americans have the most unfavorable opinions.
Last week, Dylan Farrow, Woody Allen's adopted daughter, wrote an open letter in the New York Times accusing Allen of sexually assaulting her when she was 7 years old. The Times piece last week comes on the heels of Mr. Allen winning the Cecil B. DeMille lifetime achievement award at the Golden Globes. This has led some to debate whether or not his art and films should be judged in context of his personal controversies. Mr. Allen has not been charged with any crimes at present. Allen maintains his innocence against Dylan Farrow's accusations, and actually received public support from his adopted son, Moses, who says his mother, Mia Farrow, has been trying to "poison" them against their father since the divorce.
According to the latest YouGov research, only 22% of Americans have a favorable opinion of Mr. Allen, while most (63%) hold an unfavorable opinion. Older Americans are much more likely to have an unfavorable opinion than younger people. 29% of 18-29 year olds have a unfavorable opinion of Mr. Allen, while many (46%) don't know one way or the other. A majority of all people over 30 have an unfavorable opinion of Woody Allen, while those 65 and over have a solid 71% unfavorability rating.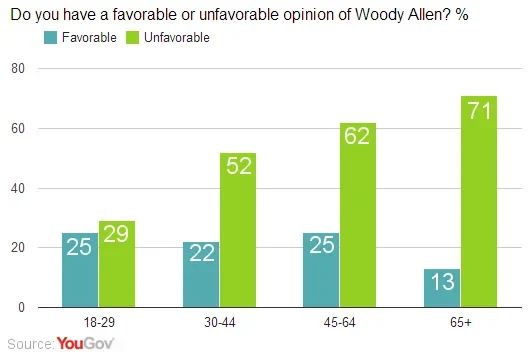 Attitudes on whether Woody Allen deserves the award are split fairly evenly, but more respondents disapprove (36%) than approve (29%). Older people, again, are more likely to disapprove of the award.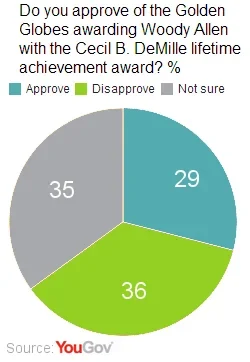 There are reports that Woody Allen may write his own open letter in response to the accusations.
Full poll results can be found here.
Image: Getty