LEGO is America's favorite classic toy – and the only toy in the top five for both men and women.
The Lego Movie, out this past week, has opened to large acclaim. The movie, is an animated family film about "an ordinary LEGO minifigure, mistakenly thought to be the extraordinary MasterBuilder, is recruited to join a quest to stop an evil LEGO tyrant from gluing the universe together," has received nine out of 10 stars on IMDb.
According to the latest YouGov research, LEGO is America's favorite classic toy, with 36% of people putting the multi-colored building blocks in their top four favorites. Etch-A-Sketch came in second with three in ten people rating it in their favorites, and another creative outlet, the coloring book, comes in third with 27% of people putting it in top four.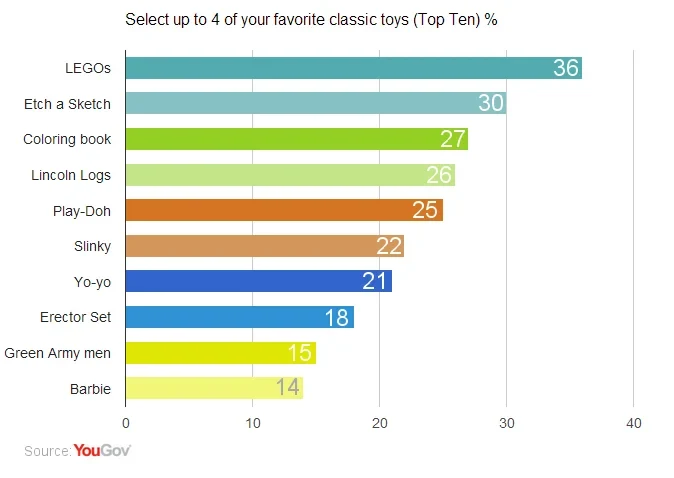 Men AND women choose creativity over dolls and action figures
There were a few discrepancies between the favorites of men and women. Men were more likely to prefer building toys, with LEGOs, Lincoln logs, and the electric Erector set in their top three, while girls seem to prefer more creative and expressive toys, with the coloring book, etch-a-sketch, and moldable Play-Doh in their top 3. LEGOs are the only toy in the top five for both men (40%) and women (31%).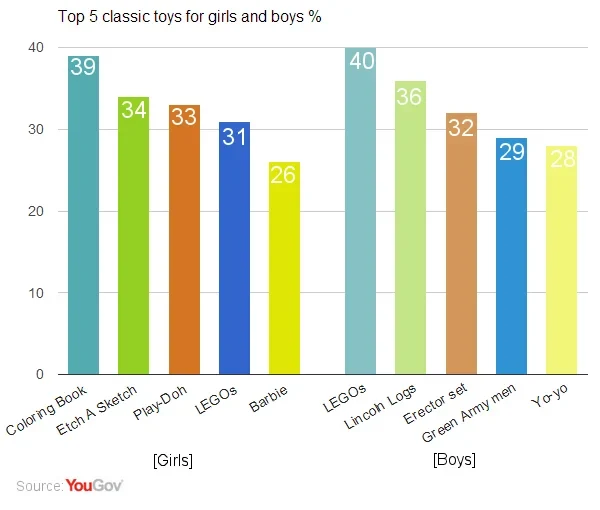 Age also played a role. LEGOs are by far the favorite for Americans under 45 with almost half of 18-29 year olds (49%) saying it is a favorite toy, and 44% of those 30-44 saying the same. Etch-A-Sketch is the favorite of those 45-64 with 38%, and Lincoln Logs were the favorite for those over 65 at 44%.
LEGOs building blocks came out in 1949 and since then has come out with thousands of different building sets, video games, and even a theme park.
Full poll results can be found here.
Image: Getty