Most people think the government should require higher fuel efficiency standards, but almost a quarter of Americans think the government should not be involved at all.
Last Tuesday, President Obama announced that the government will be implementing higher fuel efficiency standards for medium and heavy duty trucks, along with plans to regulate all vehicles – including passenger cars – in the near future. This is the second time President Obama has mandated a change in these efficiency standards, with the first back in 2011 calling for a 20% reduction in emissions from heavy duty vehicles. The newest regulations are supposed to help reduce pollution while boosting domestic manufacturing.
According to the latest YouGov research, 72% of people support requiring car manufacturers to be subjected to a fuel efficiency standard. Most Americans approve of pushing it even further. 63% of people think that the government should require manufacturers to meet even higher fuel efficiency standards than they do now, and 35% of people approve 'strongly'.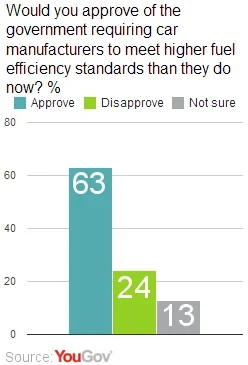 The newest regulation states that fuel economy in cars and light duty trucks needs to be at least 54.5 miles per gallon, by 2025. The government order boasts, "In total, the Administration's national program to improve fuel economy and reduce greenhouse gas emissions will save consumers more than $1.7 trillion at the gas pump and reduce U.S. oil consumption by 12 billion barrels."
Policy comparison
Increasing fuel efficiency standards is not the only option available to encourage less fuel consumption, though it is the most popular. Nearly a quarter of Americans (24%) call it the best option.
However, 23% of people do not think the government should be involved in encouraging fuel efficiency at all, and Republicans (47%) are most likely to choose this option. Other popular ways for the government to encourage less consumption include giving incentives for high efficiency and cleaner fuels (21%), and increasing public transportation incentives (11%). Tax options were the least popular with 3% each.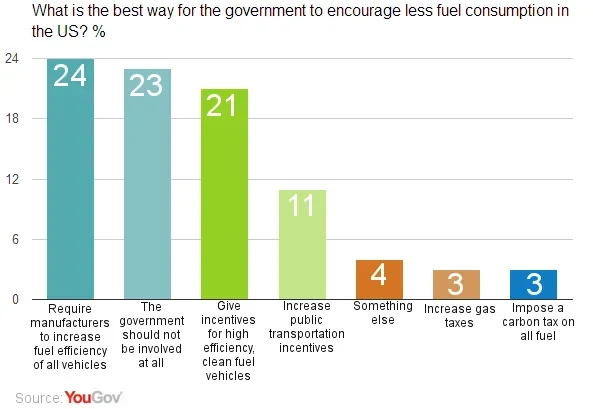 Full poll results can be found here.
Image: Getty