Springtime is the nation's most-loved season of the year, and now that it's sprung, Americans are most looking forward to the warmer weather, wildlife, and longer days – as well as beginning to think about spring cleaning and gardening – all despite the common gripes of hayfever allergies and erratic weather.
Spring is favored by 27% of Americans, with summer (26%) and fall (25%) shortly behind – just 8% of Americans prefer the winter, although the season is favored by more men (12%) than women (5%). More women prefer waking up to spring (31%) than men (24%).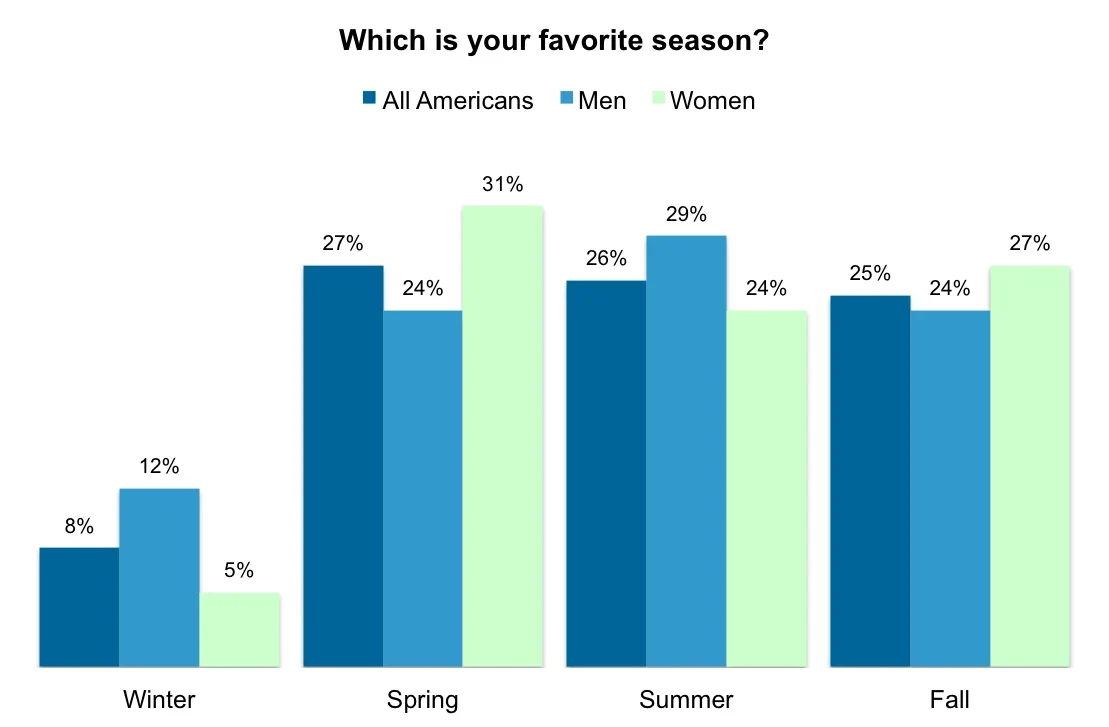 Southerners are most likely to favor springtime above other seasons (29%), while Americans living in the Midwest are least likely to have spring as their favorite season (23%). Spring is the favorite season among those living in the South and West, whereas in the Northeast summer comes up top (31%), and in the Midwest fall is the favorite season (33%).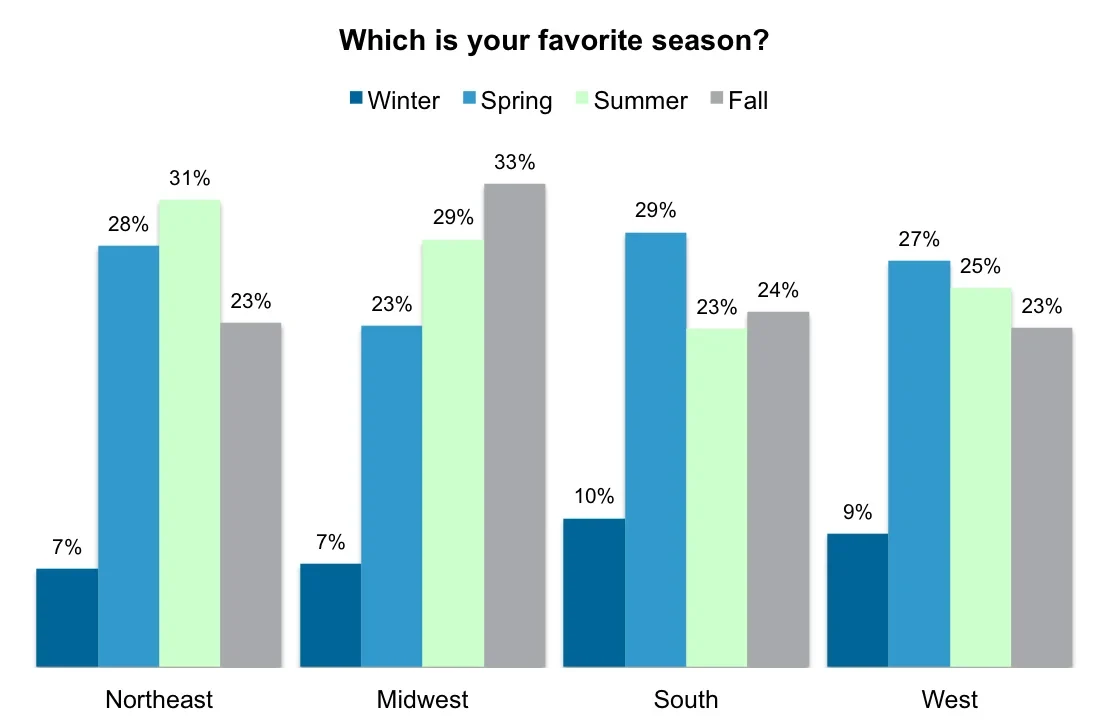 There's more enthusiasm for spring among older generations, as 33% of over-54s and 22% of 18-34 year olds favor spring, whereas winter is preferred among 10% of 18-54s and just 6% of over-54s.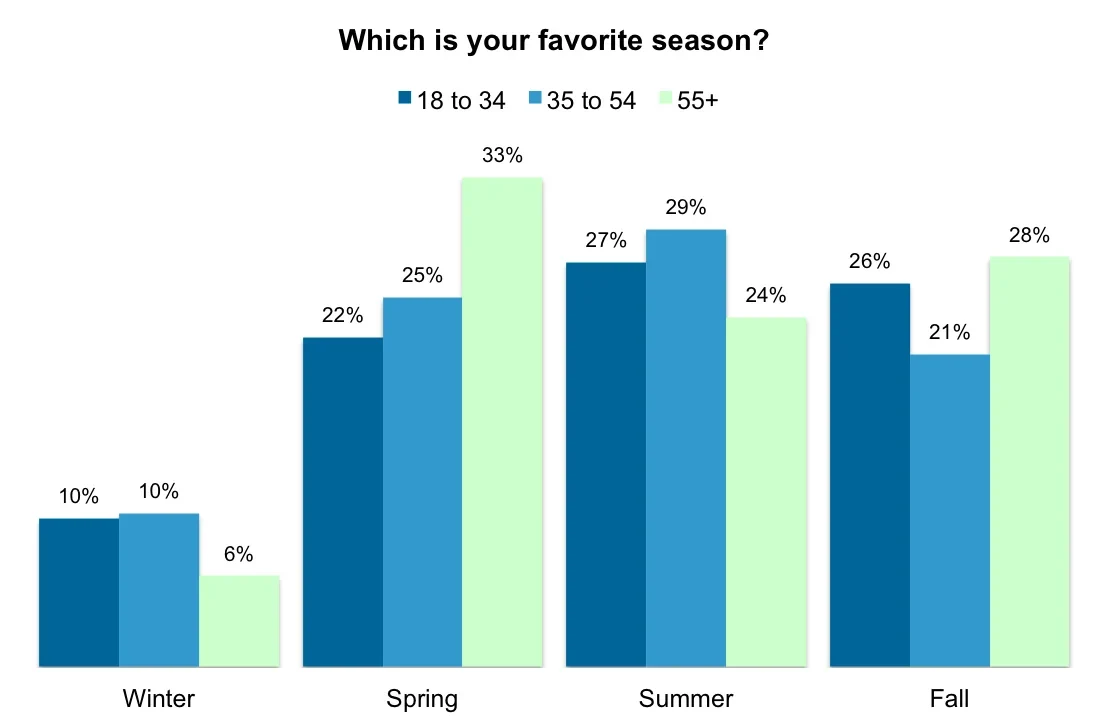 The warmer weather is the nation's favorite part about spring, while seeing trees and flowers blooming and enjoying longer days of sunlight are also seen as positives. Americans also enjoy the opportunity to garden, avoiding gloomy skies and cleaning their homes. Here are some other reasons to love the season from YouGov panelists:
"Spring sounds and smells, and no ice on the roads"
"Growing LOTS of veggies"
"Just being able to get out and move"
"More hustle and bustle on the street, and wearing lighter clothing"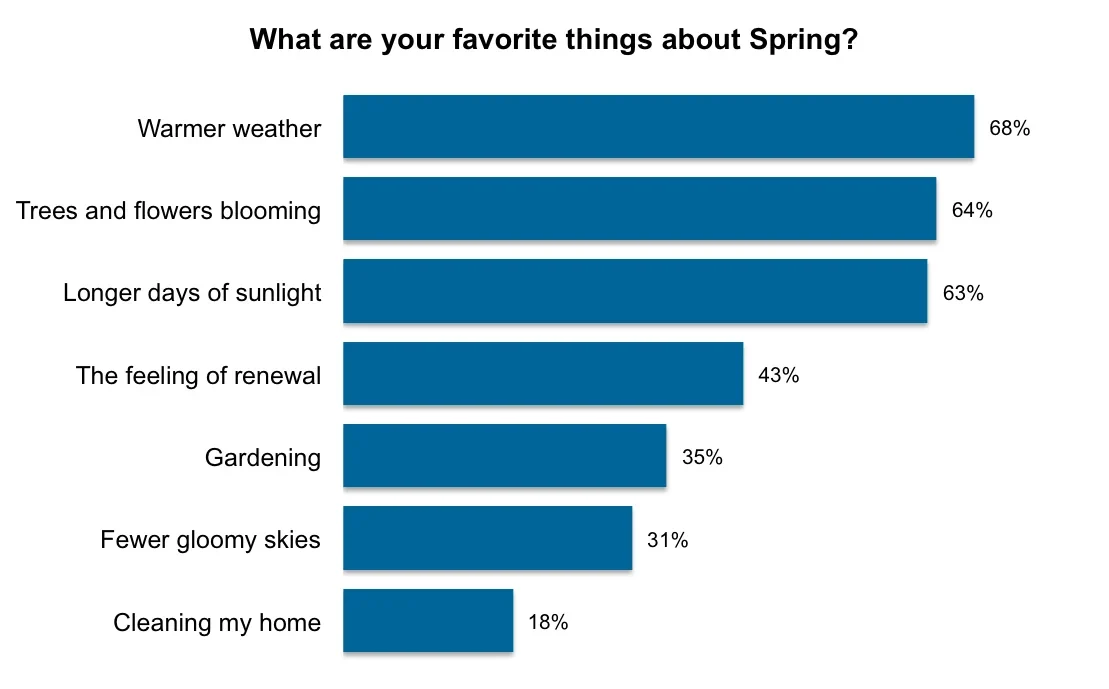 Pollen allergies are Americans' least favorite aspect of spring (52%), while 51% dislike there being more bugs and mosquitos. 11% of Americans dislike the end of winter, while other reasons to dislike spring include:
"The back and forth of cold and warm days"
"Outdoor Spring clearing up"
"Unseasonable weather extremes"
"Daylight savings time"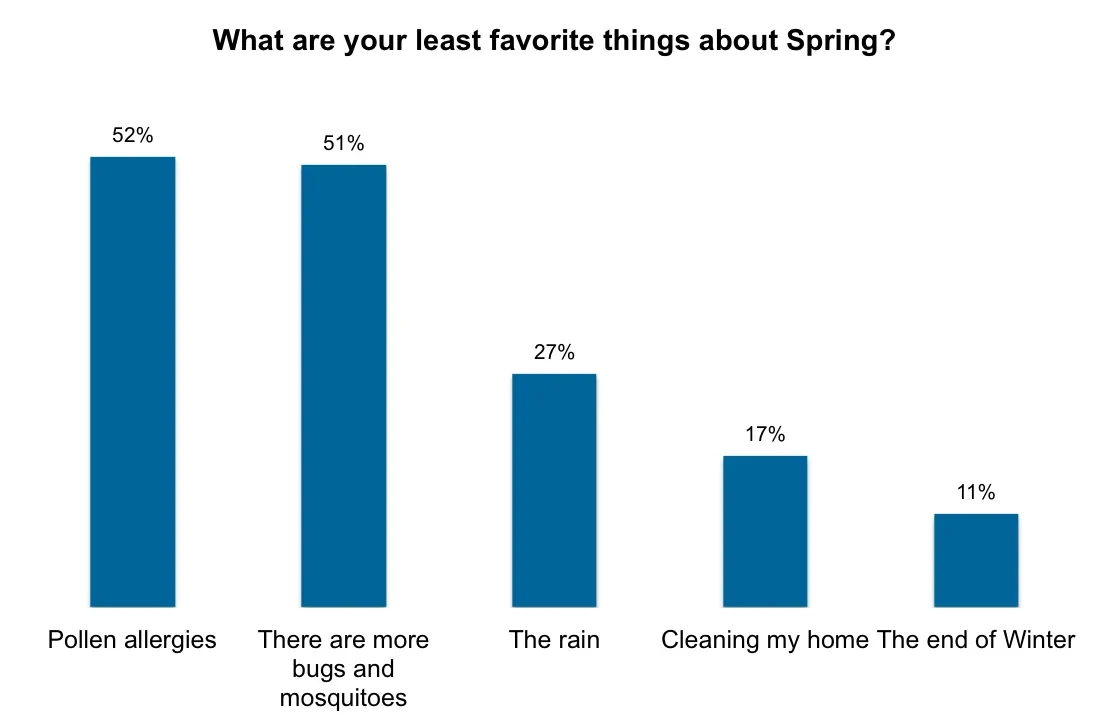 Spring cleaning (40%) and gardening (40%) are top of Americans' agendas this spring, as will be undertaking do-it-yourself projects (25%) and getting rid of unwanted furniture and home décor items (24%).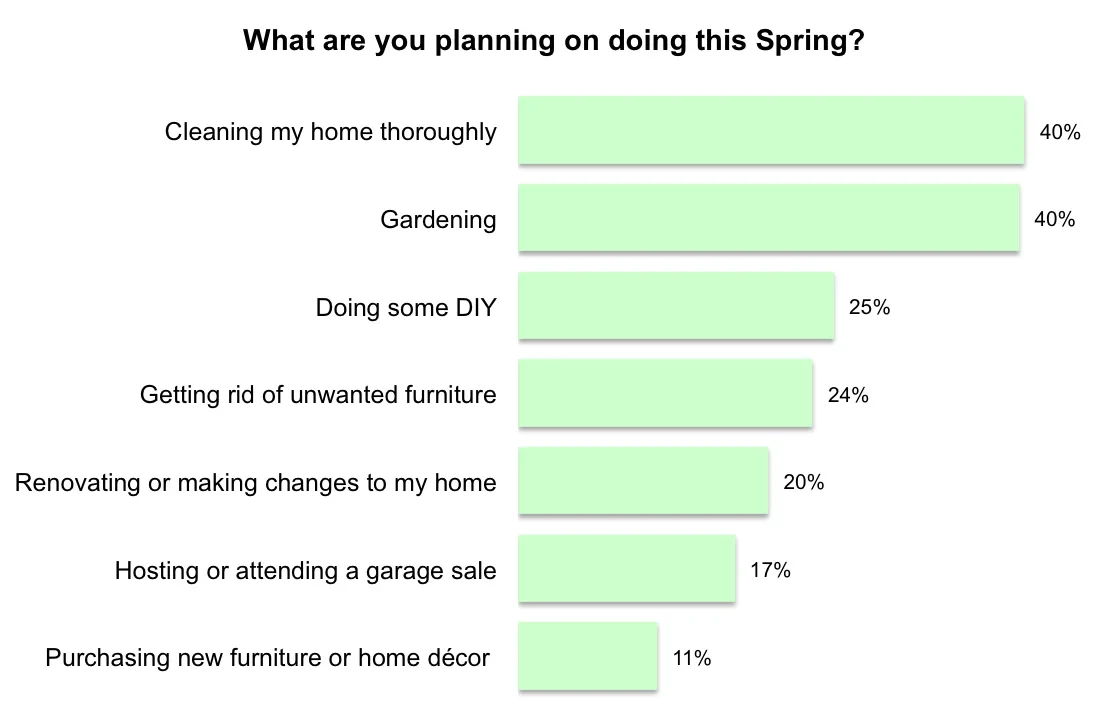 Homeowners are more likely to be renovating their abodes this summer, as 28% of Americans who own their own house will be making renovations or other changes to their property, compared to just 13% among Americans who rent a house, and 11% among Americans who rent an apartment.
Renters are much more likely to plan on spring cleaning this summer – a less costly alternative to DIY – as 50% of apartment renters will be spring cleaning, compared to 33% of Americans who own their own apartment. House renters and owners are almost equally likely to be hosting or attending a garage sale this year, suggesting that home ownership doesn't affect whether Americans will be having a clear out this spring.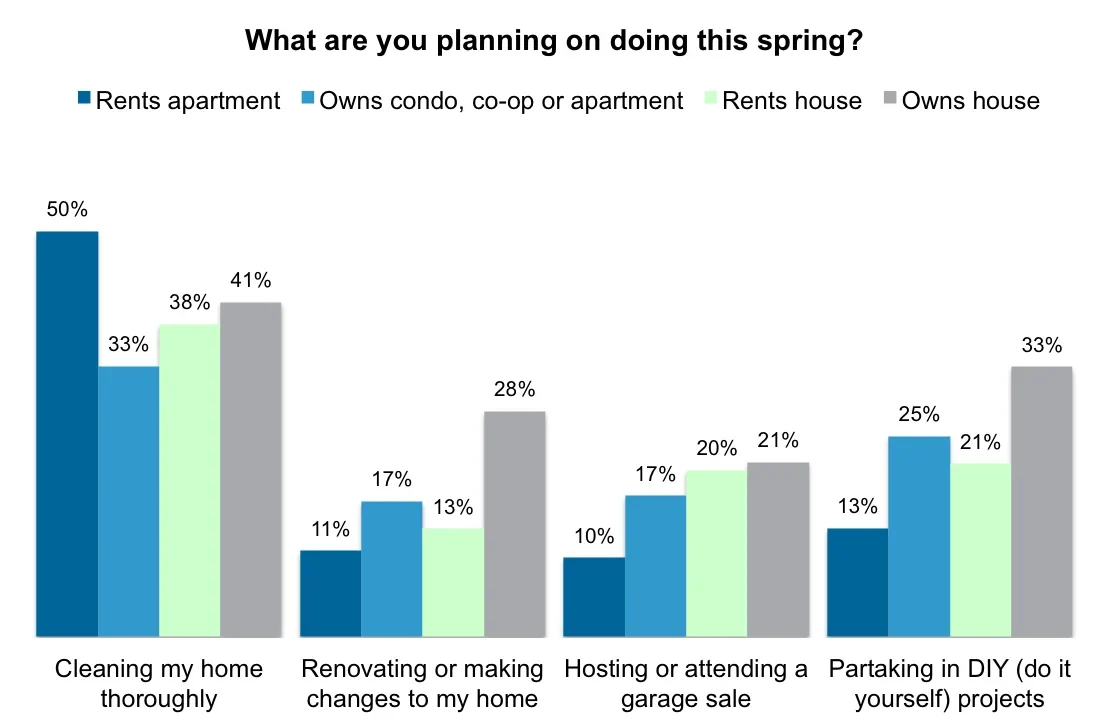 More women (45%) than men (36%) are planning on spring cleaning, while males outnumber females in the springtime tasks of renovating the home (22% of men and 18% of women) and doing DIY projects (29% of men and 21% of women).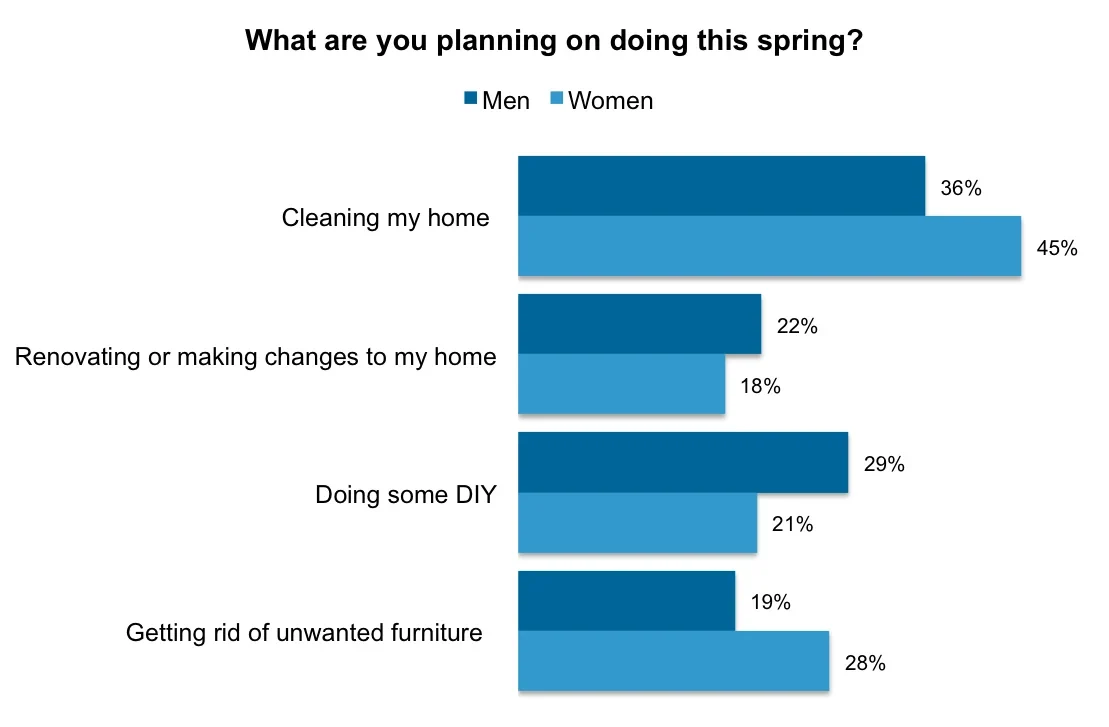 Out of the most common spring cleaning tasks, doing laundry (20% like, 14% dislike) is the most favored household chore among Americans, while dusting our homes (7% like, 23% dislike) is the most despised task. Americans also particularly dislike mopping (7% like, 19% dislike) and doing the dishes (16% like, 18% dislike), while maintaining the lawn (17% like, 16% dislike) and vacuuming (17% like, 15% dislike) are among the most favored tasks.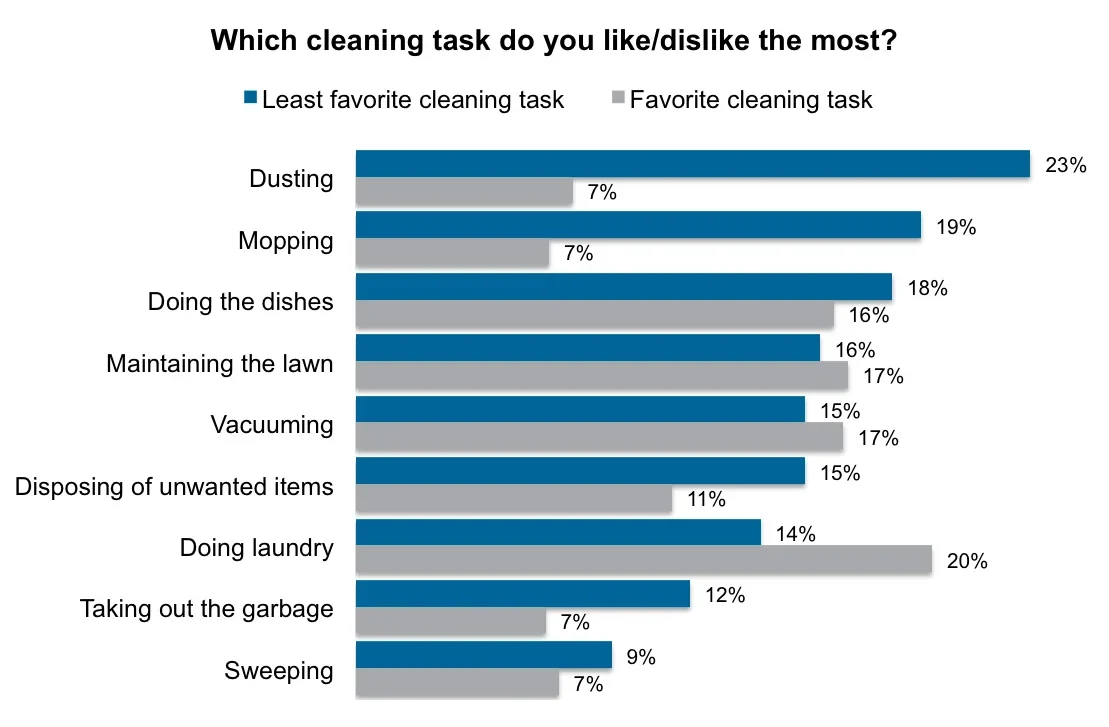 For further information about poll results, and for details about methodology and omnibus services, please email omnibus.us@yougov.com.
Find the full results here.
Image courtesy of Getty