450 years since the birth of William Shakespeare, more than half of Americans surveyed (53%) think Shakespeare is one of the greatest playwrights of all time. Shakespeare's prodigious ability to pen memorable words and phrases is the reason 72% of Americans think that he is one of the greats.
Americans have more than a fleeting awareness of the playwright. Nearly half of America (47%) has studied a play by William Shakespeare at school or college, and more than a quarter (27%) have seen the live performance of a play. College graduates (42%) and post Graduates (59%) are most likely to have seen a live performance.
Have you studied a Shakespeare play, watched a live performance or seen a TV or film adaptation?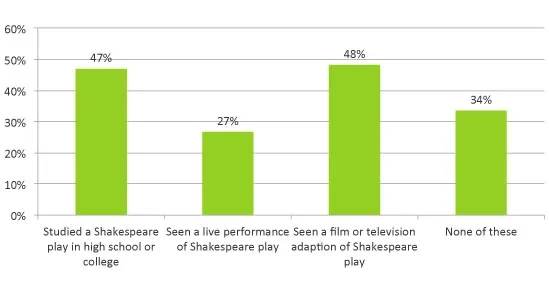 The names of three of his most famous plays - Hamlet, Romeo and Juliet and Macbeth - are known to at least three quarters of the population. One in eight (79%) had heard of the oft-quoted line "To be or not to be…" and, after four centuries, 45% of those who recognized the line could correctly attribute it to Hamlet.
Which Shakespeare play have you studied, watched at the theatre or seen on TV or film?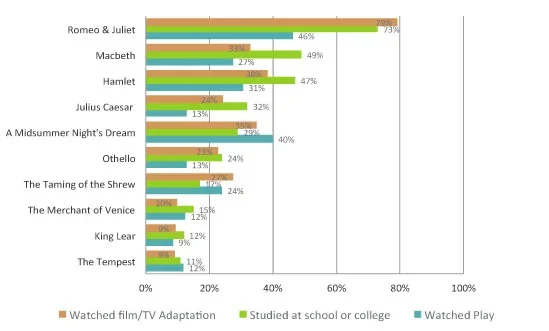 Other well recognized quotes are: "Romeo, Romeo where for art thou Romeo" recognized by 79%. "A rose by any other name would smell as sweet" recognized by 58%, and "Beware the Ides of March" (54%).
It is no great surprise that 96% of those who recognized "Romeo, Romeo…" as a Shakespearian quote managed to attribute it to Romeo and Juliet. More impressively, 66% correctly identify Julius Caesar as the play in which "Beware the Ides of March" appears, and 43% of those who correctly identified the "rose" quote knew it appeared in Romeo and Juliet.
Americans struggled to place "Some are born great, some achieve greatness and some have greatness thrust upon them". Only 13% of those who had heard of the quote knew it came from Twelfth Night. 18% thought the phrase, fragments of which are so often used in reference to politics and statesmanship, must come from Julius Caesar.
So how does America's awareness of Shakespeare stack up against other more recent playwrights?
Nearly half of Americans (48%) have seen a TV or film adaptation of Shakespeare, while 27% has seen a live performance. Although the sultry American classics Streetcar Named Desire and Cat on a Hot Tin Roof are now Broadway staples, only 27% remembers seeing a live performance or film adaptation from playwright Tennessee Williams. Only 21% recalled seeing anything by author of Death of a Salesman, playwright Arthur Miller.
For further information about poll results, and for details about methodology and omnibus services, please email omnibus.us@yougov.com.
Find the full results here.
Image courtesy of Getty