Rakesh Agrawal had a very short-lived career at PayPal after accidently posting unflattering comments about colleagues publicly on his Twitter account. He claimed that they were intended as private messages but his new smartphone had confused him.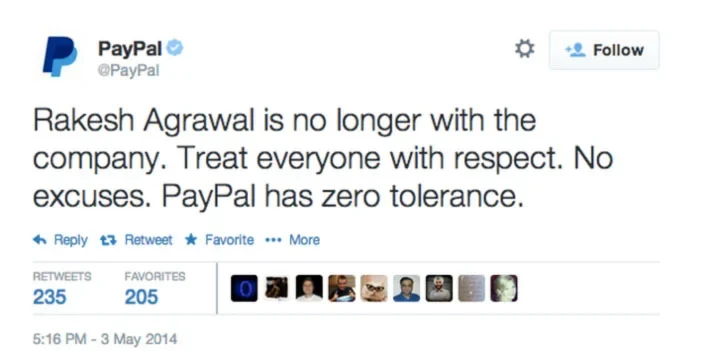 Most Americans believe that it is appropriate for companies to censure staff for their social media content. 41% believe companies should be able to discipline staff for their social media activities compared to 32% who do not. College grads (51%) are more likely to agree on discipline than those with high school education or less (38%).
In what circumstances you think that a person's social media activity should be disciplinable by work?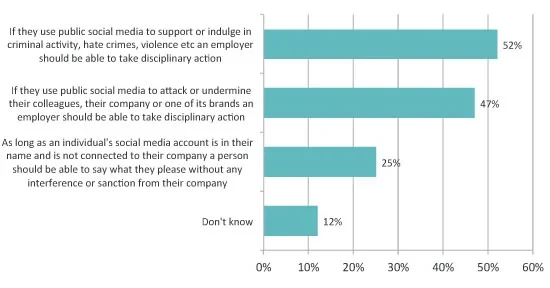 Although 25% think that as long as it is a personal account, an individual's social media pages should be of no concern to their employer, 52% believe companies should be able to discipline an employee for content supporting or indulging in hate crimes, violence or criminal activity. 47% feel that an employer should be able to discipline an employee attacking the company, its staff or brands.
Private messages on social media

There is a deal of confusion about which social media options offer private messaging and many are nervous about using messaging privately without slip-ups. 53% thought correctly that Facebook had "private" messaging options but only 15% knew about LinkedIn or Twitter's capabilities (17%).
Older users are less likely to venture into the realms of private messaging than younger users. 67% of 18-34 year olds have used Facebook's private messages compared to only 41% of the over 55s. 27% of the older age group is not always sure when their messages are private and when they are public compared to only 16% of 18-34 year olds. Many people (50%) assume that any message might be made public.
It was reported that Agrawal might have been drinking when he embarked on his ill-fated Twitter rant.
A highly responsible 78% of Americans claim that they have never sent a message they regretted while under the influence of drink or drugs. 15% admitted they may have done this once a year or less.
For further information about poll results, and for details about methodology and omnibus services, please email omnibus.us@yougov.com.
Find the full results here.
Image courtesy of Getty