Most Americans would be happy to see an openly gay athlete join their favorite team – but people tend to think that it wasn't appropriate to broadcast Michael Sam's kiss on TV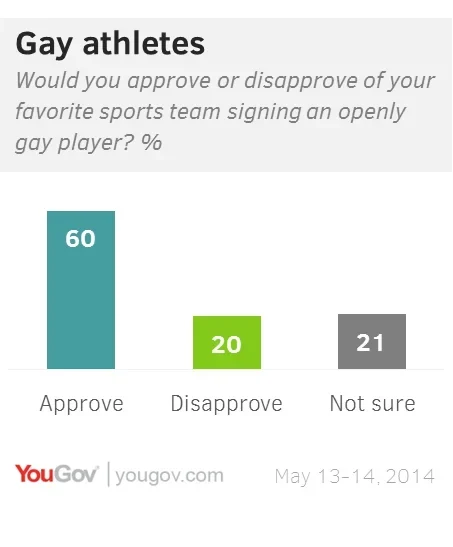 Michael Sam has become the NFL's only openly gay player after he was drafted by the St. Louis Rams over the weekend. Michael has spent the past four years as a successful defensive end for Missouri's college team, and will be staying in the state of Missouri for his professional career. He faces an uphill battle to win a permanent place on St. Louis' roster however: the team is known for having one of the best defensive teams in the NFL.
Most Americans (60%) say that they would approve of their favorite team signing an openly gay player.
Among NFL fans this increases slightly to 65% who would be happy to see their favorite team sign an openly gay player.
The kiss
The drafting of Michael Sam did prompt some controversy, however. ESPN's draft show, which had cameras filming Michael Sam to catch his reaction when he found out if he was drafted or not, also broadcast Sam kissing his boyfriend Vito Cammisano.
Even though most people would approve of an openly gay player on their team – and straight players are routinely seen kissing their girlfriends on TV – Americans tend to say that it was inappropriate (47%) rather than appropriate (36%) to have broadcast the kiss.
There is, however, a huge age divide on this issue, as most under-30s say that it was appropriate (55%) but older Americans overwhelmingly object to broadcasting the kiss. Only 16% of over-65s say that it was appropriate, while 69% say that it wasn't OK to broadcast.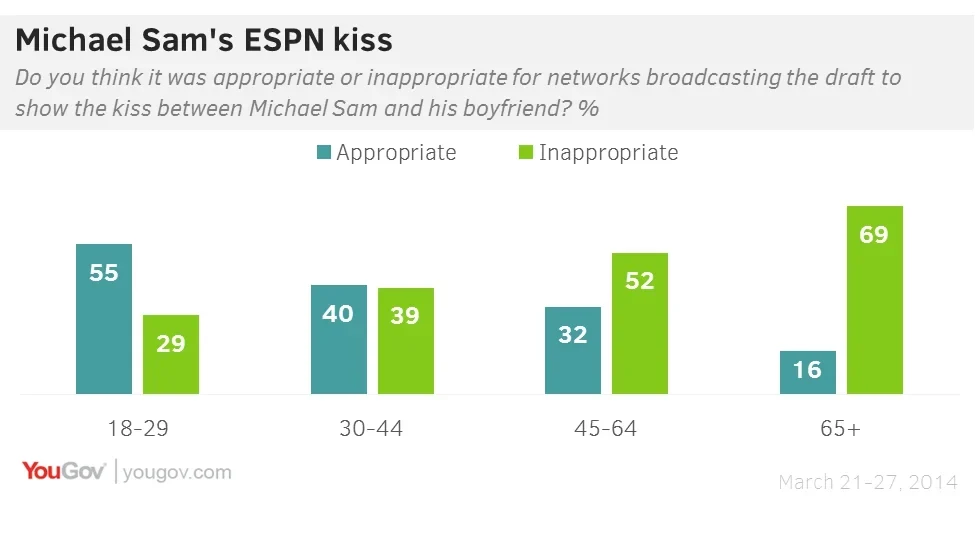 Overall, NFL fans' attitudes closely resembled that of the country as a whole, with 49% of football fans saying it was inappropriate and 36% saying it was appropriate.
Full poll results can be found here.
Image: Getty